There's An Ice Cream You Can Eat Before The Run
This chocolate peanut butter ice cream recipe is nutritionist approved–and 100 percent okay to eat before or after your next run.
Heading out the door? Read this article on the new Outside+ app available now on iOS devices for members! Download the app.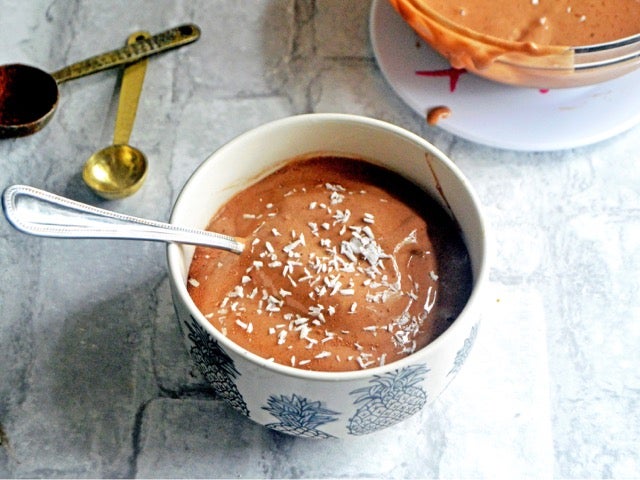 I scream. You scream. We all scream for "nice" cream. (Sorry—I had to do it.) But seriously, what if I told you that there's a way to make ice cream without any added sugar and that it's great running fuel? You may not believe me, but it's true with this Chocolate Peanut Butter "Nice" Cream.
The name for this homemade frozen dessert comes from the fact that it's made with just three healthy ingredients: frozen bananas, cocoa powder and peanut butter powder. If you're tired of your pre-run bananas, switch things up a bit with this chocolatey frozen fuel. It also tastes great after a hot and sweaty summer run, and the potassium in the bananas replaces some of the electrolytes lost in sweat. That's why it's totally acceptable to have more than one serving.
Related: 5 Reasons Runners Should Eat Ice Cream
Chocolate Peanut Butter "Nice" Cream Recipe
Serves 2-3
Ingredients:
3 frozen bananas, with peels removed
2 Tbsp. unsweetened cocoa powder
2 Tbsp. peanut butter powder
1/4 cup warm water
Directions:
Combine bananas, cocoa powder, peanut butter powder and water in a food processor and blend until smooth. You may need to stir intermittently. If contents do not blend fully, add 1 Tbsp. of water and blend again. Repeat until fully smooth.
Related:
Make These 4 Healthy–Yes, Healthy!–Ice Cream Recipes
We're Currently Obsessed With This DIY Banana Ice Cream