5 Products That Make Brown Bag Lunches Easy
These five products make brown-bagged lunches easy to prepare and simple to travel with.
Heading out the door? Read this article on the new Outside+ app available now on iOS devices for members! Download the app.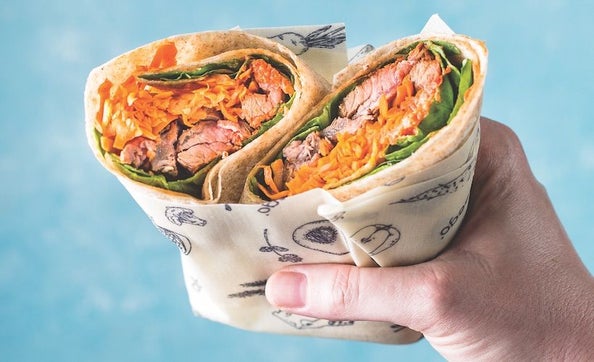 Now that it's the season when family trips to the beach have been supplanted by commutes to the office and school yard, it's once again time to get packing—for lunches, that is. When it comes to boosting a child's health and scholastic performance, there's no better place to start than in the kitchen. But does the stress of making something that is a kid-pleaser yet still nutritious and then figuring out how the heck to bundle it all up leave you wanting to run fast from the kitchen counter? Don't sweat it! Read on for some amazingly clever containers and packaging ideas that will make you actually look forward to packing your family's grub for the day ahead. And we've also got you covered with meal and snack ideas that are worthy of a resounding "yum, yum, gimme some," and will ensure an empty lunchbox comes home every time.
For food safety, it's always a good idea to keep certain items like sandwich meat cold. Now you can say sayonara to space-hogging ice packs to do so. Stash this voluminous lunch bag in your freezer, and the built-in freezable gel will work to keep your bento box grub and drinks chilled for an entire work or school day. It even folds down for easy storage in your ice chest. Also great for hauling your pre- and post-run nourishment to races.
Forget lining up to get at the office breakroom microwave. Pack your family's favorite soup, chili, pasta or even breakfast oatmeal in these food jars designed with a special insulation to keep foods piping hot or frosty (hello, smoothie bowls) for several hours. A stainless steel lining means no lingering flavors, so today's chicken soup won't taste like yesterday's mocha oats. Bonus: There are plenty of cheery colors to choose from.
Designed to help you bid adieu to single-use plastic baggies, Stasher is a self-sealing, airtight bag made of 100 percent food-grade platinum silicone. That makes it a natural for transporting everything from sandwiches to pasta with meat sauce to hard-boiled eggs to trail mix to fruit salad. And don't forget all the necessary snacks to fuel after-school sports practices and post-work runs. This reusable and crazy durable bag can be stored in the freezer, used in the microwave and deep cleaned in the dishwasher. Kiddos will be fans of the colorful bags.
This hipster-approved lunch box will add a sophisticated touch to adult lunch breaks. A fashionable bamboo case holds BPA-free modular containers that let you adjust the size of the dishes you're toting along—a hearty main and one side or several small snacks. The Prepd app offers suggestions for meal and snack combos based on the wisdom of chefs and nutritionists.
Abeego, $18 For Three Wraps
It's time to shelve the single-use plastic wrap. Each beeswax-coated Abeego wrap is made from hemp and organic cotton and is cleverly designed to be reusable, self-adhesive and malleable so it can snuggly embrace midday wraps and sandwiches for an entire school season (read: no more sandwich explosions). Make lunch breaks easier on Mother Nature by using them to also bundle up sliced fruits, veggies and cheese. The small-sized wraps are even perfect for transporting your homemade jersey pocket running fuel. Just hand-wash dirty wraps in cold water with a delicate soap.
Related:
6 Creative Ways To Meal Prep For The Week
Lunch Ideas That Have Ideal Fuel For Runners