5-Ingredient Post-Run Parfait
A parfait recipe from The Easy 5-Ingredient Cookbook by Toby Amidor, expected out on April 3.
Heading out the door? Read this article on the new Outside+ app available now on iOS devices for members! Download the app.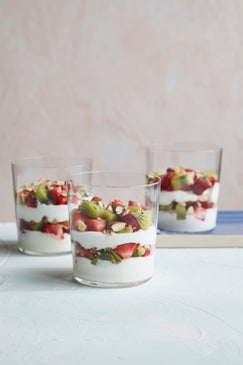 Getting healthy, balanced meals on the table is no easy feat. After a long run, the last thing you want to think about is standing in the kitchen and cooking a recovery meal. Luckily, there's a new cookbook, written by a registered dietitian, to help make your kitchen routine a little easier. "The Easy 5-Ingredient Cookbook helps those in a time crunch create simple, healthy meals and snacks. Many of the dishes can be made in 30 minutes or less, and there are plenty of healthy slow cooker recipes, where all you need to do is press the "on" button," says Toby Amidor, MS, RD, author of The Easy 5-Ingredient Healthy Cookbook: Simple Recipes to Make Healthy Eating Delicious.
"This Strawberry-Kiwi Parfait has protein to help your muscles recover after a run, and the calcium, potassium and phosphorus also strengthen your bones," Amidor says. "It's the perfect snack to pack in a mason jar, so you can grab and eat immediately after your run."
Make the yogurt today to have all week, and check out the cookbook, which comes out on April 3.
Strawberry-Kiwi Yogurt Parfait
Serves 4
Ingredients:
1 cup (about 8 large) strawberries, hulled and diced
2 kiwis, peeled and diced
¼ cup freshly squeezed or 100 percent orange juice
1 (32-ounce) container nonfat vanilla Greek yogurt
½ cup almonds, chopped
Directions
In a small bowl, place the strawberries and kiwis. Add the orange juice and toss evenly to coat.
In each of four parfait glasses or mason jars, layer ¼ cup yogurt and top with 2 tablespoons of the fruit mixture, followed by 1 tablespoon of chopped almonds. Repeat for second layer.
Serve, or cover and refrigerate for up to 3 days.
Related:
Why Full-Fat Dairy Is On The Rise
Make Your Diet Protein-Packed With These 6 Snacks