Use These Essential Oils To Heal Common Runner Ailments
Essential Oils are a non-toxic and chemical-free way to treat common ailments runners face, from sore muscles to sunburns.
Heading out the door? Read this article on the new Outside+ app available now on iOS devices for members! Download the app.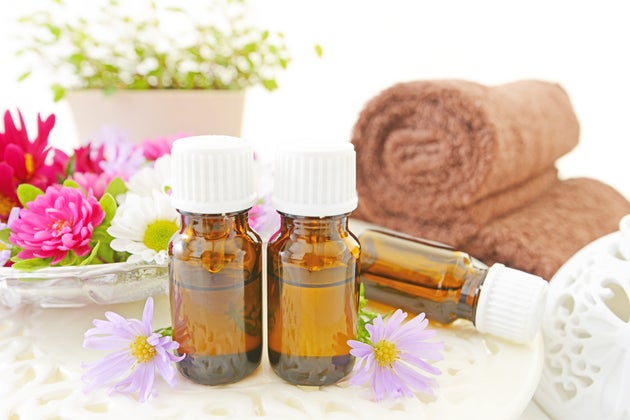 It's no secret that runners are always looking for a better way to recover and improve their overall wellbeing. Essential oils are a toxic-free and chemical-free way to treat common ailments runners face, from sore muscles to sunburns. The essential oils listed below can help relieve some of the more common problems among them.
Sunburns
For sunburns, applying lavender oil directly via cotton ball for the first 24 hours is recommended. After 24 hours, a 50/50 ratio of lavender oil to a carrier oil, such as almond or coconut, can help to heal and moisturize the burn.
Blisters
Place lavender oil directly on a blister to help healing two to three times per day. If possible, keep uncovered.
Chafing
A mixture of 2-3 drops of tea tree oil and 2-3 tablespoons of coconut oil can help heal the most delicate areas that may chafe. If the scent of tea tree oil is too much for you, 2-3 tablespoons of coconut oil mixed with 2-3 drops of frankincense and lavender is also a good mix to heal. Apply either mixture three times daily.
Related: Running And Chafing: 5 Tips To Ward Off Irritation
Athlete's Foot
With antibacterial, antiviral and anti-fungal properties, combine 6 drops of tea tree oil (Melaleuca A), 3 drops of lavender and 1 oz of carrier oil (olive, coconut, almond) and apply two to three times per day to the infected area with a Q-tip or cotton ball.
Sore Achy Muscles
For a post-workout rub, combine 8-10 drops of peppermint oil to 2 tablespoons of carrier oil (almond is recommended) and apply to muscles. A beneficial post run bath recipe to help aid recovery is a 50/50 mix of epsom salts to peppermint oil put directly into bath water.
Energy/Fatigue
Diffuse peppermint oil or inhale a few whiffs before you head out on your run for a lift in your step. You can also add a few drop of peppermint directly into your running shoes to invigorate your feet.
Orange oil can also be added to your pre or during workout water for a pick me up. You can also diffuse before your run. Mix with peppermint oil (2-3 drops of each oil) with a carrier oil and apply to temples and back of neck before you head out the door.
Colds
A few drops of lemon oil added to water can help boost the immune system and detoxify the body to help fight off colds.
Sleep Aid
Diffuse lavender oil to help you fall asleep despite the pre-race jitters and stresses of life keeping you awake. Roman chamomile is also known for its relaxation properties and can be diffused to help as a sleep aid as well.
Related: Drink This For The Best Night's Sleep
To apply oils topically follow these steps:
1. Read the directions on the label of the oil. It is usually recommended that an oil be diluted with a carrier oil before applying directly to skin.
2. Tip the oil bottle and put 2-3 drops directly onto the palm of your hand if applying directly to the area or to a cotton ball. If you have put the oil into your hands, rub your hands together in a circular motion. Once the oil is applied to the area, massage oil into skin in a circular motion with your hand.
3. If mixing with other oils or a carrier oil, follow the recipe. After blending, put mix onto a cotton ball or directly into hands. Apply and massage oil into skin in a circular motion with your hand.
*Some essential oils should not be used if pregnant or if you have certain medical conditions. The use of essential oils in no way replaces the advice of a doctor. When in doubt, contact your doctor before use. Oils can be strong and may irritate skin. If skin irritation occurs, stop using the oil or oil blend. Applying a vegetable or carrier oil to skin may help with irritation.
Related: Why You Should Add This Essential Oil To Your Routine