This Coffee Crunch Smoothie Is An Instant Energy Boost
This good-for-you drink couldn't be easier to make and will fuel your workout.
Heading out the door? Read this article on the new Outside+ app available now on iOS devices for members! Download the app.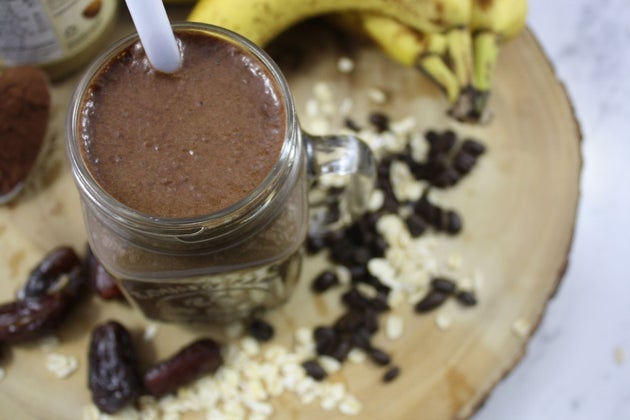 This recipe was inspired by all those people who say "I don't eat breakfast" and then hop into the closest coffee shop for a caramel mocha frappaccino with the works. That is pretty much like having a soda for breakfast—maybe even worse. Those kinds of drinks are loaded with sugar, syrups and chemicals. Yuck!
I wanted to create a drink that would be light but satisfying. Something that would provide the caffeine burst you need before a workout but avoid the unnecessary sugar bomb crash at the end. Something that would mimic a coffee-mocha type drink that you could find at your local coffee shop. However this would also be loaded with energy-boosting foods.
I took inspiration from a drink that I used to get all summer long. After my morning run on Tuesdays, I would head straight to pilates but I always needed a pick-me-up before my next training. At my local smoothie shop it was called "Coffee Crunch." I was able to replicate it with my own original twist.
I myself am definitely a morning person. By 6:30 a.m., I'm often in the pool or running. I have been using Strava to document my training leading up to my big 70.3 half Ironman this coming September. Did I mention this is my first 70.3?! I am so excited but SO nervous! I just got the new Cannondale Slice, which will help me gain the speed I need for my race. I could totally imagine drinking this smoothie when training volume increases during the summer. It's the perfect in-between fuel. I also think it would be perfect for those who have a p.m. training session and need help getting out of the afternoon slump. One sip of this goodness and you'll feel rejuvenated.
Each ingredient in this smoothie has a purpose. The banana offers a rich source of potassium. Dates are amazing fuel for athletes because of their natural sugars and complex carbohydrates, which are slowly released into your body so that you don't have an energy spike. Unsweetened cocoa provides that rich dark chocolate taste and some bonus antioxidants. And coffee of course! Yes please! Almond milk is one of my favorite choices for non-dairy milks because it adds creaminess without the saturated fat found in cow's milk. The almond butter offers a rich texture and some healthy fats, which will help slow down the absorption of the natural sugars found in the dates and banana. And oatmeal—most people don't think of adding this to a smoothie but it actually makes the smoothie even richer and ensures that you're not hungry an hour later.
Last but not least, I included The Natural Citizen Organic Energy! All of their products have only four ingredients and are Non-GMO and Vegan. I chose to use the mix that contains maca, quinoa, green tea, and rhodiola rosea—an energy boosting cocktail without any added sweeteners or mystery ingredients. The flavor is really mild so it works well in most smoothies and even in oatmeal! The Natural Citizen was even kind enough to offer $10 off your purchase. Just apply RUNONVEG at checkout.
Coffee Crunch Smoothie Recipe:
1 banana
1/2 cup brewed coffee (If using The Natural Citizen Energy, use decaf coffee so you don't have caffeine overload)
1/2 cup unsweetened almond milk
1/4 cup old fashion oats
1 tablespoon almond butter
4-5 small dates or 2-3 large dates
1 scoop The Natural Citizen Energy
1/2 tablespoon unsweetened cocoa
dash cinnamon
dash pure vanilla extract
around 6 ice cubes or until desired thickness
In a high speed blender, combine all ingredients besides ice. Blend until smooth. Add in ice and blend until desired thickness.
More amazing recipes from Running On Veggies
Whole Roasted Cauliflower With Fresh Pomegranate Tahini
Dark Chocolate Sweet Potato Fudge Brownies