What To Know About Spitting On The Run
Sometimes while on the run, you just need to spit. So where and how should you do it? Our etiquette expert has the answer.
Heading out the door? Read this article on the new Outside+ app available now on iOS devices for members! Download the app.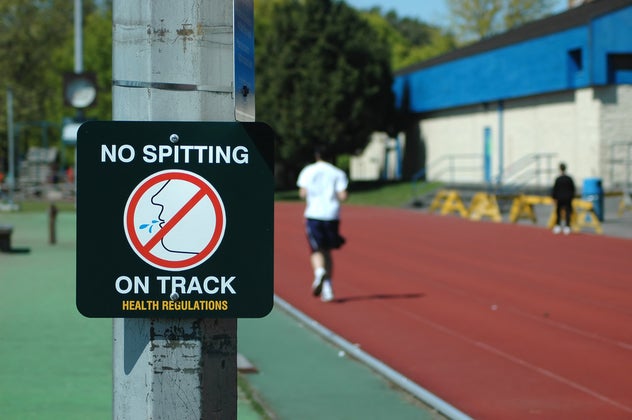 Etiquette expert Lizzie Post, great-great-granddaughter of Emily Post, knows a thing or two about the rules of the road—and the descendant of the famous decorum diva is a runner too! 
Q: I often need to spit while running. I try to be discreet, but recently, I accidentally spit right in front of a woman in her front yard. In a circumstance like that, is it best to say "sorry" or sprint away?
A: While it's tempting to run away—you are running already after all—it's best to jog in place for a minute and say, "Excuse me! I'm so sorry, I didn't see you there!" No one wants to be spit at, and since you did, even accidentally, it's really important that you acknowledge that and apologize.
Think about the situation if it were reversed: You'd want the runner to stop, right? Otherwise, you'd be left standing there thinking, What a jerk! I can't believe she just spit at me! It might not ruin your whole day, but it certainly would be a nasty little moment.
Why not erase it with a simple apology? It's so easy to do!
Have a question for Lizzie? Email editorial@womensrunning.com or tweet @womensrunning with the hashtag #ProperForm.