Budget-Friendly Carbo-Load Spots In San Diego
If you're in San Diego for an epic summer run, here's five spots that rock and don't break the bank.
Heading out the door? Read this article on the new Outside+ app available now on iOS devices for members! Download the app.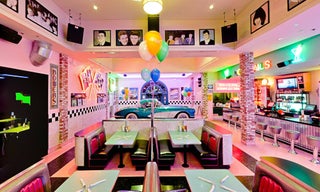 If you're one of the thousands of runners tackling the Suja Rock 'n' Roll San Diego race this weekend, chances are you need more than the popular title sponsor juice to get you ready. If the trip is quick and budget is tight, there are plenty of locally recommended options—all given the thumbs up by the nearby college crowd. Here's a quick hit list of some carb-friendly spots near the race area, perfect for a pre-race visit or post-race splurge (don't worry, we have the beer scene covered as well). Consider this your cheat sheet:
1. Adalberto's Mexican Food on Rosecrans and Ortiz's Taco Shop on Voltaire
For college students in the Point Loma area, there's almost nothing better than burrito runs. Adal's and Ortiz's, as these small restaurants are affectionately nicknamed, boast a relaxed atmosphere, as well as delicious food. If you are looking for a place to load up with carbs to prep for those 13.1 or 26.2 miles but you don't want to have a long wait or crazy price, these restaurants are splendid places to go. Bonus points: If you're checking out the new 5K this weekend, get a full San Diego experience—quick run, Mexican food, then the beach!
2. Pacific Coast Chinese Food on Shelter Island Drive
If you're looking for low prices and some authentic Chinese food, Pacific Coast delivers. Located on the corner of Shelter Island Drive, this hole-in-the-wall serves large plates that can be shared between two people or taken home as flavorful leftovers. Bonus points: Save the leftovers for a to-the-beach lunch after the race!
3. Devine Pastabilities on Midway Drive
Considering the restaurant offers T-shirts with the iconic phrase "I Love Carbs," it's easy to guess how runner-friendly their menu is—pasta is the insides of the sandwich. Its best-known dish is the Torpasta, which was created by owner and founder Damien Devine when he was 9 years old. The dish is made by filling a hollowed Italian roll with the pasta of your choice. The bread roll can be either 6 inches or a foot long. Bonus points: This establishment was named best sandwiches in San Diego!
4. Corvette Diner at Liberty Station
This 1950's-style diner is not only a great place to bring the family, but it also offers a dash of rock 'n' roll vibes just to get your engines going before race day. Whether you see balloon animals, hear upbeat oldies, or watch dancing servers, it's all part of the entertaining package. Dig in with one of their sandwich options. Bonus points: They have a gluten-free menu!
5. Pepe's Italian on Sunset Cliffs
In addition to providing mouth-watering food, this Ocean Beach restaurant also delivers to local homes. This is perfect for those visiting friends in the area and not wanted to move the night before racing—but still want that plate of spaghetti. Meals tend to come with garlic bread if they're ordered during the lunch hour; a little post-race salt never hurt anyone! Bonus points: Basically the full Italian menu.