A Tasty Twist On Popcorn Balls
Say goodbye to caramel popcorn after you try this fun version of a holiday dessert.
Heading out the door? Read this article on the new Outside+ app available now on iOS devices for members! Download the app.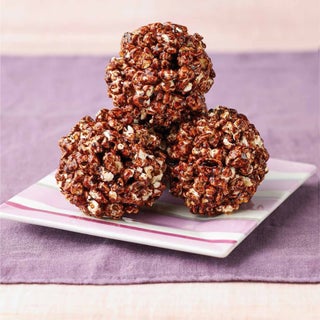 Excerpt reprinted with permission from Eat Clean, Stay Lean (Rodale, 2015) from the Editors of PREVENTION and Wendy Bazilian, DrPH, RD
The single best investment you can make daily for your health is to eat well. Eating well is about eating quality foods, in delicious combinations, on a regular basis, giving you energy to run on, mental clarity to make those 1,001 daily decisions and a glow that reflects your inner beauty and overall health. As a doctor of public health, a registered dietitian, and a certified exercise physiologist, I constantly evaluate scientific research on health so that I can help people come up with solid, practical food and fitness solutions for the real world we live in. With my clients, we talk about food a lot, from the freshest produce to the most overprocessed, packaged stuff. And we look at food labels. But my favorite foods are those without a label: The cleanest foods you can eat are real foods themselves—whole, fresh foods that haven't been highly processed, refined and poured into big boxes, crinkly bags or shiny wrappers.
Research shows that these whole foods are the best at creating, restoring and preserving the healthiest bodies. Real whole foods come first, but what about convenience? Packaged foods made up of more than one ingredient make life easier, for sure—and, fortunately, there are plenty of clean options out there—you just need to know how to find them. I'm here to help you navigate the bazilians of choices in the places you like to shop so that you can learn to distinguish those clean nutritional superstars from the imposters. It's really pretty simple—and fun—once you get the hang of it. The best part is that you will feel and see the rewards quickly as you journey toward an energized, vital, and leaner you.
At the end of the day, the pleasure from eating flavorful food feels so good! And ultimately, while being healthy itself is a compelling goal, you know you probably won't stick with a plan if it doesn't also taste delicious. Great news: Clean foods, prepared creatively like the recipes you'll find inside, will tantalize your taste buds, too.
Enjoy each step—and bite—of your clean-eating journey!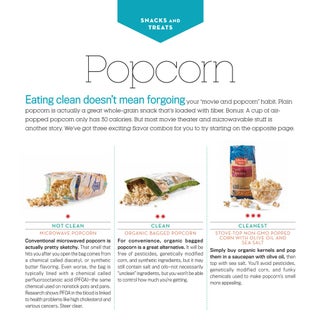 Mexican Chocolate Popcorn Balls
Courtesy of Eat Clean, Stay Lean (Rodale, 2015) from the Editors of PREVENTION and Wendy Bazilian, DrPH, RD
Makes 4 popcorn balls
Prep time: 5 minutes
Total time: 10 minutes
1⁄3 cup honey
2 tablespoons light brown sugar
2 1⁄2 tablespoons unsweetened cocoa powder
1⁄2 teaspoon cinnamon
1⁄4 teaspoon cayenne
Pinch of fine sea salt
5 cups stove-top popped popcorn
Olive oil
Combine the honey, brown sugar, cocoa, cinnamon, cayenne, and salt in a small saucepan and bring to a simmer over medium heat. Simmer until the mixture darkens and thickens, about 2 minutes.
Pour the mixture over the popcorn in a large bowl and use a rubber spatula to gently stir the popcorn to evenly coat.
Coat your hands with olive oil and form the mixture into 4 balls, pressing gently to ensure that each ball is well stuck together. Let set for at least 20 minutes before eating.
Other recipes from this book:
A Healthy Twist On Classic Apple Pie