A Portable And Healthier Banana Bread
Looks like a cookie, tastes like banana bread. Best part—totally good for you.
Heading out the door? Read this article on the new Outside+ app available now on iOS devices for members! Download the app.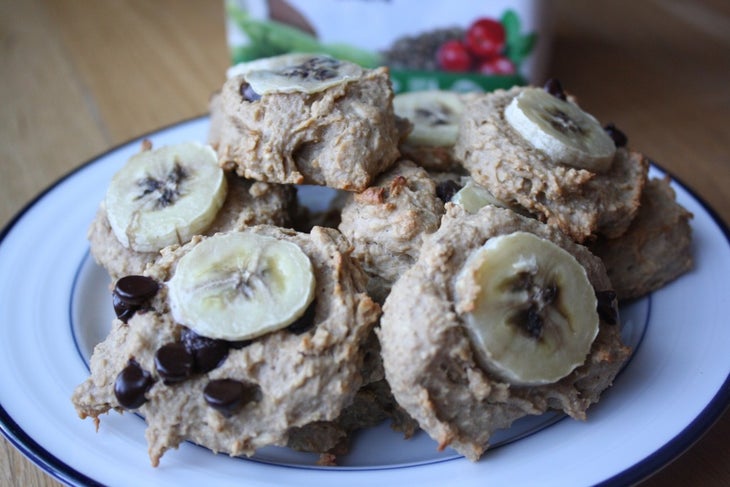 Cookies or Banana Bread? What should I bake next?! I love the convenience of a cookie because you can easily take it anywhere. But you can't beat the texture of banana bread—gooey inside with the crunchy bits on top. What if you could have both? That is how I thought of Banana Muffin Toppers. You have the convenience and simplicity of a cookie, with the texture and crispy end pieces of home baked banana bread.
I imagined these to be a post-gym workout snack, since they are so easy to take with you. So I used one of my favorite protein powders, Sunwarrior Vanilla, which has no added sugar, and is vegan and soy free. I love the sweetness that the vanilla flavor adds to the muffin toppers without making it overly sweet. I would probably put these into the "breakfast food" category more than the "dessert" category, since they are not too sweet and would be perfect after a morning run or workout.
To avoid eating the whole batch you can store them in your freezer. Just defrost one the night before or that morning and you're all set. These are a great healthy alternative to store bought breakfast or protein bars. Plus, it's a great recipe for getting rid of bananas that are on their way out.
I used peanut butter to imitate my peanut butter and banana bread, but you can use any nut butter you like! You can even substitute banana with pumpkin. Make the recipe your own. Here is my version. Try it out for yourself!
Banna Muffin Toppers
Yields about 25 cookies
3 cups oats, divided
3 scoops of vanilla Sunwarrior Protein 
1 teaspoon baking powder
1/2 teaspoon cinnamon
1/2 cup peanut butter
1/2 cup dates (soak in warm water for at least 10 minutes)
3 medium size ripe bananas, divided
1 organic egg
1/4 cup stevia sweetened chocolate chips
Pre-heat oven to 350 degrees. In a food processor combine 1 1/2 cup oats, protein powder, baking powder and cinnamon. Grind until flour forms. Add peanut butter, two bananas, and dates to food processor and process again until fully combined. Add remaining 1 1/2 cups oats and process until everything is evenly coated. Add in egg and process until just combined. Be sure not to over-mix.
Using a tablespoon, form cookies on a lined baking sheet sprayed with non-stick spray. Top with stevia sweetened chocolate chips and thinly sliced bananas. Bake at 350 for 20 minutes.
More Amazing Recipes From Running On Veggies
Your New Favorite Side Dish
Start Your Morning With This Cereal
These Blondies Are Made With A Surprise Ingredient