5 Things Women's Running Loved This Week: July 6, 2018
Women's Running's editors share five of their top product picks of the week.
Heading out the door? Read this article on the new Outside+ app available now on iOS devices for members! Download the app.
GoMacro MacroBar Mini, $31 For 24 Bars
The nut butter–based GoMacro MacroBar Mini is a tasty afternoon pre-run top-off. Made with vegan ingredients and added plant protein (from sprouted brown rice and peas) all in a mini size, they're a perfect go-to snack to keep in my desk or gym bag. I loved the "Everlasting Joy" flavor, made with coconut, almond butter and chocolate chips—it has an easy-to-chew texture with a flavor that's not too sweet and just mildly coconut-y. Each mini bar has 100 calories, 4 grams of protein and 13 grams of carbs.
Flow Alkaline Spring Water, $14 For Pack Of 6 1L Bottles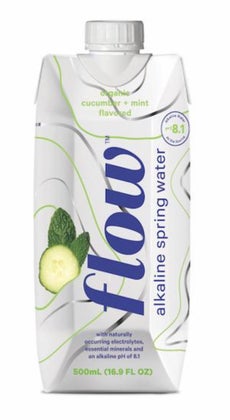 Flow Alkaline Spring Water, which is sourced from a single artesian spring in Ontario, Canada, has naturally occurring electrolytes (calcium, magnesium and potassium) and a pH of 8.1. According to the brand, its low acidity has been shown to increase oxygen levels in the bloodstream. Available in four tasty and refreshing flavors, I loved the organic Cucumber + Mint to add some variety to my water-drinking game and keep me hydrated.
Hail Merry Salted Brownie Protein Bar Bites, $36 For 12 3-Count Packs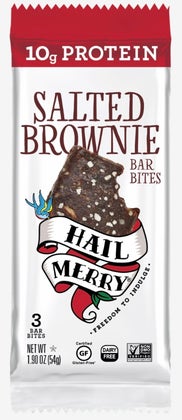 Hail Merry was started in 2008 after an introduction to a chef specializing in local raw food left founder Susan O'Brien wondering how she could apply her own interest in healthy, plant-based ingredients to savory treats. These days, Hail Merry specializes in making tarts, bars and cups, many of which feature delicious chocolatey fillings. These salted brownie bites bring sunflower protein into the mix, delivering 10 grams of protein per package in a treat that doesn't taste like it would be good for you at all. We're psyched that it is—it's the only excuse we need to open another pack.
Nutiva Organic Plant Protein Superfood Smoothie, $47 For 21.9-Oz. Container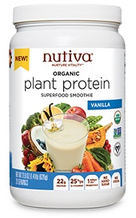 Speaking of protein, we love any opportunity to add more of it to our daily diets—especially if we can easily mix it into our post-run smoothies. This new protein powder by Nutiva checks all the boxes we look for in protein additives: it's organic, stevia-free, gluten-free and it mixes well into smoothies without leaving behind a gritty texture or bitter aftertaste.
Bos Rooibos Iced Tea, $1.99 For 12-Oz. Can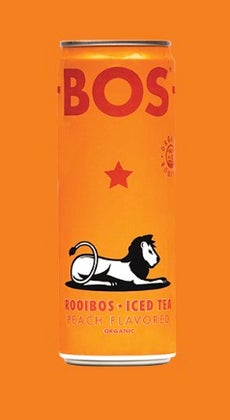 The secret behind the success of Bos iced tea is one ingredient: rooibos. Found in the company's native South Africa and packed with tons of the healthy good-for-you stuff (antioxidants and electrolytes included), rooibos is used in every can of Bos iced tea, making it a healthy, caffeine-free option. Our favorite flavor is Peach, but it also comes in Berry, Yuzu, Lemon, Lime and Ginger. It's refreshing to drink on a hot day at the beach or at night with friends (Bos even provides one cocktail recipe recommendation per iced tea flavor on its website).