30 Thoughts Runners Have At The Grocery Store
Grocery shopping—especially after a hard workout—goes a little bit like this for every runner.
Heading out the door? Read this article on the new Outside+ app available now on iOS devices for members! Download the app.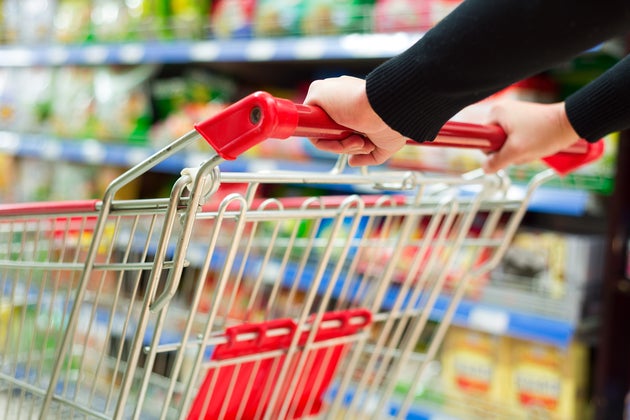 Runners need many things to function. Good shoes, lots of sleep, tons of water and—maybe most importantly—food. All the food. Runners eat before their workouts, after their workouts, and they'd be lying if they said they didn't spend the occasional long run dreaming about eating.
So when it comes to a trip to the grocery store, runners can get a little….enthusiastic, to put it mildly. From starting out with the healthiest intentions to suddenly finding themselves knee-deep in frozen pizza when the dreaded runger strikes, runners feel all the feels during a trip to the grocery store.
30 Thoughts Of Runners At The Grocery Store
Alright, time to stock up for the week. I'll start where all super healthy runners like me start, in the produce section.
Kale for my daily salads? Don't mind if I do. Spinach for my 6 a.m. smoothies? Come on down! Bag of organic locally-grown vegetables for my nightly stir fry? Yes, please.
Produce, check. Now onto my lean proteins. Bring on the boneless, skinless chicken breast and every kind of fish.
Hmm…I'm getting a little hungry. Those hot dogs look pretty good…
No! Stay strong! You are a nutrition-focused and dedicated runner. On to the healthy carbs.
Let's see, how about a nice loaf of whole-wheat-whole-grain-whole-everything bread? I am so virtuous.
Why do they have to put the bagels right next to the bread? The doughy, delicious, delightful bagels…
Okay if they have bagels at the end of a race then they obviously are supposed to be part of a runner's diet. Half a dozen it is.
Oooo pasta. Gotta stock the pantry so I'm ready for my next carbo-loading session. Also maybe to make some mac and cheese.
CHEESE.
Probably should have had a snack before coming here.
Ok cheese is a protein which is good for you so these three blocks of Gouda are basically a health food.
I should probably get crackers to go with this cheese. I can't just eat the cheese plain, I'm not an animal. But I will definitely get the baked whole wheat crackers.
And this one bag of chips.
It was definitely a mistake to come here right after a five-mile run.
The energy bar aisle! Now we're talking.
I need at least one of each flavor.
Ugh why are these so expensive??
I should make my own. There are a million recipes on Pinterest, I could totally do that.
Then I'd have to go to the baking aisle, and you know, chocolate chips…
I'll distract myself with dairy. Gotta get some milk for those strong runner's bones.
Blah should I spend the extra money for organic?
Yes, so worth it.
Wait, should I be drinking soy milk? Isn't that better?
Almond milk? Cashew?? Coconut?? Hemp???
This is so stressful. I need dessert now.
The person who came up with the term hangry was 100 percent a runner.
Two pints of ice cream and I'm good to go. And it has milk in it. So there.
And this Snickers bar at the register. Whatever, peanuts are healthy.
Definitely never shopping post-run again.