3 Tips For Breaking the Holiday Bloat
It is possible to indulge during the holiday season while still staying healthy!
Heading out the door? Read this article on the new Outside+ app available now on iOS devices for members! Download the app.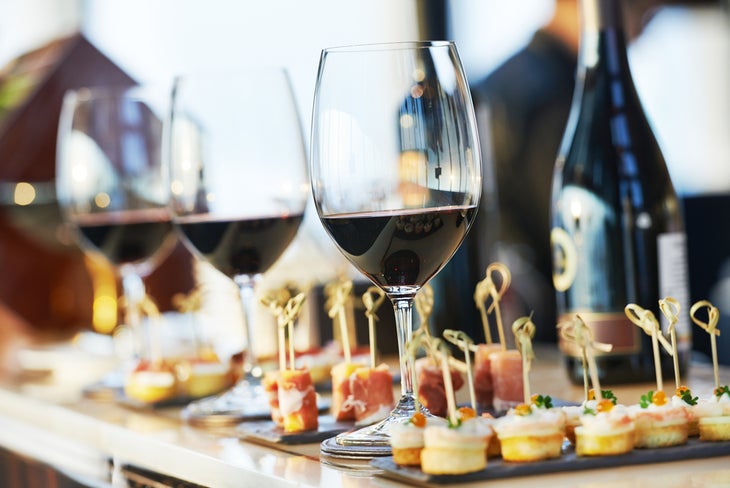 With the holidays in full swing, you're probably finding yourself in a constant state of bloat.  Ugh.  You wake up feeling guilty and gross. Plus this time of year often overlaps with down time in training.  Whether post-marathon, stuck with a nagging injury, or just in need of some solid r & r, you may be running less during this glutinous season. So how can you tackle piles of goodies and cocktails galore?
1. Create balance.  Yes, treat yourself.  No need to skip out on all the festive fillings. But be choosey and avoid sampling everything in sight. Eat that gooey cheesy artichoke dip, but skip the bread and enjoy it with veggies. OR splurge on that super sweet candy cane cosmo, then pass on dessert. You get the picture.
2. Cross train. Between racing seasons? Don't stop working out all-together. This is the perfect time to try a new spin class or jump on the MegaFormer for an intense pilates session. Pushing your body in new ways will not only keep you fit, but can also burn extra calories to ward off unwanted weight gain.
3. Morning detox. Start the day out right. After extra alcohol and food indulgences, you need to clean house.  For a hydrating anti-inflammatory boost, add lemon, turmeric, ginger, and cayenne to a cup of warm water, stir, and drink up! Or if you're up for trying the latest detox trend, charcoal is the answer. It binds substances (good and bad) and cannot be absorbed, helping to clean out toxins.  Activated charcoal (not petroleum-based) has been found to be safe and not toxic to consume. However, since more research is pending, save this one for those truly nasty mornings.
***
Katie Casto Hynes received her Masters of Science in Nutrition & Exercise Physiology from Teachers College, Columbia University. A former collegiate athlete turned competitive marathon runner, her passion for fueling the body with healthy foods inspired her to enter this field. She has worked with athletes to help them improve their performance through nutrition and proper race fueling. Katie can often be seen running through Brooklyn and chatting about her latest kitchen adventures.