3 Mid-Race Mantras That Keep You Moving
When your race hits those "dark miles," here are some tried and true things to say to yourself.
Heading out the door? Read this article on the new Outside+ app available now on iOS devices for members! Download the app.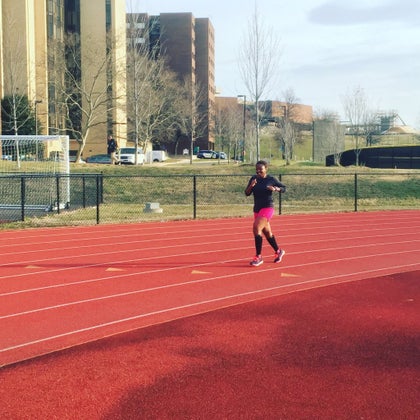 Mantras can be incredibly useful when you are running and even more useful when you are racing. I like to use them to help when I'm running through what I affectionately call "dark miles." I have a few different mantras that I've been repeating during this training cycle. As I look towards my goal race this weekend, I'm reviewing these mantras so that I'll be ready to use them when I need them. Here are a few of my favorites:
You can do hard things. I used this one during almost every tempo run this training cycle. If I started feeling like I couldn't do it, I would say (out loud): "You can do hard things" over and over until I actually started to believe it.
Get it done. This is one that comes into play towards the tough middle miles (8-10 in a half, 17-20 in a full). It's that point in a race where the excitement has worn off and you still have some decent miles to go. I will repeat this one and just make it happen.
Just go. Usually saying this to myself makes me start thinking of that old Common song "Go." Then I start dancing to myself. It really gets me moving when I think I can't. Hey, whatever works, right?
Essentially any positive phrase that is short enough to mutter while I'm running hard works for me. Sometimes though, the most motivational thing is to not say any phrase but to just think back on all the hard work I did to lay the ground work for a successful race. I think about the hard runs, the long runs, the ones where I wanted to quit and I didn't. And then I tell myself to "just go."
What do you say to yourself to help push past those hard miles?
More from Eat Pray Run DC
6 Lessons Learned From Running 6 Marathons
Fun Things To Do After Finishing Your Goal Race