Your 24-Hour Detox Plan
This day long detox uses real food and exercise to get you back on a healthy plan.
Heading out the door? Read this article on the new Outside+ app available now on iOS devices for members! Download the app.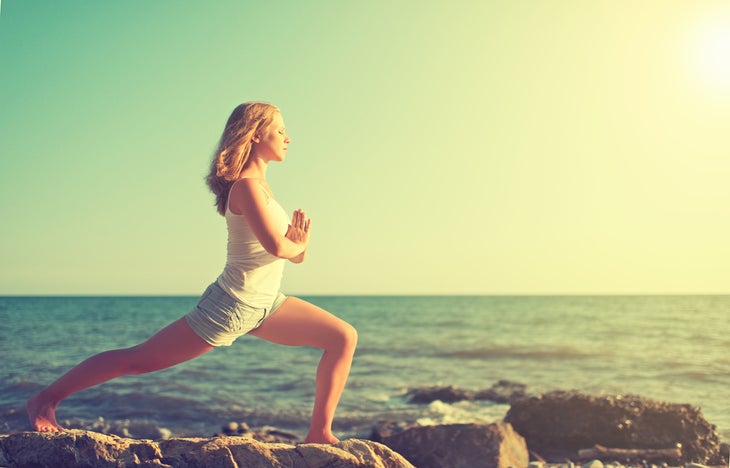 *Courtesy of POPSUGAR Fitness
Whether you overindulged last night or just need an extra push in the right direction, this one-day plan will help get you on your healthy way!
Morning
Afternoon
Break often: Use this time to really care for your body's health, so as much as you can, try to move throughout the day. Get up from your desk frequently to take short walks around the office (every 20 minutes is a good benchmark). If you can't get up that often, take a moment to do these desk stretches throughout the day, and give your eyes a break by looking away from your computer using the 20-20-20 rule: look away from your computer screen every 20 minutes at a spot 20 feet away for 20 seconds.
Lunch hour: Avoid the afternoon slump by eating a light lunch that won't weigh you down. We recommend choosing one of these detox soup recipes or this fiber-rich cabbage salad that contains heart-healthy fats; round out the meal with some lean protein. Take this time to eat away from your desk — put away your phone and focus on the delicious meal in front of you. Once lunch is done, allow yourself 20 or 30 minutes for a walk.
Snack time: If you feel like you need something to hold you over until dinner, there's nothing quite like a green juice. This nutrient-dense beverage has a knack for instantly boosting energy and making you feel like you have done something really good for your body. It also doesn't hurt that it's packed with a host of essential vitamins. If you aren't able to make your own juice, pick up one of these store-bought cold-pressed juices from your grocer.
Evening
Unwind: Before heading home to plop yourself in front of the television, find a way to treat yourself! A great way to unwind and detox is to get a massage or spend time in a sauna. Both will help to ease any tension in the body and offer relief to sore muscles or joints.
Dinner: This is the perfect time to relax with a healthy dinner full of lean protein and fresh veggies. This panko-crusted fish over kale is full of fiber, protein, and vitamins; it also only takes 20 minutes to prepare. If you're sensitive to gluten, try POPSUGAR Food's cod with asparagus en papillote instead. Instead of eating in front of the TV, sit down at a table to take the time to really enjoy your dinner. You'll find that by doing so, you can focus on your food and not eat mindlessly, which is a common reason for overeating.
Wind down: One of the best ways to detox the body is to make sure you have enough quality sleep. Sleep is connected to weight loss, stress levels, and overall health. Make a point to decompress from technology tonight, take a relaxing shower, and give yourself enough time to get a good night's rest. You can also unwind with this before-bed yoga sequence that will help you relax.
Related Articles:
Baked Cinnamon Banana Chips Save on Dough and Added Sugars
Is Matcha the New Weight-Loss Superfood?
How I Came to Terms With Running
A Plank Modification That Will Tone Abs Faster
Intervals For the Beginner: 30-Minute Treadmill Workout