15 Motivating Phrases To Repeat During A Race
When those last miles get tough, these mantras can help you finish the race.
Heading out the door? Read this article on the new Outside+ app available now on iOS devices for members! Download the app.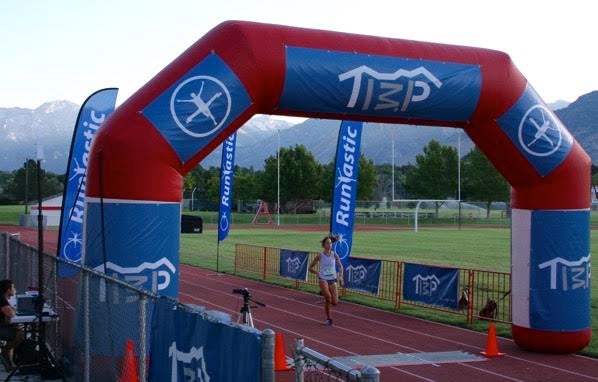 Those last few miles of a race can be tough. Actually, there are many miles in a race that can be especially hard. We may get so tired that we are tempted to quit and go eat cold watermelon instead of finishing (okay, just me?). Slowing down can sound especially great. I think that is one of the things that I love most about races. I love getting to the point of being super exhausted and wanting to quit, but choosing to continue to move forward instead. We prove to ourselves how strong we are when we keep going.
Throughout my training cycles, I love to come up with a few mantras that really mean a lot to me at that point in my life and running. I use them during my hard training runs and I REALLY use them during races. Towards the end of a race, my body and mind are drained of energy. I love repeating my favorite simple mantras over and over again to help me to keep going. I thought I would share the top 15 quotes that I have used over the years. I would LOVE for you to reply on Twitter and Facebook with what your favorite mantras are.
1. I CAN do hard things.
2. Dig deep.
3. Define yourself. (This one is from Deena Kastor. It helps me to remember that I am in control and ready to prove to myself what I am made of.)
4. I can do anything for X more minutes.
5. Endure WELL. (This reminds me to keep moving forward, smile, relax, enjoy each mile and to embrace the pain, rather than just trying to get to the finish line).
6. I GET to do this.
7. Choose greatness.
8. Stronger with every step.
9. You won't die. (I tend to be a bit dramatic. This simple one helps me to remember that I am not going to die and that I can keep going.)
10. Pain IS temporary. (I had this one engraved on my iPod Nano a few years ago.)
11. I'll quit when I am done.
12. Exceed your expectations.
13. When your legs are tired, you run with your heart.
14. Suck it up, buttercup. (I need a little tough love every now and then.)
15. Run strong.
Bonus: For the last mile of most races, I just repeat my little girl's name over and over again (Brooke). That helps me to keep pushing so that I can see her at the finish line.