The Real Deal With Runderwear
Not a commando girl? Be careful which pair you reach for underneath those shorts.
Heading out the door? Read this article on the new Outside+ app available now on iOS devices for members! Download the app.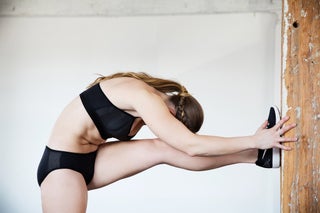 It is reported that Victoria's Secret has an annual revenue of $6 billion, which goes to show that women are out buying bras, lingerie and underwear in full force. Are those cute, lacy undies really the best thing to be wearing during a workout? Or what about those plain, cotton briefs you picked up, because you heard cotton was breathable?
The answer? Running-specific underwear is always the better option for those that rather not go commando. Dr. Elizabeth Stevenson, an avid runner and on-staff OB/GYN at Baylor University Medical Center in Dallas, explains why: "It is very important to choose fabrics that are wicking and can carry sweat away from the skin," she shares. "You should avoid cotton underwear as it can continue to stay moist and may cause irritation to the vulvar tissue from excessive rubbing."
When you exercise, not only do you sweat, but Dr. Stevenson also points out that blood flow to the uterus and cervix are increased, which can lead to a slight increase in watery discharge. There is no reason to be alarmed by this, however, but mixed with sweat, all of that moisture can cause unsightly sweat marks on your pants or shorts.
RELATED: Running Clothes For Every Body
Not only are running underwear companies thinking about the best way to keep your private parts clean, but they also take into consideration keeping you comfortable. Julie Sygiel, founder of Dear Kate and a former chemical engineer who went on to develop the patent-pending three-layer lining in their products,  says that women have gotten mixed messages about cotton underwear and its breathability. "It's true that cotton fibers are absorbent," she says. "However, they don't allow moisture to travel along the fibers. Once there is a little bit of moisture it is quickly saturated and the dampness stays next to the skin."
Running-specific underwear, made with synthetic fabrics, pulls that moisture away from your body and the skin. Dear Kate takes that idea further and has added a thin, protective layer on the outside of fabrics, to avoid the possibility of embarrassing 'crotch-sweat' that can come with added moisture from discharge and sweat.
RELATED: 10 Moments That Make Runner Girls Cringe
In the end, no matter what underwear (or lack-thereof) you may choose, the most important thing is to change out of your workout clothes as soon as you are done exercising. Dr. Stevenson says, "The moist environment, especially in warm temperatures, can increase the growth of atypical bacteria in the vaginal canal leading to yeast or bacterial vaginitis." This is something that may happen regardless of whether or not you wear underwear while working out.