We Tested 7 Affordable Activewear Brands To Save You Money
Our team put low-cost workout wear through the wringer to see if it could handle our sweat tests.
Heading out the door? Read this article on the new Outside+ app available now on iOS devices for members! Download the app.

Quality versus quantity is a common conundrum, especially with running clothes. Do you buy three inexpensive tanks or one pricier, designer one? If a top is ill-made, full of scratchy seams, you'll probably never wear it. Then again, if a pair of tights costs half your paycheck, they may sit on your shelf because you want to save them for a "special occasion."
Running gear is meant to be worn, not treasured. With a constant stream of new advancements in fabrics and construction, you should be able to have performance gear that doesn't break the bank. But with the huge variation in prices—we've seen leggings priced anywhere from $10 to $1,000—it can be tough to discern between inflation and quality. That's why we tested outfits from seven brands known for having reasonable to downright-affordable price points. The one rule was that nothing could cost more than $60—not exactly dirt-cheap, but handy for providing a good range of options. Read on for our honest assessments.
Old Navy Active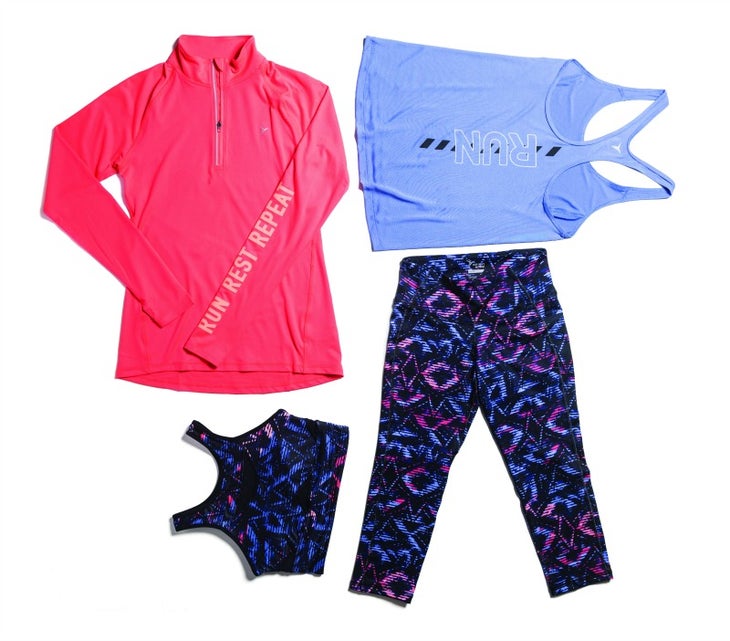 The activewear section at this store is growing, and it's a great place to find pieces for both workouts and style at very low prices. You can even shop by sport (running, duh!) online and find a wide variety of sizing up to 4X. oldnavy.com
TESTERS: Allison Pattillo, WR contributing gear editor & teenage daughter Adair
We are both size mediums from top to bottom, although I'm 5'9" and Adair is 5'5". We live in Aspen, Colo., and tested the gear on outside runs, at the gym (on rowing machines, treadmills and elliptical machines) and doing yoga. Adair's favorite piece was the bra and my favorites were the compression crops and zip pullover. I found it rather amazing that these clothes served our stylistic and functionality needs despite having nearly three decades between us!
Go-Dry Racerback Performance Tank, $15
If a piece of clothing can look fast, this airy tank does—it even says "run" on the back in case you need a reminder. Large armholes and a longer cut are stylish without being sloppy due to the tank's slim, athletic fit. And the light, breathable fabric feels good against your skin.
Go-Dry Mid-Rise Printed Compression Crop, $27
The fit on these was dialed! Plus, with a wide waistband and light compression, they stayed put for runs, gym workouts and fl ow yoga. While the hand-feel of the fabric is a bit rough, it feels great on and flat seams meant no chafing—always a win. I'm a sucker for bold patterns and these delivered—I was even complimented on how fun they were while browsing the gear in a tony yoga shop. So far they've been through three washings and dryings and are no worse for the wear.
Go-Dry Performance 1/4 Zip Pullover, $27
Delicious softness in "can you see me now" orange is a winning combination for a handy zip tee. Wear this while you warm up, on the run or as a light layer for post-run. I have long arms and the sleeves were even long enough for me to comfortably use the thumb holes—that rarely happens. One sleeve has "run, rest, repeat" printed along its length in large, reflective letters— safety first!
Go-Dry Long-Line Sports Bra, $25
This is perfect if you are looking for a cropped bra to actually work out in. It's not just stylish; it's functional too. With more fabric than some bras due to the crop-top style, I was concerned it might be warm, but lots of smartly placed mesh accents kept me cool. The compressive support was completely adequate for A and B cups. The bra had too much fabric for under a T-shirt, but it worked well with a tank and looked adorable with my favorite hoodie!
C9 by Champion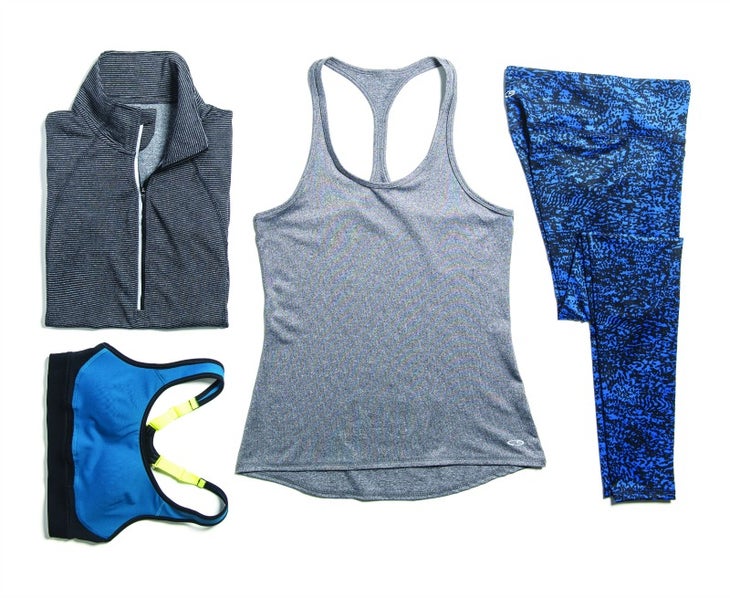 With some of the lowest pricing in workout gear with widespread availability, this brand is at Target stores and has a broad range of sizing options—including plus size and maternity. You may find some items don't have some of the extras you appreciate, or you may be fine without based on the price tag. Most items will be best suited to shorter workouts. target.com
TESTER: Mirna Valerio, WR contributor and blogger at "Fat Girl Running"
I'm 5'7" and am a size XL or XXL in both bottoms and tops and DD for a bra. I live in the North Georgia Mountains and tested gear on outside runs (track, trails, dirt roads), treadmill runs and while doing yoga and other cross-training. In a still-developing world of plus-size athletic apparel, the C9 by Champion bra is definitely a winner.
Run 1/2 Zip Pullover, $30
This affordable half-zip is well designed, and perfect for a chilly day. It's not too fitted, doesn't ride up and complements most outfits with its simple design and color. The hidden pocket on the side is a cool feature for keys, an ID and maybe a gel or two for longer runs. The fabric around the neck area felt slightly rough, and I had some issues with the zipper. Otherwise, it's a good, basic item to have handy.
Power Core Compression MAX High Support Racerback Sports Bra, $23
This compression, high-impact bra keeps the girls in place while running and jumping, with a simple, but feminine (read: not matronly) design. That said, I felt as though there wasn't enough coverage on the sides, which resulted in some spillage. I also wish the strap was covered with additional fabric for a more comfortable fit.
Performance Long Tank Top, $15
This tank is long enough to be flattering, and short enough to show that I'm comfortable with my body. It did not ride up and is definitely more on the fitted end of the spectrum but not uncomfortably so. The underarm stitching didn't lie flat and was somewhat irritating—not to the point of chafing, but I could imagine raw skin developing during a long workout.
Freedom Leggings, $21
These tights are a bargain! I tested the 1X size, which is the top end of the comfort zone for a person who is size 18–20. I ran outside on the track, on the trail and on the treadmill and they managed to stay up on my waist—no tugging needed! Although the fabric feels less luxurious than other more-expensive brands, it does the job. They're cute, they're cut well and they're functional for runs in the 6- to 10-mile range. The stitching is a bit rough and itchy, which is why I wouldn't wear them for longer runs.
Calia by Carrie Underwood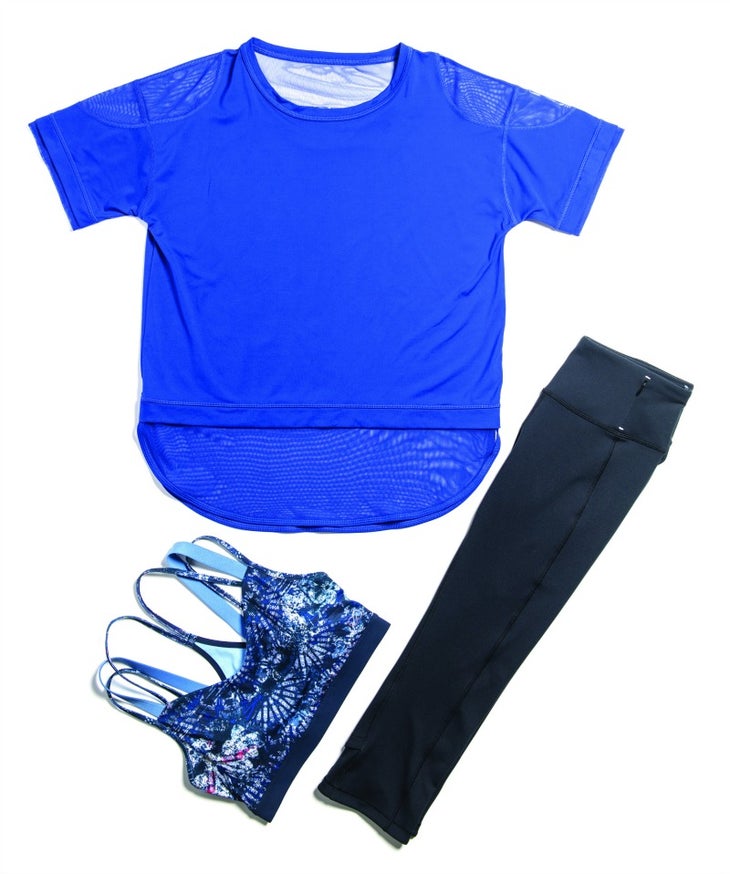 Many items from the country musician's label, designed for her to go "from studio to street," are pricier than our parameters for this article, but with availability at Dick's Sporting Goods, you can often find other items on sale. Her trendy styles, with sizing from XS to 2X, give tech fabrics a feminine touch. dickssportinggoods.com
TESTER: Caitlyn Pilkington, WR web editor
I'm usually a size small and B cup for bras, and since I live in San Diego, I tested my gear outside on sunny runs. Everything I tried from Calia and Kohl's worked fine on the run; my favorite pieces were the tee from Calia and the tank from Fila Sport. And even though I'm not a fan normally of padded sports bras, both brands had functional bras for running. I was impressed!
Mesh Trim Short Sleeve Tee, $45
I was surprised by how functional this was. WhenI first looked at it, I immediately thought it was just a nice shirt to wear with jeans and step up your outfit. It looked heavy for a shirt meant for sweat. I was shocked at how light and breezy it felt during my workouts—and it pairs well with running tights since it's long enough to cover your butt.
Multi-Strap + Mesh Medium-Support Sports Bra, $35
This bra definitely kept the girls in place for runs and yoga. For a pullover-style bra, the back design is more interesting than your standard racerback cut. I didn't love that you couldn't remove the padding. It's minimal, but I prefer none at all. Also, the material felt slightly itchy after my run, especially the band. It was very comfortable during the run, butI felt an immediate need to take off my sweaty bra when I was finished.
Essential Crossover Tight Fit Capri, $60
These capris were great for a short run. The material felt soft, and they didn't slip as much as some other tights I've tried from the brand. However, they are not my first choice for a long run or race. I didn't feel 100 percent confident they would stay on my hips for the long haul (aka if the fabric started to get soaked with sweat)—but they are fine for a few chilly miles, and they worked great for yoga!
90 Degree by Reflex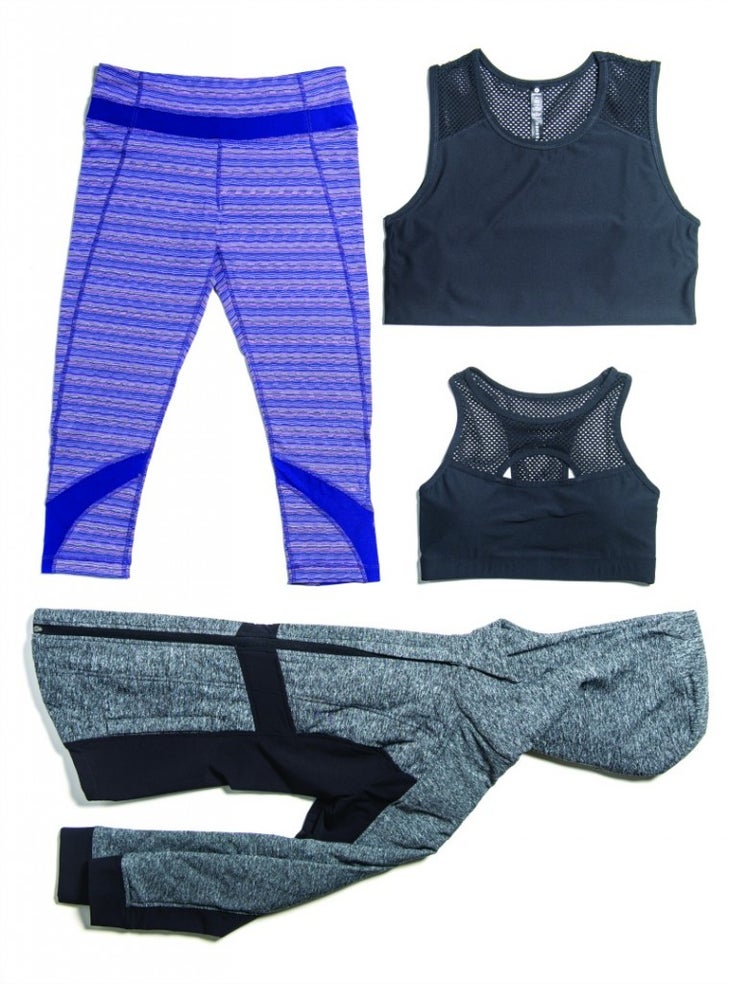 This brand offers options galore with stylish cuts, fabrics and patterns. The quality is very good, and tags show much higher pricing than what you'll actually pay. The styles tend toward athleisure and may remind you of Lululemon or other more expensive brands. Available at stores such as Nordstrom Rack and T.J. Maxx and online, the label has sizes up to 3X in some styles. 90degreebyreflex.com
TESTER: Nicki Miller, WR managing editor
I'm an A cup and usually wear a medium, though depending on whether clothing runs small or large, I can wear either of those sizes too. I tested the gear on runs in San Diego and while doing weights and yoga. Overall I was impressed by the quality. I've had more expensive items from well-known brands that pill after washing or have seams that chafe.
Textured Mesh Panel Capri, $42
These capris have a nice stretchy feel and wick well, meaning you won't feel soaked on your long run. The waistband (with a key pocket) is wide enough that you stay secure, and I didn't have problems with them falling down. This brand has a lot of products with see-through panels at the bottom of the legs to add wow factor.
Woven Hooded Fleece Jacket, $44.50
I was pleasantly surprised by this jacket. It looks thicker than it really is. The fabric, a blend of polyester, spandex and cotton, is soft and wicking. Plus it's washable, so I don't mind putting it on after a workout. The lines are very cute on body and it doesn't have a skintight fit, so you still have room to breathe.
Fishnet Back Mesh Tank, $24
The fishnet of this tank (shown folded) feels more functional for keeping cool rather than being particularly sexy, although it is a fun accent. The relaxed fit and light weight make it quite comfortable while running. Depending on how it hits under your arms, you may need to apply something to prevent chafing or just wear it on short runs.
High Neckline Fishnet Mesh Bra, $25
For having a somewhat foxy look to it (matching the tank), this bra is really comfortable. Since I don't need a lot of support, this piece seems most appropriate for someone like me. It was a little hard to get o when sweaty, so I would only expect it to be more difficult for women who wear larger cup sizes.
Fila Sport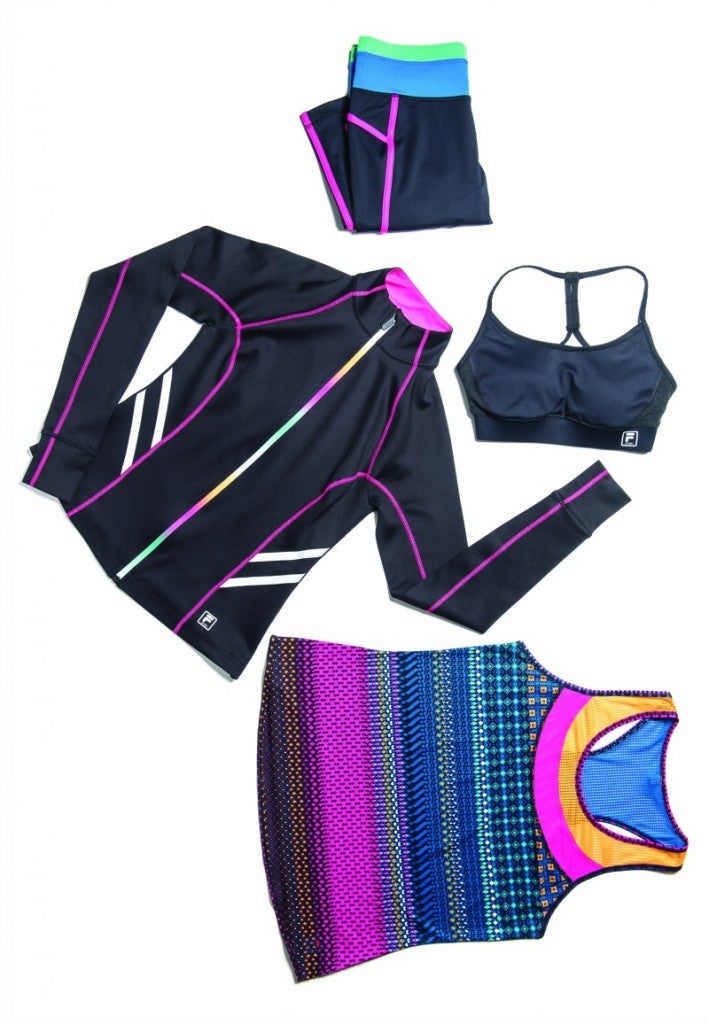 This house brand for Kohl's department store keeps the prices low while delivering both basic and fl ashy items in sizes XS to XL to suit different styles and workouts, and many items coordinate with patterns and colors. kohls.com
Tested by Caitlyn Pilkington
Contrast Zipper Jacket, $55
The thick poly-spandex fabric made this little jacket almost too warm for "colder" San Diego weather (read: 45 degrees). Even still, there were no hot spots around my arms or stomach.I paired it with a tank underneath, but because of the wicking material, it would work with just a sports bra too.The only downside is there is no reflective technology on the jacket, so runners who wear it after dark should consider adding visibility to their outfit.
Contrast Block Low Impact Bra, $30
For "low impact," this bra held up well during a run, but it's definitely best for people with smaller chests.I also had an issue here with not being able to remove the padding, which is a personal preference. I tend to have issues with bra underbands, but this one didn't rub awkwardly and stayed put. I would recommend it if you don't require much support.
Mesh Yoke Tank, $25
What a fun, flowy tank! The pattern pops, and, for those of us who want a more flattering cut, it has a hint of a curve on the sides and fell nicely with the rest of my outfit.The mini holes up top make the piece very breathable, and the flat seams meant no irritation around my armpits. I don't see any reason to pay extra dollars for another version of this tank; this one seems like a perfect option to wear in any warm-weather situation, running or not.
Tracker Capri, $40
These are a tad loose toward the bottom, so they cinched up in a weird way around my knees. However, they performed well on the run. They stayed put and offer a high waistband that keeps everything feeling secure. The Trackers did feel a bit thicker than other caprisI'm used to, so I'm not sure how breathable they would feel on a really hot day.
Torrid Active
Torrid has definitely put some thought into creating pieces for both athleisure and serious athletes. With sizes 10–30 online and 10–26 in stores, this nationwide retailer sells inspirational tees, colorful leggings, lots of different bras and more—to make you look as good as you feel. torrid.com
Tested by Mirna Valerio
Color Block Bermuda Shorts, $43
I really loved this style and fit. These shorts have a wide waist panel that stays put and holds everything in place when you are working out. The legs did not ride up while I was running and doing yoga, and the overall look is flattering. I'm average height, and my only wish is that the inseam (8 inches) was about an inch longer, so that they would hit right above the knee.
Underwire Sports Bra, $55
This bra is fantastic. It's hard to find a bra that is appropriate for running, controls bouncing and doesn't look like armor—as a DD runner, I think it's almost impossible! I wore this for a couple of runs, yoga and the gym. It offered enough coverage on the sides, the design is sturdy enough to control most up-and-down movement and I did not experience any chafing. Perhaps it isn't the most compressive bra, but I did not need to wear a second bra with it.
Work Hard Slay Tie Back Tee, $35
This is a pretty cool T-shirt, and it's great that it gives plus-size women an option to wear something cute with an empowering message. It's perfect for weightlifting or for those days when you want a loose, airy piece over your bra or tank. That said, this isn't a shirt I would wear on a long run—for me, the less fabric and the more fitted, the better.
Perforated Shadow Stripe Hoodie, $59
Finally, a stylish athletic jacket that is cut with the plus-size woman in mind! It's perfect length-wise, does not scrunch up once you start running and retains its shape after a couple of washes (line-dried, of course!). It's the perfect jacket for a run up to about 6 or so miles or until you start really sweating. I worry about chafing on a long run because of the texture of the fabric. Style-wise, it goes well with the bra, without the need for a top underneath.
Akinz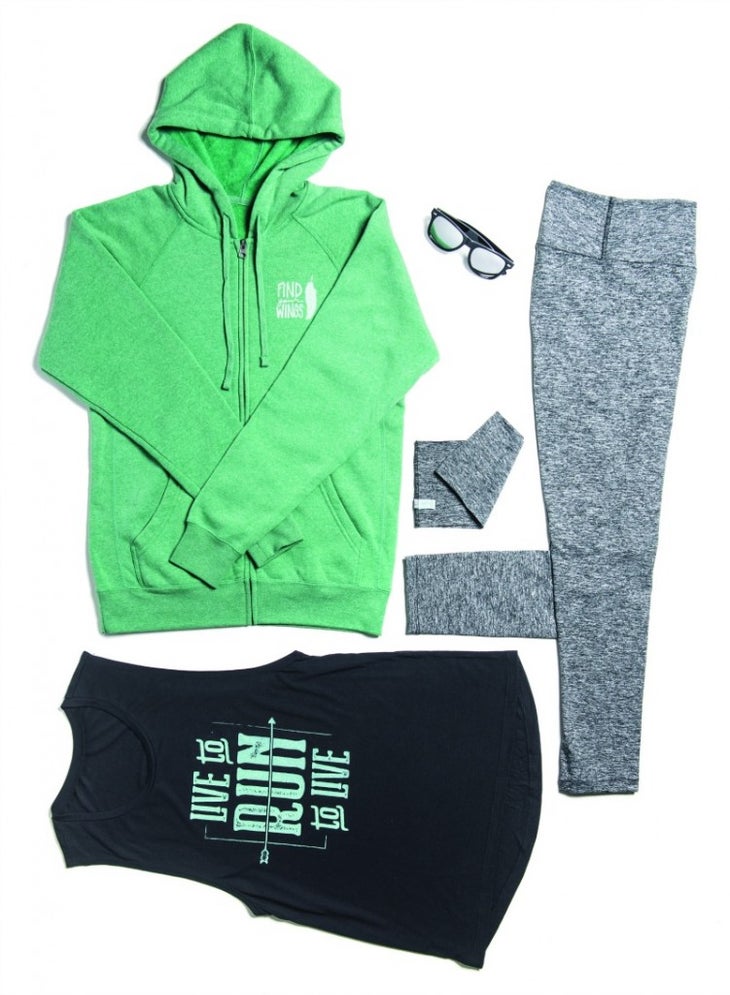 This small Colorado company specializes in handcrafting clothing and inspiring outdoor adventures with its "find your wings" motto and other printed sayings. With cozy fabrics and lower prices than some other boutique brands, Akinz offers sizes from XS to XXL and has a store in Fort Collins and online. akinz.com
Tested by Nicki Miller
Fly Away Zip Hoodie, $48
The company's "Find Your Wings" motto is on the front and the back of this beautiful hoodie. Whether you're wearing it for a warm-up or post-run, you'll no doubt appreciate the soft, plush inside and the really nice fit whether zipped up or left open. With unisex sizing, I went with a small, and it was just right. After a few wears, I've started to see some pilling under the arms.
Dream Heather Active Legging, $52
These leggings are so soft, it's ridiculous. The UPF 50-plus, moisture-wicking fabric is stretchy enough for a run or yoga, and the high double-layer waistband will keep you covered. I was bummed there's no pocket, but the comfort makes up for that. You could easily find yourself sleeping in these to stay cozy for early morning runs. Some people like to size down, because of the stretchy fabric, but I stayed with a medium; if your bottoms often get droopy, go down a size.
Live to Run Muscle Tank, $28
This is super cute and made with really soft, technical fabric. With larger armholes, you can show off your sports bra and keep your cool. The top is thin, so it worked well with a jacket over it. I love the color paired with a teal sports bra, and the message tells everyone who I am—one yoga teacher said I was more flexible than most runners. 😉
Active Stretch Headband, $8
Made from the same yummy soft fabric as the leggings, this company started making headbands to reduce wasted fabric. I'm not really a headband person, but the fit and fabric seem ideal for people who are. Smart and cute!
Shenanakinz Wayfarers, $13
Light, with mirrored lenses, these UV-protection sunglasses are stylish and not too expensive to worry about—especially if you tend to scratch/lose/drop sunnies! They stayed put with sweaty movement.