New Apps Keeping Runners Safe
These two new apps can track your runs while keeping you safe.
Heading out the door? Read this article on the new Outside+ app available now on iOS devices for members! Download the app.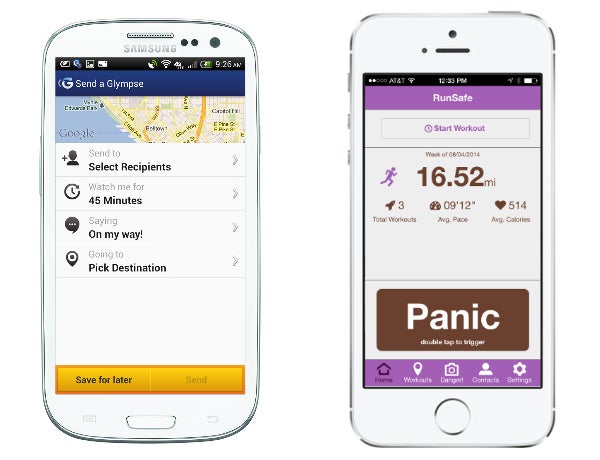 These two new apps can track your runs while keeping you safe.
In between queuing up perfect playlist, putting on body glide and trying to remember where water fountains are located, runners don't need to worry about whether or not they will finish today's miles safely.
You can take advantage of our constant-connectedness with two new apps available to keep runners safe—and give friends and family peace of mind.
Glympse
This free app will quickly become your running buddy on the roads and trails. With Glympse, users can share their location for up to four hours. After opening the app, you simply select a contact with either a phone number or e-mail address, set the duration of time to track and hit 'send.' The recipient doesn't even need to have Glympse to receive your notification and track your run. Run to your heart's content while knowing you have someone that can access your exact location in case you get lost, injured and need a ride home. Stay safe on early-morning runs by sharing your tracking info before the sun joins you. As an added bonus, Glympse will sync to Evernote, allowing you to keep track of your runs over time. Available on Android, iOS and Windows Phone, you can download Glympse with the touch of a button to add another layer of safety to your next run.
RELATED: Avoid Danger on the Run!
RunSafe
For runners looking for a new app to track runs that has a built-in safety component, RunSafe is a great option. It has the same functionality as most fitness apps, with GPS-enabled tracking of running, biking and rowing, along with the ability to share workouts on social media. Available in both a free and subscription option, you can choose the version that works best for the way you train. For those often out running long distances, the subscription version notifies your contacts with a text at the start and end of your workout. It is an addition that is well-worth the $4.99 monthly fee. The free version, however, includes the Panic Button feature, which not only sends an alert to your contacts when activated, but also plays a loud siren and strobe light, along with recording several minutes of sound that becomes available to your contacts. With the Community Alert option, users can report dangers in their area to help keep others safe.
Have you used either of these apps? Share your experiences with other readers!