Why Carbon-Plated Running Shoes Can Lead to Injury, and 10 Speedy Alternatives
Ten non-plated running shoes that let your feet move freely, provide stable cushioning, and deliver a fast, agile ride
Heading out the door? Read this article on the new Outside+ app available now on iOS devices for members! Download the app.
The advent of supershoes has transformed the running shoe world in every category, none more than the class of shoes that used to be called lightweight trainer-racers. Rather than low, flexible, relatively firm shoes, the majority of up-tempo shoes now have a thick stack of light, bouncy foam with a curved carbon or plastic plate embedded in the midsole. Shoes without a plate are now defined by its absence. But concerns continue to grow about injury risk in carbon-plated shoes, and a growing number of models are eschewing the high-stack-with-plate trend and reviving the simple up-tempo shoe category with modern touches.
Besides not having a plate, these shoes share other characteristics. Like supershoes, they all feature advanced midsole foams that are ultra-light and hyper-responsive. Unlike supershoes, however, they all have relatively low stack heights and tend to be built on wider platforms, both of which enhance their stability. They also all have a flexible forefoot (rather than a rigid, rockered one), svelte uppers that have just enough structure to hold the foot in place, and price tags that run around $100 less than their supershoe siblings. 
The Problem with Plated Shoes
If plated super racers and trainers are indeed super, allowing you to run faster with less effort, why would anyone want anything else? The answer has two seemingly contradictory parts: 1) to avoid the excess stresses and accompanying injuries that supershoes can cause, and 2) to allow the natural training stresses that supershoes reduce, in order to build stronger, more robust feet and lower legs.
The problems start with supershoes' thick, bouncy, sole that propels you forward, but can also throw you sideways. "Running in supershoes is a much less stable environment," says Jay Dicharry, physical therapist, biomechanical researcher, and professor at Oregon State University. "If you have really good alignment and foot and ankle control, you might be OK, but if not, a supershoe will greatly magnify your instability. You'll wind up with a considerable increase in stress—and if you have something borderline, it might push you over the threshold." 
Amol Saxena, a leading sports podiatrist in Palo Alto, California, also points out issues with the prescriptive rigidity of the plates. "The problem with the carbon-plated shoes is that your foot is individualized, and the carbon plate is not," Saxena says. "So if the shape or length of your metatarsals line up differently than where it has to bend, or your plantar fascia is less flexible, you can get stressed in those areas—that's why people are breaking down. I've had people break or tear things just in one run in the shoes." The more flexible plates found in many super trainers reduce some of this stress, but these shoes are still tuned to optimize specific strides and don't let the foot move freely in its preferred patterns.
Research has also shown that running in supershoes changes your form: It decreases your cadence, increases stride length and peak vertical forces, and alters foot mechanics. All these add stress to joints. "When you put a supershoe on, you basically have a trampoline," Dicharry says. "It's going to compress and rebound, and creates a different rate of loading to muscles and joints." While no studies to date directly demonstrate that supershoes cause injury, evidence links them to stress fractures, plantar fasciitis, achilles tendinopathy, and other foot and lower-leg issues. 
Paradoxically, while supershoes' unstable platform and rigid plates can add excessive stress, their performance-enhancing rebound can also remove some of the training load. Supershoes lower the load at the ankle and foot, reducing the work they have to do and making running easier in the short-term, but simultaneously removing some of the stimulus for your body to adapt and grow stronger in the long-term. "If you run in supershoes exclusively, you're going to end up with a bunch of deficient runners prone to injury—runners with less springy tendons, weaker tendons, and lower bone density," Dicharry says.
The solution is to wear a variety of shoes in your training. "It is good to use different stack heights and flexibility," Saxena says. "Plated shoes should be a training tool as well as for races—but how much depends on the runner." You want to train some in the shoes you'll be racing in, to let your body adapt to their unique stresses and stride patterns. But training in more flexible, less-bouncy shoes has been shown to improve running economy and build the strengths you need to handle the unstable rebound of supershoes. "If you want to run in super shoes you need to put the work in to show up with stable parts," Dicharry says.
How We Tested
Fortunately, I don't find training in these shoes a chore. They may not be performance-enhancing racers, but they are light, nimble, stable, and make my feet feel connected, engaged, and alive.
After having run in dozens of shoe models released this spring, I selected those that fit in the category and ran in a different shoe every day for six weeks—on asphalt, concrete, and dirt roads. I did at least one daily run and speed workout in each, ranging from 100-meter pickups to VO2-max intervals to tempo runs. Despite their similarities, each shoe has a slightly different ride and significantly different fit, so it's worth trying out a few before buying. All of these models will serve as an excellent trainer for easy daily runs, interval workouts, tempo runs, and occasionally going long. 
Best Non-Plated, Flexible, Speedy Shoes
Topo Cyclone 2 | $150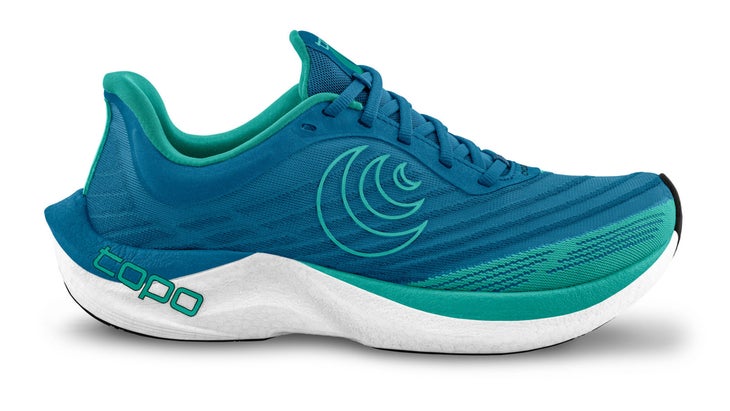 Weight: 5.5 oz (women's), 6.9 oz (men's)
Stack Height: 28mm heel / 23mm forefoot (5mm drop)
The Cyclone 2 epitomizes the modern lightweight trainer with a simple, thin layer of industry-leading, super soft-and-bouncy Pebax foam underfoot. The ride is soft on landing, then compresses and rebounds for a responsive, stable, connected ground feel during stance and push-off. The breathable mesh upper is adequately padded for longer outings, but stays out of the way, moving with the foot and complementing the flexible freedom underfoot. There's ample room for splay in the forefoot, so much so that the hold seemed a bit sloppy to me when turning over quickly at 5K pace or faster. But the extra room felt luxurious to me at every other tempo, making me want to wear them just about every day.
Read our full review of the Topo Cyclone 2
HOKA Cielo Road | $160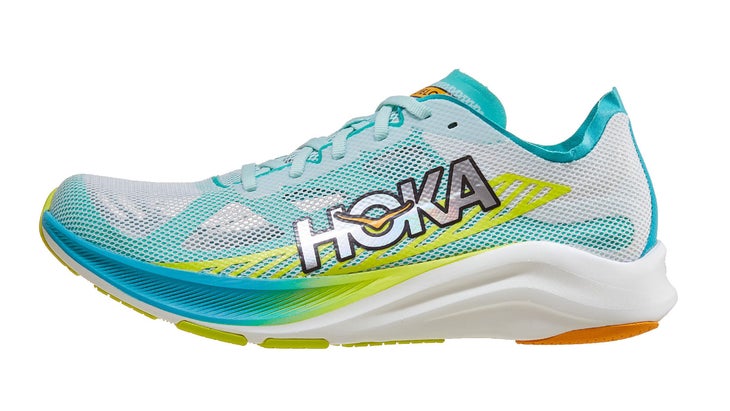 Weight: 7.5 oz (men's-unisex)
Stack Height: 33mm heel /30mm forefoot (3mm drop)
Like the Topo Cyclone 2, the HOKA Cielo Road is built around a simple, soft, flexible slab of Pebax foam. But the HOKA sole is thicker (seven millimeters more in the forefoot) making the ride squishier and bouncier, although still far more grounded than any supershoe and most other HOKA styles. The open mesh, minimalist upper and medium-width last provide racing-shoe security, congruent with the ride, which feels tuned to faster paces. The shoes performed best for me when I was up on my toes, lifting my knees and driving hard into the ground to engage the foam's explosive rebound.
Saucony Freedom 5 | $150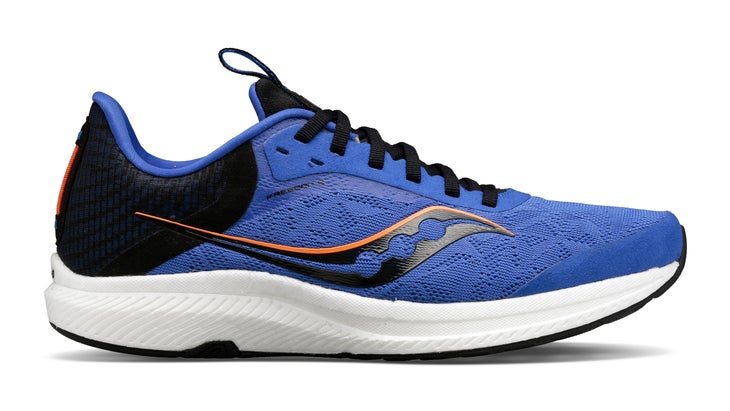 Weight: 7.3 oz (women's), 8.4 oz (men's)
Stack Height: 27mm heel / 23mm forefoot (4mm drop)
The Freedom 5 is also built around a Pebax midsole, but its thin slab is denser than others in the test, such that it rebounds from the moment you step down on it, delivering a firmly responsive ride that keeps ground contact quick and lively. The feel isn't harsh, however, as the foam contours around your sole's high spots before bouncing you back into the air. With the lowest stack height of the test and no sloppy squish, this is the most stable of the lot and the best for bridging from runs to gym workouts. The upper—a breathable, flexible mesh with little stretch over a foot-hugging, gusseted tongue—also contributes to the sure-footed agility. I appreciated this shoe's quick response during speed workouts and dynamic drills, and they provided comfortable support on urban walks. Saucony's lightweight Kinvara 14 offers a softer, more flexible, non-plated ride, although it isn't as stable or peppy.
Brooks Hyperion | $150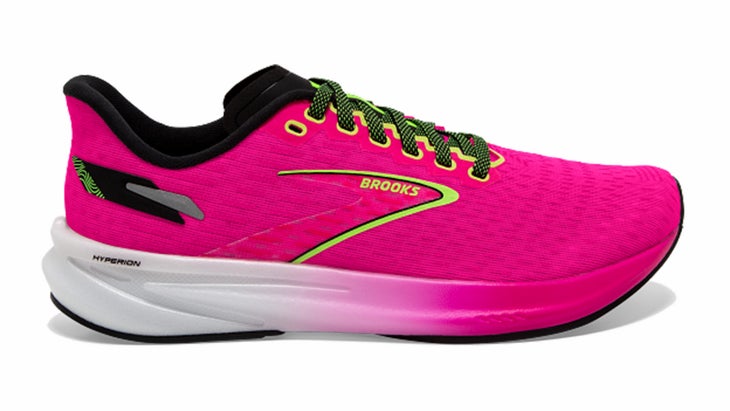 Weight: 6.8 oz (women's), 7.6 oz (men's)
Stack Height: 30mm heel / 22mm forefoot (8mm drop)
The Hyperion—an update of the Hyperion Tempo—combines speedy turnovers with smooth stability. The nitrogen-infused, EVA-based midsole doesn't compress and rebound as much as other superfoams. Instead, it lightly cushions on impact, then catches the foot and rolls it quickly and smoothly forward off the flexible toe. I felt like I got off the ground faster in these shoes, making me feel light and nimble. The airy, minimally-padded, warp-knit upper wraps the midfoot securely while giving the toes plenty of freedom. A moderately wide platform and the firmer foam make the ride inherently stable, but those wishing for more can get the GTS version, which adds guide rails around the heel, bumping the weight up half an ounce. Brooks' Hyperion Max has the same foam in a slightly higher stack with a toe-off that rocks more than flexes.
Altra Vanish Tempo | $190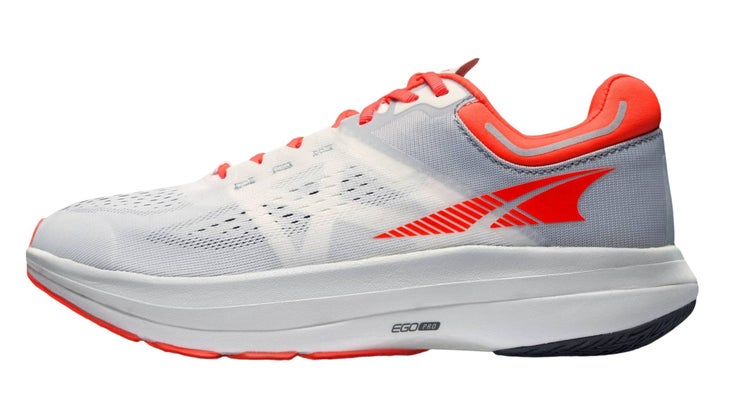 Weight: 6.9 oz (women's), 8.2 oz (men's)
Stack Heights 33mm heel to toe (zero drop)
With no drop in thickness from heel to toe, the Altra Vanish Tempo has, by far, the most foam under the forefoot of any shoe in the test, making it ultra comfortable—but threatening to be squishy. What saves the shoe from instability is the lively responsiveness of the nitrogen-infused foam that feels almost elastic as it molds and pushes back underfoot, as well as the relatively wide base, which, although narrower than the traditional Altra footshape, still supports a full-foot stance and splay. The zonal, engineered-mesh upper helps with stability as well, securely locking down the heel and midfoot while not impeding airflow or movement of the arch and toes. An early-stage rocker keeps the stride rolling quickly forward while the sole flexes enough to engage the toes on push-off. I found that the midsole's softness combined with the rocker action let the forefoot sink enough to camouflage the zero-drop geometry, making the shoe feel simply well-balanced, smoothly comfortable, and delightfully snappy.
Tracksmith Eliot Runner | $198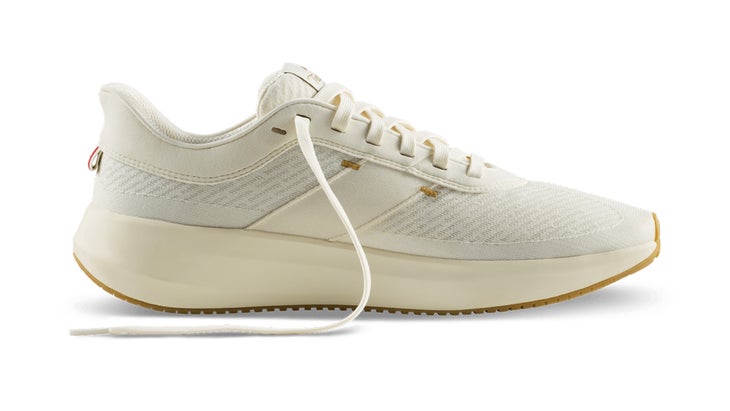 Weight: 8.0 oz (women's), 9.2 oz (men's)
Stack Height: 33.5mm heel / 24.5mm forefoot (9mm drop)
While the Eliot is rather standard in several areas—medium-to-narrow width, traditional nine-millimeter drop, moderate weight—it shines when it comes to ride. With a super-thick, soft Pebax sockliner over a denser Pebax midsole, the shoe feels simultaneously plush and responsive. The firmer midsole keeps strides quick and peppy while still smoothly cushioned, making the Eliot suitable for everything from intervals to long runs. The engineered mesh upper holds the foot and breathes well, but concedes some weight savings to retro, synthetic suede around the heel collar, the eyelets, and the midfoot sash. But those stylish details expand the shoe's versatility to include casual wear. 
Read our full Review of the Tracksmith Eliot Runner
Nike Pegasus 40 | $130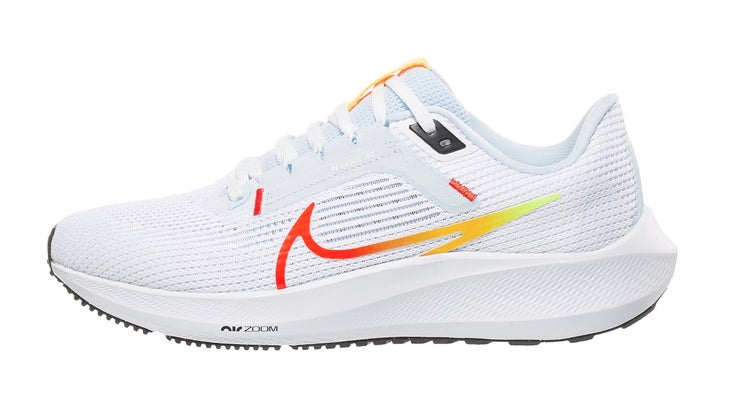 Weight: 8.5 oz (women's), 10.2 oz (men's)
Stack Heights: 33mm heel / 23mm forefoot (10mm drop)
The venerable Pegasus has joined the masters ranks at 40 years old. This classic feels like an aging runner who hasn't lost a step but has a greater appreciation of creature comforts these days. It's the heaviest shoe in the test, but those few extra ounces are well spent on the well-padded, two-layer upper, and a moderate layer of durable React foam (a TPE-EVA-blend). It also has the highest heel-toe drop, a retro 10 millimeters, that not only spares the Achilles for those who need relief from the stress of supershoes but also makes the forefoot thin, flexible, and easy to roll off. That roll, combined with the pneumatic boost of compressed-air ZoomAir pods under the ball of the foot, makes toe-offs surprisingly spry. I found that the React foam felt soft underfoot but didn't displace enough to get squishy, and delivered a smooth ride that swallowed easy miles and perked up during speed repeats. 
Under Armour Velociti 3 | $130
Weight: 7.0 oz (women's), 8.8 oz (men's)
Stack Heights: 30mm heel / 22mm forefoot (8mm drop)
The Velocity 3 delivers ultra-smooth landings and transitions, thanks to the lack of an outsole, the rounded heel edges, and the rubbery, flexible, Olefin-based Flow midsole foam (tuned softer than on previous versions and with four additional millimeters underfoot). A well-padded heel collar and engineered flat-knit upper lock down the foot without it feeling constrained. Although it bends easily in all directions, the shoe is surprisingly stable given the wider stance and how quickly the foam firms up on compression. I found the ride a pleasant combination of plush and peppy, with a soft initial feel underlaid with a fun, super-ball-bouncy rebound, and I appreciated it equally on uptempo runs and easy recovery days.
Puma Liberate NITRO 2 | $120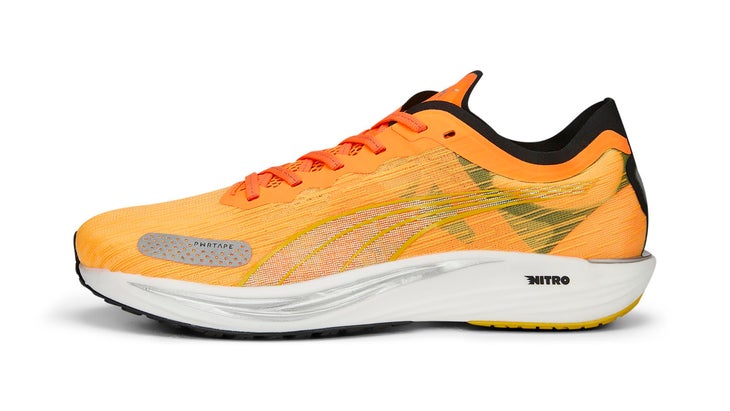 Weight: 5.2 oz (women's), 6.9 oz (men's)
Stack Height: 28mm heel / 23mm forefoot (8mm drop)
Thin, light, and flexible, the Liberate NITRO 2 fits and runs like a minimal racer of old, but nevertheless delivered surprisingly comfortable cushioning. Puma's nitrogen-infused EVA-blend provides a noticeably smooth ride, feeling almost viscous—as if flowing between pressure points underfoot as I moved through the stride and pushing back when I powered off. The mono-mesh upper and lightly-padded heel collar and tongue hold the foot securely with little stretch, and, combined with the lower-volume shape and eyelets that extend far down toward the toes, create a snug, aggressive fit that is race-ready, but not very accommodating for wider feet or those who prefer more toe splay. 
NB FuelCell Rebel v3 | $130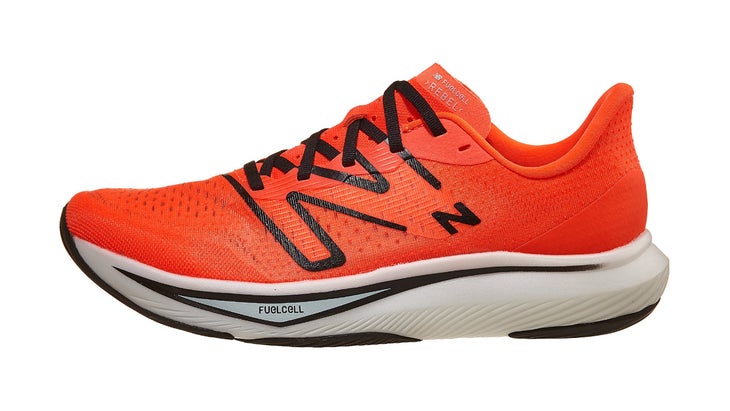 Weight: 6.2 oz (women's), 7.4 oz (men's)
Stack Height: 27.5mm heel / 21.5mm forefoot (6mm drop)
The exceptional fit makes this sleek shoe stand out: A stretchy, gusseted tongue wraps the midfoot inside a lightweight, engineered knit upper, holding the foot snugly while moving like skin. Like all FuelCell shoes, the nitrogen-infused TPU-EVA-blend foam feels super soft on step-in, but compresses to a springy platform during a running stride. I felt bogged down if I fell into a slow, rolling, heel-striking stride, but bounced along spryly when I stayed tall and forward-balanced, either turning my strides over quickly (and not compressing the foam much), or pushing off powerfully so the sole pushed back. The low stack height and flexible forefoot keep the Rebel more grounded than its max-height siblings, but look elsewhere if stability is a top priority.