The Running Shoes We Loved Most This Year
10 shoes for training and racing that were worth the miles spent in them.
Photo: Designed by Erin Douglas
Heading out the door? Read this article on the new Outside+ app available now on iOS devices for members! Download the app.
It was a great year to be an active runner in 2021. Not only were there plenty of reasons to be inspired to lace up your shoes and head out for a run, races and group runs came back, and there was also an amazing crop of new running shoes that debuted this year.
As the sun begins to set on 2021, we serve up a review of the best running shoes of the year with the notion that it's a good time to find a great deal and also knowing that new shoes for 2022 are likely going to be late to arrive because of ongoing supply chain, shipping, and distribution delays.
The Best Road Running and Training Shoes of 2021
After miles upon miles of testing, these are the top training and road running shoes for women.
Saucony Endorphin Speed 2 | $160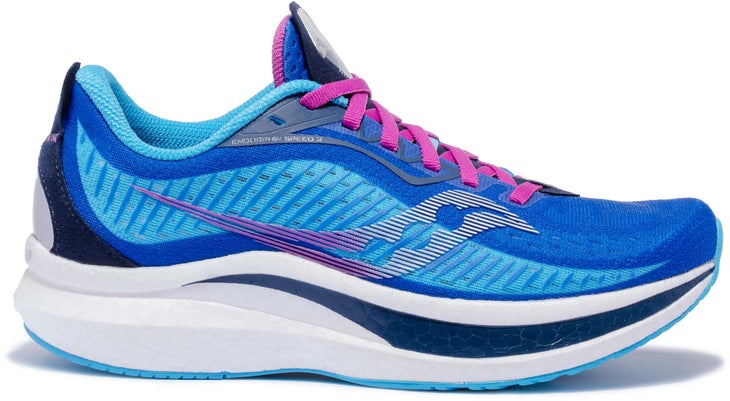 Why It's Great
The Endorphin Speed 2 is a very light, cushy, and energetic everyday training shoe that will put a spring in your step at any pace. The magic of this model is how a semi-firm curvy nylon plate embedded in the resilient PWRRUN PB midsole foam creates a bouncy sensation in every stride and seemingly effortless forward propulsion.
The Pros and Cons
Pros: The Endorphin Speed 2 is infinitely versatile, comfortable, and energetic. It can handle long runs, recovery runs, speed work, tempo runs, short races and long races with lively, high-performance zeal. If you're looking for a do-everything model as the only shoe in your quiver, this is one you should consider.
Cons: There aren't really any drawbacks to this premium shoe, except that it also has a premium price tag.
Specs
Weight: 7.1 oz. (women's size 8.0)
Heel-Toe Offset: 8mm (35.5mm heel, 27.5mm forefoot)
Hoka One One Mach 4 | $130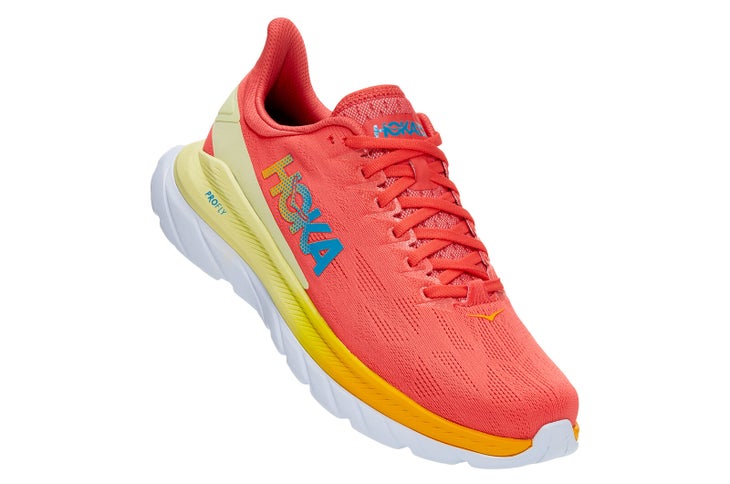 Why It's Great
The Mach 4 is a featherweight, smooth-riding, everyday training shoe with a soft, lively vibe that make it fast enough for racing and speed work sessions. The ride is incredibly smooth from heel to toe, but the step-in softness gives way to a slightly firmer sensation and a noticeable pop of energy in the forefoot.
The Pros and Cons
Pros: The Mach 4 has a rocker, or convex, geometry and a slightly beveled, swallowtail heel that create a rolling effect as the foot transitions through the stride cycle from heel-strike to toe-off. A new mesh upper does an amazing job of providing a contoured, glove-like fit for any foot size and shape.
Cons: The outsole is comprised entirely of exposed midsole foam, which makes the shoe a lot lighter but also means the durability and traction are less compared to rubber outsole treads.
Specs
Weight: 7.2 oz. (women's size 8.0)
Heel-Toe Offset: 5mm (29mm heel, 24mm forefoot)
New Balance Fresh Foam 1080v11 | $150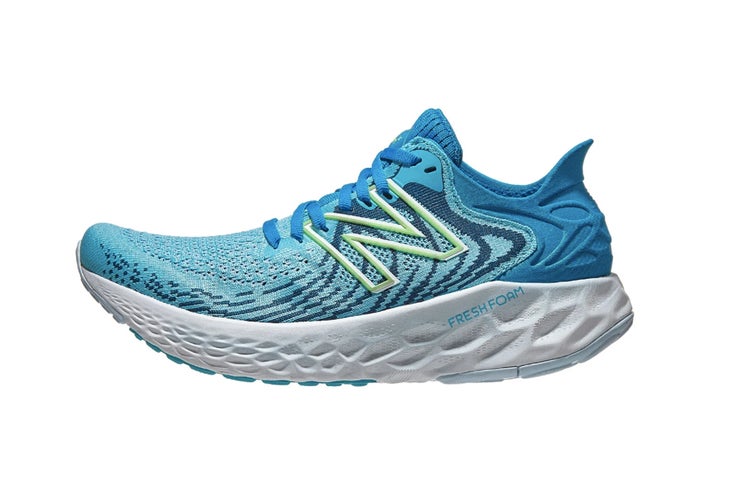 Why It's Great
A maximally cushioned, neutral trainer, the 1080v11 is a smooth-riding, high-mileage workhorse with an advanced midsole foam, a premium engineered knit upper and durable rubber outsole. New runners will love it for its secure fit and comfortable ride, while advanced runners will appreciate it for its mildly energetic cushioning, plush step-in feel and hint of reassuring stability.
The Pros and Cons
Pros: It has a soft, cozy and plush step-in sensation with a locked-down feel, thanks to a gusseted tongue and snug forefoot mesh. The ride is soft, smooth, and sublime at slower speeds and increasingly more bouncy the faster you run.
Cons: The Fresh Foam 1080v11 is capable of faster-paced long runs, but it's not really built for the quick-cadence stride turnover you'll need for tempo runs, longer intervals, track workouts or short-distance races.
Specs
Weight: 7.8 oz. (women's size 8.0)
Heel-Toe Offset: 8mm (30mm under the heel, 22mm under the forefoot)
ASICS GEL-Kayano Lite 2 | $160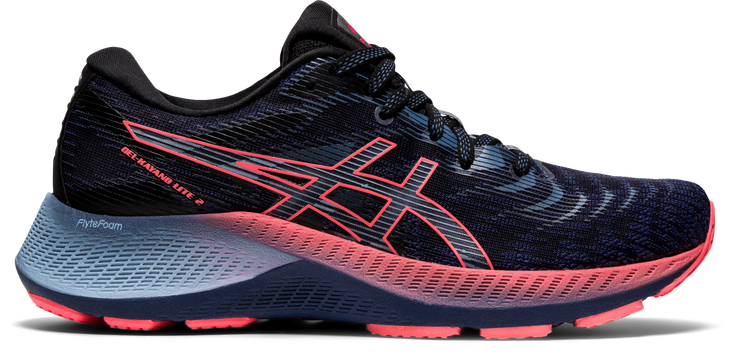 Why It's Great
A sleek cousin of the legendary GEL-Kayano 28, the GEL-Kayano Lite 2 is a maximally cushioned modern stability shoe that provides optimal stride-enhancing guidance without feeling overbearing or cumbersome. It feels exquisitely soft and subtly
supportive with a touch of energetic liveliness that's ideal for long runs, tempo runs, and recovery runs.
The Pros and Cons
Pros: It has a design feature known as 3D Space Construction, a grid of hollowed out chambers in the heel and forefoot of the midsole that allow a runner to optimally compress the foam to match gender-specific gait qualities. It's also an eco-friendly model, with a recycled polyester upper that's colored with non-toxic water-based dyes and a sustainable cellulose nanofiber midsole compound made from plant biomass.
Cons: If you're used to running in shoes with lower heel-toe drops, the 13mm offset and chunky rearfoot design of this shoe might encourage a low-cadence, heel-striking gait.
Specs
Weight: 8.9 oz. (women's size 8.0)
Heel-Toe Offset: 13mm (38mm under the heel, 25mm under the forefoot)
RELATED: Can Running Shoes Become Sustainable?
Nike Zoom X Invincible Run Flyknit | $180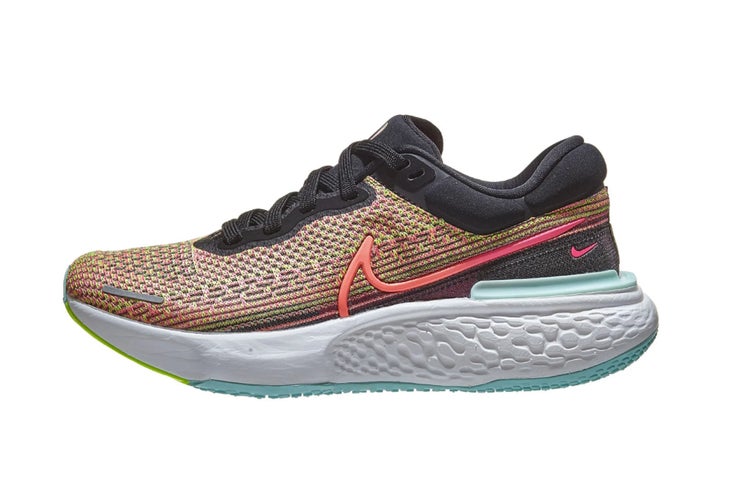 Why It's Great
The Zoom Invincible Run Flyknit is a light, soft, and responsive premium daily training shoe with copious amounts of midsole cushioning and a wide, exaggerated shape in the forefoot for added stability. The ride is buttery soft, smooth and lively, starting
with a very cushy feeling the moment your foot hits the ground and then transitioning to an energetic and stable sensation as you roll through to the toe-off phase of the stride.
The Pros and Cons
Pros: The step-in feeling of this shoe is luxurious, with plush padding around the ankle and a gusseted tongue to create a bootie construction that contributes to the secure, locked-down fit. Despite the marshmallowy soft midsole, the Zoom X Invincible Run Flyknit is both energetic and very stable, making it ideal for long runs, tempo runs, and recovery runs.
Cons: The tongue is well-padded but a little too short, so it tends to slide slightly down and to the side during a run.
Specs
Weight: 8.1 oz. (women's size 8.0)
Heel-Toe Offset: 9mm (39mm under the heel, 30mm under the forefoot)
Brooks Launch 8 | $100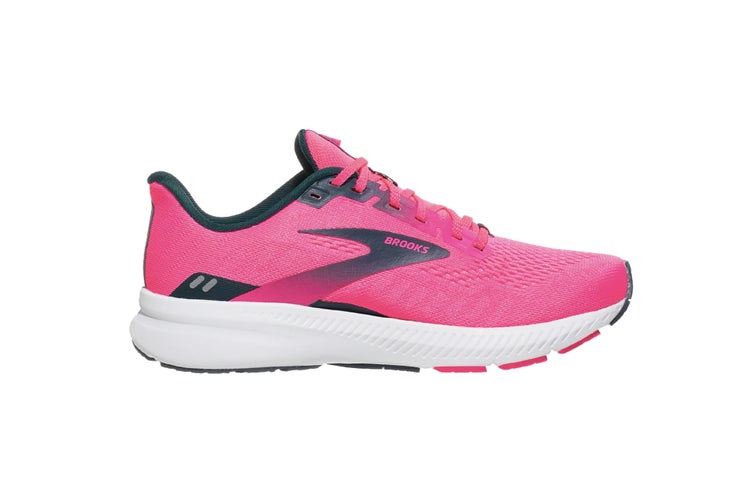 Why It's Great
The Launch is a versatile, multipurpose shoe that has some traits of a lightweight performance trainer and a high-mileage workhorse. It's an exceptional shoe for the price with loads of value and upside for frugal runners on a budget.
The Pros and Cons
Pros: The Launch 8 serves up an ideal mix of comfort, energy, versatility, and consistency at a very affordable price. Capable of handling long runs and fast workouts with aplomb, it serves up a smooth, energetic ride that feels soft and accommodating in the heel, but slightly more rigid and lively in the forefoot.
Cons: The Launch 8 is not a bargain-bin shoe, but it is a spartan model that lacks the premium features, materials, and performance capabilities of higher priced shoes.
Specs
Weight: 7.7 oz. (women's size 8.0)
Heel-Toe Offset: 10mm (34mm under the heel, 24mm under the forefoot)
Puma Liberate Nitro | $110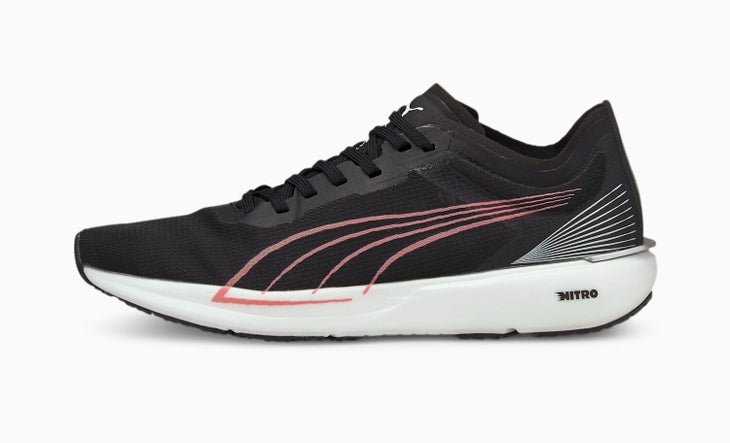 Why It's Great
The Liberate Nitro is an incredibly light, lean and peppy performance trainer built for fast workouts and short-distance racing. It features a slim slice of Puma's energetic supercritical Nitro midsole foam built into a sleek and surprisingly affordable package.
The Pros and Cons
Pros: If you appreciate the proprioceptive feel for the ground and the sensation of running fast in featherweight, low-to-the-ground racing flats, the Liberate Nitro will feel like a throwback to the days before high-stack super shoes became the norm. And so will the incredibly affordable price tag. The Liberate Nitro shows that a minimally built speed shoe is still possible, even it, too, relies on the hyper-responsiveness of the modern Nitro foam compound.
Cons: The Liberate Nitro doesn't have a carbon-fiber or composite plate built into a thick, cushy midsole like many contemporary performance-oriented trainers and racers, which pretty much means you've have to do more of the work yourself in an old-school kind of way.
Specs
Weight: 5.2 oz. (women's size 8.0)
Heel-Toe Offset: 10mm (28mm under the heel, 18mm under the forefoot)
RELATED: 7 Pieces of the Best Affordable Run Gear Available Now
The Best Racing Shoes of 2021 (10K to Marathon)
With racing back in near normal fashion there were plenty of opportunities to test speedy course shoes for long-distance racing. These were the top three.
Nike Vaporfly Next% 2 | $250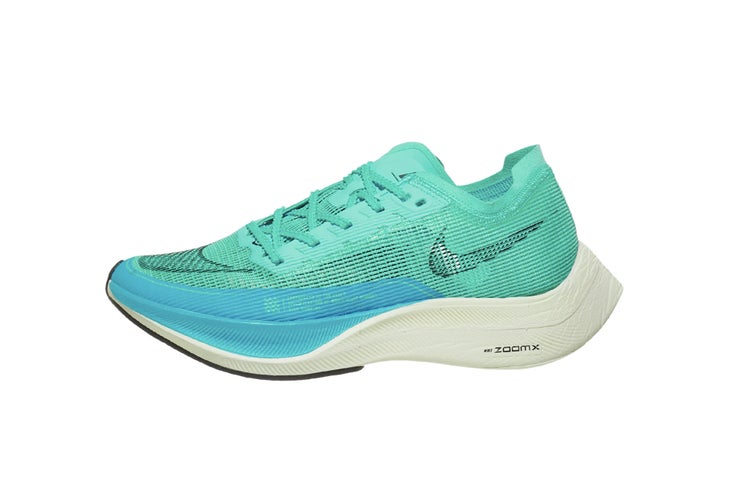 Why It's Great
The max-cushioned Vaporfly Next% 2 is one of the world's fastest and most prominent marathon racing "super shoes." The combination of the bouncy and exceptionally responsive Zoom X midsole foam and the curvy, carbon-fiber plate embedded within it give the Next% 2 best-in-class energy return and the opportunity for any runner to run faster.
The Pros and Cons
Pros: What's not to like about a shoe that laboratory testing has shown to provide up to a six percent boost in performance? An updated engineered mesh upper and offset lacing pattern have fine-tuned the fit and enhanced the security of this shoe.
Cons: Although the promise of a new marathon PR is an obvious enticement, the high price and the relative lack of durability should make you think twice before investing in a pair of these road running divas.
Specs
Weight: 5.8 oz. (women's size 8.0)
Heel-Toe Offset: 8mm (40mm heel, 32mm forefoot)
ASICS MetaSpeed Sky | $250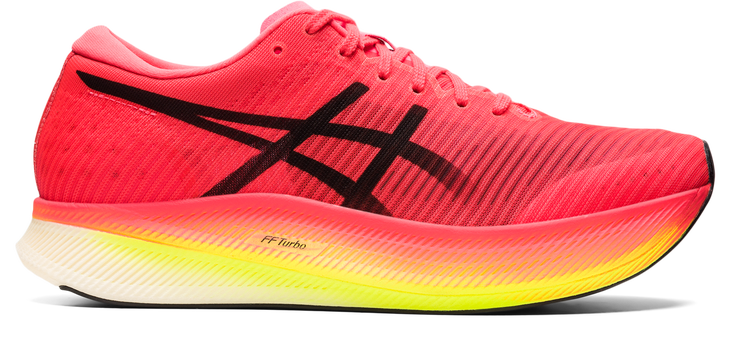 Why It's Great
The MetaSpeed Sky is a top-tier marathon racing shoe built on a rocker platform that includes a carbon-fiber plate sandwiched between ASICS' ultra-resilient FlightFoam Turbo super foam. Sara Hall created a buzz about this max-cushioned racing shoe with her runner-up finish in the 2020 London Marathon, and it's earned rave reviews and Olympic podiums since it became more widely available in 2021.
The Pros and Cons
Pros: ASCIS' light and responsive FlightFoam Turbo midsole compound and convex GuideSole technology create a feeling of seemingly effortless forward propulsion, an energizing sensation that increases at faster paces. The sleek, light, and durable engineered upper and recessed position of the foot inside the sidewalls contribute to a secure, locked-down fit and stable ride.
Cons: The high-off-the-ground feel of this shoe and its high price will take some getting used to, even for committed marathoners on the verge of new PRs.
Specs
Weight: 5.8 oz. (women's size 8.0)
Heel-Toe Offset: 5mm (38mm under the heel, 33mm under the forefoot)
Adidas Adizero Adios Pro 2 | $220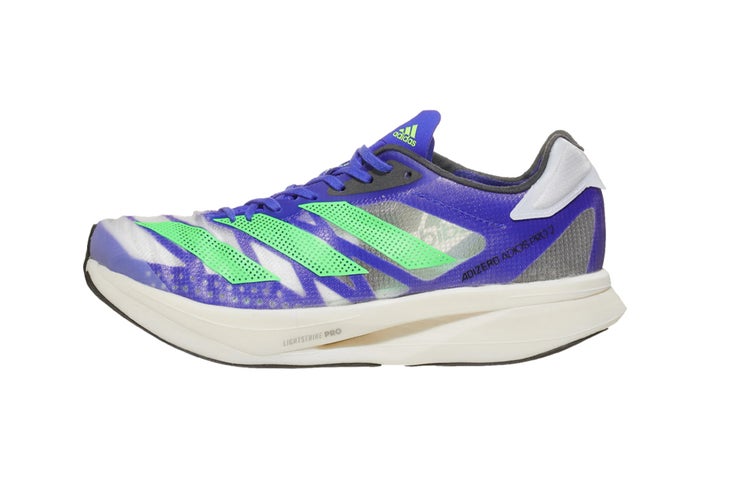 Why It's Great
The Adizero Adios Pro 2 is a thickly cushioned long-distance racing shoe built with carbon-fiber energy rods embedded in the incredibly lively Lightstrike Pro foam midsole. The rods help accentuate the levering of the metatarsal bones of the foot, and, combined with the springy midsole foam, create exceptional forward propulsion.
The Pros and Cons
Pros: The original version of the Adizero Adios Pro was a world-beater so Adidas focus on tiny changes to the midsole, outsole and upper for the second edition, including a cutaway section of the midsole foam on the medial side to save weight and improve efficiency. Other key features include a stabilizing plate in the heel, an updated featherweight, upper for improved fit and breathability, and revised carbon rubber and textile rubber segments on the outsole.
Cons: The Adizero Adios Pro 2 is only offered in unisex sizing, so finding the proper women's equivalent size among men's size offerings can be tricky.
Specs
Weight: 6.4 oz. (women's size 8.0)
Heel-Toe Offset: 8.5 mm (39.5mm heel, 31mm forefoot)