The Best Trail Running Shoes to Train for Off-Road Adventures Right Now
These top 2021 shoes are available now and will be your best option with supply chain shortages of new models.
Heading out the door? Read this article on the new Outside+ app available now on iOS devices for members! Download the app.
Do supply chain woes have you missing out on the latest shoe models? Don't fret. If you're in desperate need of a new pair of shoes to get you back out on the trails and the new styles haven't made it to you just, we have recommendations for last year's models that still hold up. These are the best trail running shoes from 2021 that we're still running in.
RELATED: Running Gear for Beginners: Must-Haves vs. Nice-to-Haves
Speedland SL:PDX | $375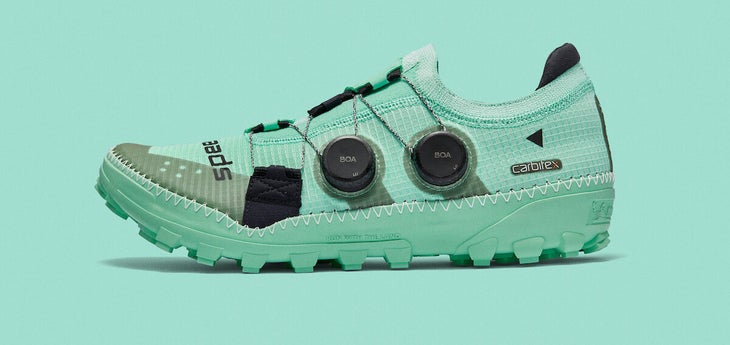 Why It's Great
Not only does the SL:PDX have a propulsion-enhancing carbon-fiber plate, but it also has a dual-dial BOA FIT system closure that provides a foot-wrapping fit that can be customized to match the conditions of the trail. And, no, that price is not a misprint, this shoe really costs $375. That's because it's the equivalent of an innovative concept car of the future and only 1,200 pairs were produced.
The Pros and Cons
Pros: The entrepreneurs behind this shoe went out of their way to incorporate premium materials and unique features, including a lightweight but very durable knit upper made from Dyneema, a Michelin textile rubber outsole material and an assembly process that will allow for easier recycling when it's time to retire this model. A removeable Pebax foam midsole, a removable Carbitex carbon-fiber plate and outsole lugs that can be (permanently) clipped allow for terrain-specific performance enhancements.
Cons: Well, yes, the price is a bit of a non-starter for most trail runners. But if you're willing to pony up $375, the only minor gripe you might have is that they're not as light as some of its contemporaries.
Specs
Weight: 8.5 oz. (women's size 8.0)
Heel-Toe Offset: 5mm (28mm under the heel, 23mm under the forefoot)
HOKA Speedgoat 4 | $145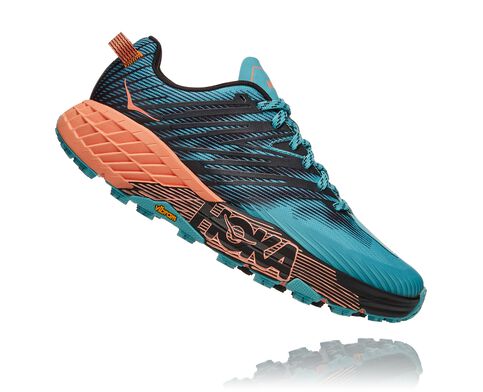 Why It's Great
The Speedgoat 4 is a maximally cushioned cruiser designed for long-distance training runs and ultra-distance races. Its soft, springy, thickly cushioned midsole serves up a sprightly ride that's highlighted by long-haul comfort, sure-footed traction and
a sublime rolling sensation.
The Pros and Cons
Pros: The rocker, or convex, geometry of the midsole is engineered to promote forward propulsion and efficient running form. The Vibram Megagrip rubber outsole features aggressive 5mm lugs that allow the Speedgoat to deftly dance over mild dirt trails and technical mountain routes.
Cons: The only real drawback to this shoe is that its high midsole stack height reduces agility and the proprioceptive feel for the trail.
Specs
Weight: 9.6 oz. (women's size 8.0)
Heel-Toe Offset: 4mm (39.5mm heel, 35.5mm forefoot)
Saucony Peregrine 11 | $120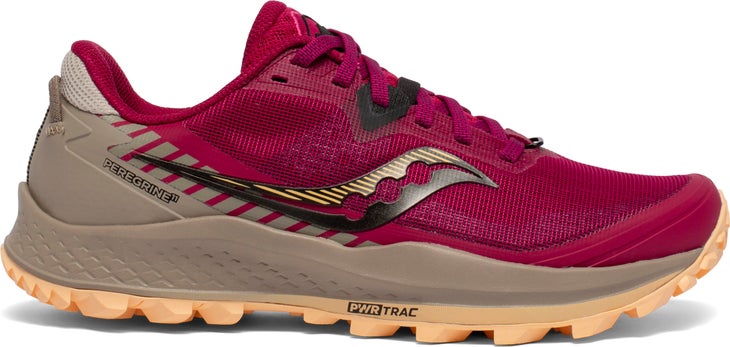 Why It's Great
The Peregrine 11 has the comfort and smoothness of a road running shoe and an ideal mix of cushioning, traction and protection for tackling a wide variety of trail terrain. What it lacks in premium features it makes up for with everyday reliability and do-everything versatility.
The Pros and Cons
Pros: There's a flexible rock plate embedded in the soft, responsive midsole foam that can inspire confidence for uninhibited running over any type of terrain. The aggressive outsole lugs can tackle dry dirt trails, rocks and roots and also provide grip while maneuvering through wet, sloppy mud, puddles and snow.
Cons: Although it can handle shorter segments of rocky trails, it lacks sufficient protection and girth for longer, rugged mountain routes.
Specs
Weight: 9.7 oz. (women's size 8.0)
Heel-Toe Offset: 4mm (28mm under the heel, 24mm under the forefoot)
RELATED: A Love Letter to My Competitive Side
Altra Lone Peak 5 | $130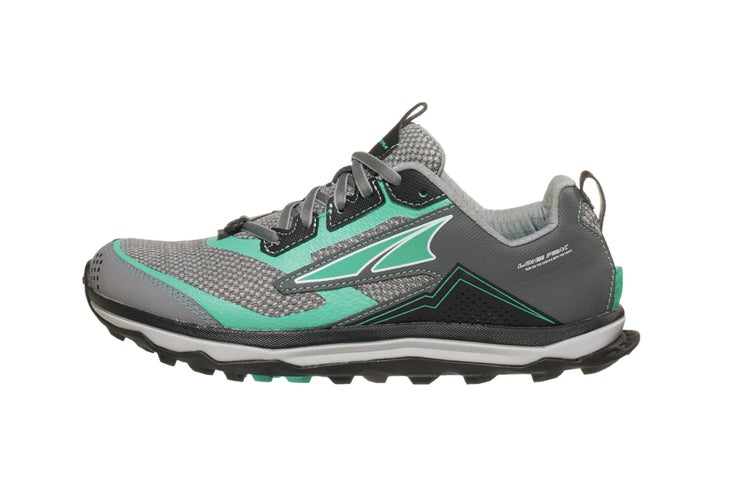 Why It's Great
The Lone Peak 5 is lightweight, moderately cushioned trail running shoe built on a natural running platform designed to optimize running efficiency and enhance agility. The addition of Altra's energetic and shock-absorbing AltraEGO midsole foam has greatly increased the responsiveness and long-run comfort of this model.
The Pros and Cons
Pros: The Lone Peak has become one of the best-selling trail shoes of all-time with a design ethos that allows runners to move naturally and comfortably out on the trails with protection from a rock plate and superior traction from claw-like outsole lugs. As with every Altra shoe, it features a balanced, zero-drop cushioning platform and a slightly roomier foot-shaped toe box, the latter of which is especially appreciated on downhill sections and on hot days when feet tend to swell.
Cons: If you're not used to running in shoes with a level or zero-drop platform, the Lone Peak 5 might result in some Achilles or calf tension.
Specs
Weight: 9.5 oz (women's size 8.0)
Heel-Toe Offset: 0m (26mm under the heel, 26mm under the forefoot)
Inov-8 TrailFly Ultra G-300 Max | $190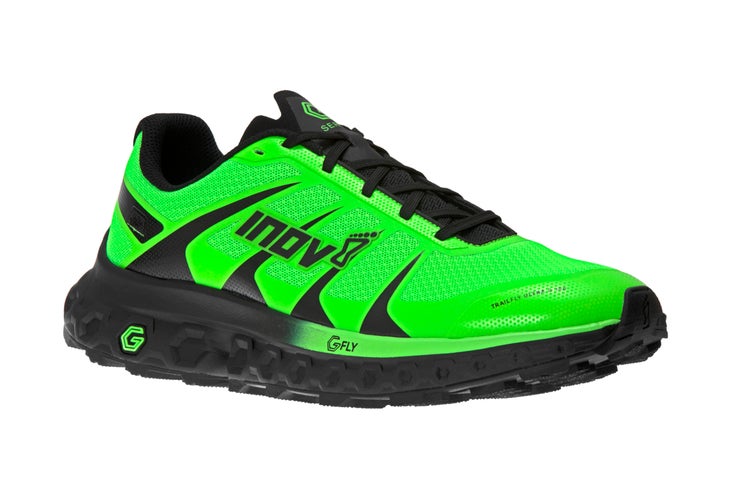 Why It's Great
The TrailFly Ultra G-300 Max is a high-cushion shoe designed for ultra-distance running that's built on an innovative cushioning compound enhanced by Graphene. Although its Inov-8's first shoe with a maximal midsole, it is flexible and exceptionally grippy like the rest of the brand's trail shoes.
The Pros and Cons
Pros: Graphene is a nano material derived from graphite and one of the thinnest and strongest materials on Earth. But it's also remarkably strong—reportedly 200 times stronger than steel — and with mixed into a proprietary midsole foam compound, it results in 25 percent greater energy return and exceptional durability. A minimalist but durable upper and Graphene-enhanced 4mm rubber outsole lugs make this an extremely capable trail marauder.
Cons: Although its durability and responsiveness are unquestionably great, the shoe is admittedly a little on the heavier side relative to other contemporary trail running models.
Specs
Weight: 9.7 oz. (women's size 8.0)
Heel-Toe Offset: 6mm (30mm under the heel, 24mm under the forefoot)
Salomon Speedcross 5 GTX | $150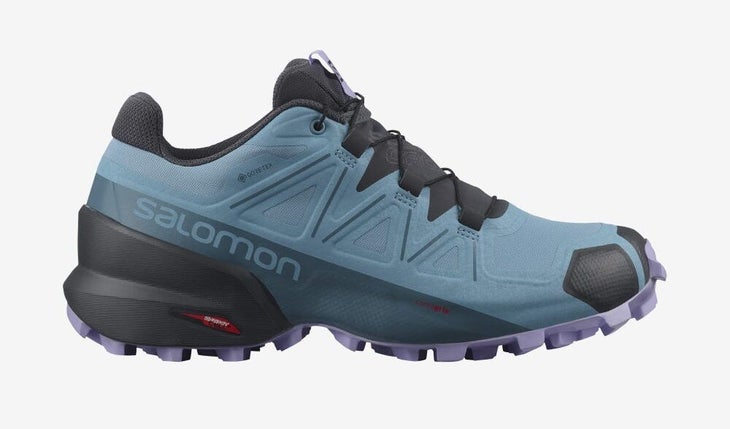 Why It's Great
An ideal shoe for running on wet, muddy trails and competing in obstacle course races, the Speedcross 5 GTX has an impressive array of outsole lugs and a sturdy, waterproof midsole/upper chassis that holds steady in the sloppiest of conditions.
The Pros and Cons
Pros: The aggressively lugged ground-gripping Contragrip outsole chews up mud and sloppy terrain, but it also provides secure footing on loose dirt and gravel. Salomon's effective one-pull lacing system and a reinforced Gore-Tex-lined upper keep the foot dry, stable and locked down, especially on unstable terrain in wet conditions.
Cons: As with all waterproof shoes, they're best used in cool to cold weather. Running in this shoe in mild to warm conditions can make your feet uncomfortable hot and sweaty.
Specs
Weight: 9.5 oz (women's size 8.0)
Heel-Toe Offset: 10mm (38mm under the heel, 28mm under the forefoot)
RELATED: How to Buy a Beginner Running Shoe That Won't Break the Bank