Finally, Women's Running Shoes Are Being Made for Women's Feet
Shoe companies are rethinking shoe design to better support female runners.
Heading out the door? Read this article on the new Outside+ app available now on iOS devices for members! Download the app.
For as long as women have been running in modern performance shoes—let's say since the late 1960s, when women like Bobbi Gibbs and Kathrine Switzer shattered the ill-conceived notion that a woman's uterus would fall out if she ran more than one or two miles—they've been doing it in sneakers designed for men's feet. 
It made sense when men dominated the sport, as athletes and designers. But, as of 2019, there were more female than male runners for the first time in history, according The State of Running report by RunRepeat.com (58 percent of American runners are women, the data revealed). And in 2021, women's performance footwear sales were growing at a faster rate than men's, according to data from The NPD Group Inc.—a surge mostly driven by running.
With so many women on the roads, tracks, and trails, female athletes no longer want to compromise on footwear, forcing their feet into running shoes designed for the geometry of a different gender's foot, then simply sized down to accommodate their own feet. And with more female designers working for the biggest shoe brands in the world, companies are finally rethinking how they approach women's running shoes in order to meet the demand.
How Women's Feet Differ From Men's Feet
Shoes are designed around foot-shaped molds called lasts, which dictate the fit and feel as well as the aesthetics and proportions. For a long time, those lasts were based only on molds of men's feet. But "female feet … are not algebraically scaled, smaller versions of male feet, as is often assumed," a study in the Journal of the American Podiatric Medical Association declared way back in 2009. 
As a result, more and more brands started using female lasts based on the mold of a woman's foot. For what it's worth, some have opted for unisex lasts—an approach Katie Manser, the Supervisor of Research Operations at Heeluxe Footwear, an independent shoe research lab, dismisses. "There's no such thing as a unisex foot—it's anatomically a man's foot or a woman's foot," she explains. 
That sounds obvious, but shoe designers historically haven't spared much thought on differing foot dimensions. 
RELATED: These 6 Women Made Running a Priority–You Can Too
For starters, "women have a much wider forefoot and narrower heel than men, because a woman's weight is naturally distributed more toward the front of her body," says Casey Kerrigan, M.D., founder of OESH Shoes, a women's footwear brand. A woman's foot is more triangular, while a man's foot is more rectangular.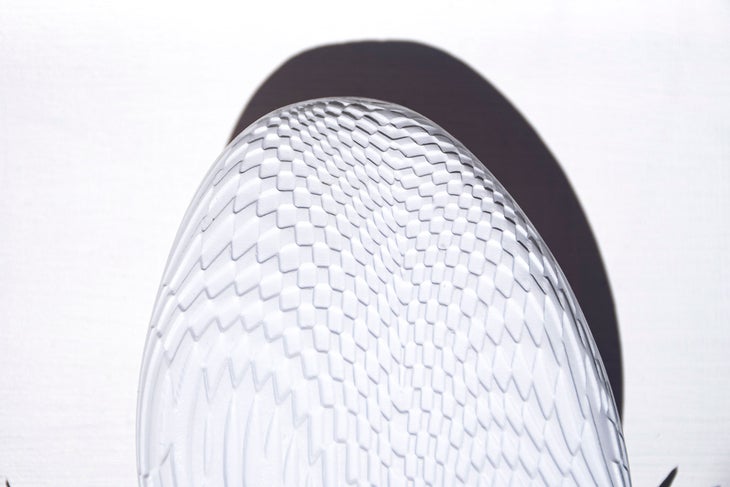 When women cram their feet into a shoe designed around a male last, it's going to be 70 percent tighter in the forefoot and 30 percent looser in the heel, says Manser. "That causes all kinds of forefoot issues: metatarsalgia, Morton's neuromas, bunions, blisters," says Kerrigan. "You're also going to have issues up the chain, including increased impact on your knees and hips." 
At the same time, a wide, unstable heel "takes away a lot of a woman's natural ability to absorb and use that impact," says Kerrigan. When your foot strikes the ground, your body absorbs that force then uses it to propel itself forward; without security at the heel, you're not going to be able to generate as much power rolling into the push off phase of your gait.
"Women also have five and a half degrees more of peak eversion than men during running, which is the same motion as overpronation," says Manser. Overpronation, when the arch of the foot rolls inward as you run, is associated with increased ground reaction forces, and higher ground reaction forces up your risk for injury.
And because women are generally lighter than men, says Manser, they experience less impact during foot-strike—which means they need a softer landing, since they don't have the mass to compress the foam. "Women tend to have a larger heel to forefoot offset, or drop, compared to men, so from a comfort standpoint, it could be better to have more cushioning in the heel," says Manser.
These differences may seem minor, but they're what makes a woman's gait different from a man's. And, over the course of the 1,400 steps that make up an eight-minute mile—especially in a shoe that isn't designed for your foot—the effects add up. "If you're wearing shoes that don't fit right or aren't comfortable, you don't have a lot of options when it comes to movement patterns," says Manser. Incessantly repeating motions that don't work for your body is a surefire way to set yourself up for overuse injuries. 
Female runners were more likely to experience injuries than men, a 2021 scientific review published in the journal Physical Activity and Health found; those include patellofemoral pain syndrome (AKA runner's knee), iliotibial band syndrome, gluteus medius injuries, and sacroiliac injuries, according to older research from the British Journal of Sports Medicine. They were also more likely to experience bone stress injuries, a 2021 review published in Sports Medicine found—something that can absolutely be attributed to lack of support at the feet.
The point of all this? It's not just about using a last based on the female foot, it's about addressing physiological and biochemical distinctions and rebuilding women's running shoes from the ground up to help female runners maximize their potential.
A New Breed of Women's Running Shoes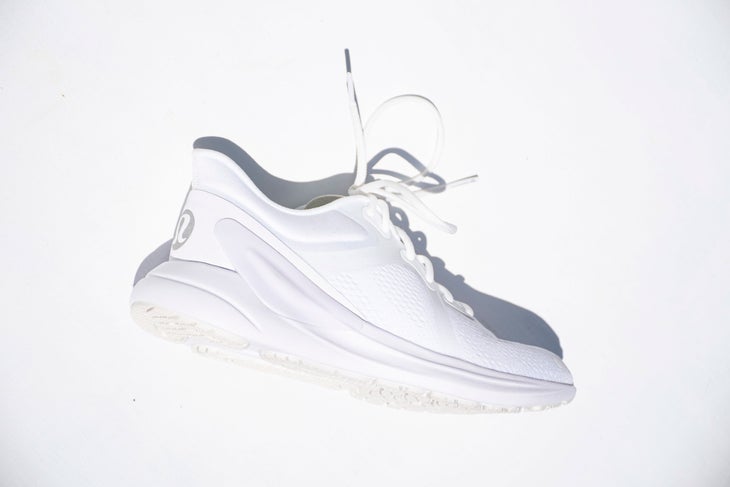 If fit, and therefore feel, is the main issue plaguing women's feet, companies need to abandon the "shrink it and pink it" approach to women's running shoes and start from scratch.
Lululemon may be an unlikely groundbreaker here given its previous focus on activewear, but over the past four years, the company—which launched a Global Run collection and now sponsors several track and field athletes including Olympic steeplechaser Colleen Quigley and 1500m specialist Nikki Hiltz—has been working on bringing the feel-first ethos that dictates its apparel design to shoes.
The company intentionally launched footwear with a women's running sneaker, and "our intention was to create the best feeling shoe," says George Robusti, vice president of footwear design at Lululemon. "There's a huge number of sensory receptors in the foot, so we wanted to make sure any shoe we designed was really elevated in terms of experience and sensation."
The results are in the Blissfeel, which launched in March. "It's a beautifully cushioned, neutral shoe that can handle everything from two miles a week to 40 miles over four hours," says Robusti. The midsole is a single layer of thick foam, wrapped in softer blown rubber in the forefoot and a sturdier rubber in the heel. It's topped off with a breathable, flexible upper and molded heel collar—and while there are no bells and whistles, there are also no distractions. "The shoe is inclusive and democratic enough to offer everyone the experience of enjoying a run, no matter how long or how fast," says Robusti.
Under Armour also approached its women-specific shoe, the UA Flow Synchronicity—released on June 1—from the inside out. "We thought a lot about the woman's foot and her experience in the shoe, and wanted to create something that's in sync with her natural movement and feels like more of an extension of her foot," says Katie Lau, director of sportstyle footwear at Under Armour. 
Based on findings from 3D scans, customized lab testing, and fit and wear tests, the brand developed a new last that's contoured to a woman's heel, sculpted to the female arch, has a smaller instep circumference, and is shallower in the toe region, says Lau. "Women do have a more acute awareness of sensation [than men]," she adds. "By doing these things, we're really nuancing the running experience and making sure that each part of the shoe is curated for her."
The Synchronicity is built around the same one-piece Flow midsole that provides responsive, long-lasting cushioning in Under Armour's other running shoes, but also features a rounded outsole geometry to smooth landings and transitions, a minimalist knit upper with zones that allow for flexibility or security where needed, and a midfoot "wing" overlay that locks down the heel, Lau explains.
"Feel" can be subjective, but these shoes are backed by serious science. In redesigning the Ultraboost 22, Adidas used a global database of 1.2 million foot scans conducted and analyzed by footwear and technology researchers (the findings were published in the journal Scientific Reports in 2019) and insights from the all-female design team. That study informed the company's "newly developed last with a lower instep curve and narrower heel area, from the bottom of the heel up to the s-curve shape that hugs the Achilles' tendon," says Nora Wilimzig, senior project manager of Adidas's running division. 
"We also know women have a more centered gait, compared to the average male gait cycle, where the toes point slightly outwards," she says. The Ultraboost 22 supports that centered gait cycle with a refined outsole that allows for a more cushioned landing and more medial support, courtesy of a small, slightly sturdier piece of rubber baked into the the outsole to prevent overpronation.
RELATED: New and Reviewed: Puma Run XX Nitro
"The surprising thing that came from testing was that we actually had way more energy return in the forefoot—four percent over the Ultraboost 21," says Wilimzig. "That's definitely an advantage for the female runner."
Since Puma re-entered the running shoe market in early 2021, there's been a strong focus on female runners (as evidenced by recent sponsorships of Molly Seidel, Sara Vaughn, and Annie Frisbie). "Since our relaunch, we've made a pretty big commitment to testing all shoes from the start on men and women," says Laura Healey, manager of footwear innovation at Puma. "But given the differences between men and women, we also wanted to make a shoe specifically aimed towards the female runner." 
The Run XX Nitro also came out June 1. It's designed to be comfortable for the long run, where the brand found women were dealing with discomfort and unmet needs. "We created a specific Nitro foam density in the midsole that's slightly firmer than what you'll find in our other performance shoes to provide that cushion and support," says Healey. The shoe is also more snug around the heel, instep, and arch, and features a rocker heel—almost like what you'd see in a carbon-plated racing shoe—to ease you through that heel-to-toe transition.
For those later miles when your biomechanics start to fall apart, a rubber strip called RUNGUIDE, which wraps from the edge of the midfoot around the heel, provides subtle guidance that will help you maintain your form. Puma partnered with the University of Massachusetts Amherst for an independent study to validate the new shoe, and "over 81 percent of women preferred the Run XX over our control shoe," says Healey.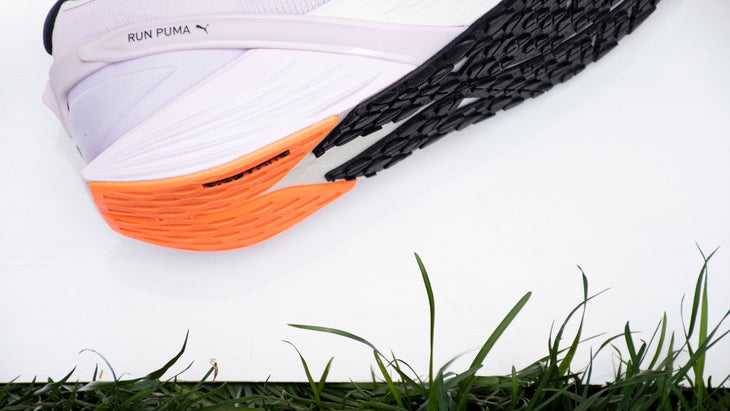 Using a last based on the female foot is definitely a start. But these particular shoes are about acknowledging women's different physiology and delivering the features those dissimilarities require. "There's not one part or piece on the shoe that makes it women-specific," says Robusti of Lululemon's Blissfeel. "It's that 360-degree design approach." 
If you line Puma's Run XX Nitro or the UA Flow Synchronicity up next to another shoe from those brands, you might not even be able to spot the differences. "These are micro-details," explains Lau—but micro-problems can become major ones if they're not addressed. "We wanted to make sure that as women are putting this shoe on, they feel seen, they feel heard, they feel that it's built for her in mind," she adds. "And they can feel that experience from the first try-on all the way to their first training run."
What Does All of This Mean For You?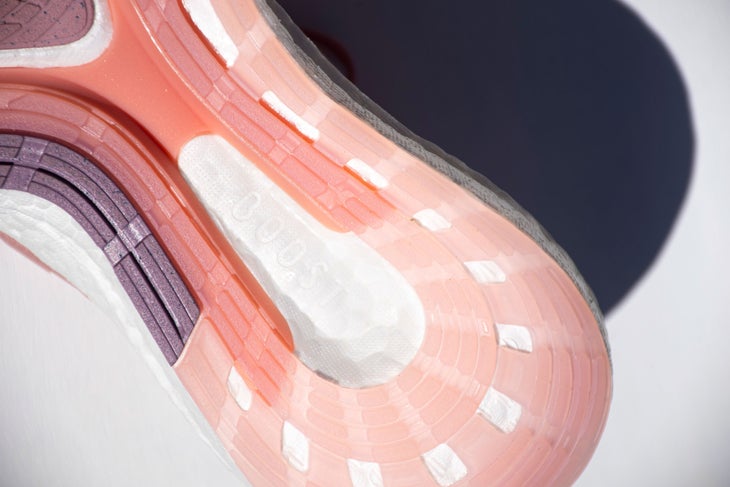 These innovations aren't just about getting new products on shelves—they're an indication of a willingness to get a better understanding of the female body. For too long, the gender gap in scientific research has left women underrepresented in scientific studies, clinical trials, and product research. But women are not small men, and the solutions that work for men won't necessarily translate to women. 
"From a performance shoe aspect, most of the research has been done on men," says Healey. "So, in a lot of areas, we just don't know what women need yet. But I think it's really great that we're starting to dive into that."
These innovative new shoes aren't being billed as the best, but rather the most insight-driven, says Lau. "We want to bring women choice," she explains. "Choice is allowing the woman to decide, 'do I want the gender-inclusive model that's the same for men or women, or do I want this women-specific model?' There will still be women that gravitate towards option A, and some people will gravitate towards option B. But we wanted to put that decision in the woman's hand."
The more knowledge you have about your body, the more empowered you are to make a decision regarding what you put on it. At the end of the day, the best shoe for you—no matter your gender—is the shoe that feels most comfortable on your feet.