Hoka Mach X Review
We took the new souped-up Hoka Mach X out for a test drive, and did it make us fly? Read more to find out.
Heading out the door? Read this article on the new Outside+ app available now on iOS devices for members! Download the app.
Introducing The Hoka Mach X
Price: $180
Weight: : Women's  8.0 oz/ 227g (US8)
Drop: 5mm (37mm to 32mm)
The Hoka Mach X is designed to be a well-cushioned, fast trainer that is fun to wear and adds propulsion. It feels springy on the foot when it comes to logging the daily miles, which makes adding in speedwork a whole lot more appealing.
The max-cushioned Mach X is loaded with a PEBA midsole and features a slightly flexible PEBAX plastic plate which combine to provide both a comfortable, cushioned ride and a propulsive-feeling toe-off, creating one fast training shoe. The Mach X features Hoka's highest-performing foam, yet comes in a solid $70 less than the Rocket X, making it a shoe you can afford both for training and racing.
One small critique–since we have been testing this shoe in the middle of summer–was the upper is not as breathable as we would have liked in July. However, outside of the satanic heat of summer, this Mach X is going to be one of our preferred fast trainers of the year.
Sustainability Check
Upper made with 84 percent recycled polyester and 16 percent recycled nylon
Laces made with 35 percent recycled polyester
87 percent recycled polyester strobel board
40 percent recycled polyester eyestay lining
RELATED: 8 Great New Running Shoes For Summer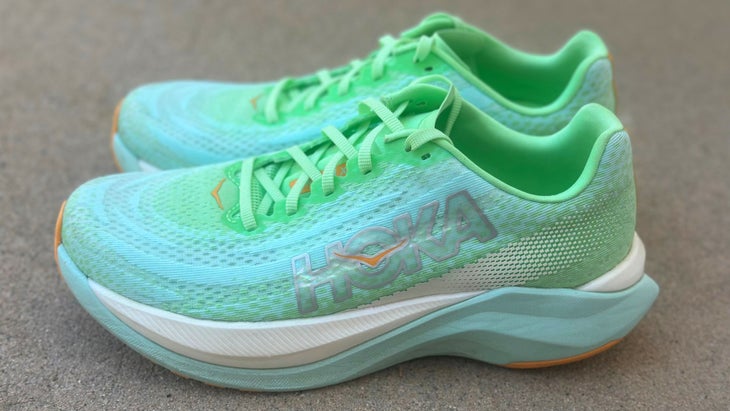 Hoka Mach X vs. Hoka Mach
Although the uppers of the Hoka Mach family might appear similar, what lies under the hood is where the difference lies. I like to think of the Mach X as the Volvo of fast training shoes–a safe looking exterior with a hidden, punchy engine. Yes, I did just drop a car analogy on Women's Running and yes, I used to drive a Volvo until the repair costs made me switch to a middle-aged Honda.
The stack height of the Mach X is higher than its plate-free cousin, the Mach 5, and the Mach X's PEBA foam is softer and springer than the Mach 5's rubberized EVA. Having tried on one of each shoe simultaneously, the Mach X does not feel uncomfortably high, more comfortably fast and springy compared to the regular edition of the Mach. The plate moderates the bouncy foam, making the feeling underfoot firmer—and there's the obvious extra spring in the step.
Who's It For
The Hoka Mach X hits a sweet spot for runners. Unlike carbon-plated racing shoes, the Mach X is comfortable enough for long training runs, with the added benefit that the plastic plate ensures the shoe also has the pep for tempo runs.
Any runner wanting an everyday trainer that, as Marie Kondo would say, sparks joy and gets you out the door, this is the shoe for you. It's actually fun to add some short speed work into a run when you feel the plate engage and whoosh, off you go. It had me going back to Strava to check to see if I'd PR'd any local run segments. (I had not, but I felt as if I could have.)
Comparable Shoes
2023 is a good time to be a runner. Fast, punchy, "super-trainer" shoes are abundant for runners right now. After the supply chain challenges caused by the global pandemic, we have been rewarded with a whole new bevy of options. If you have the time–and we appreciate as women that is always in short supply–take some of that precious commodity and work your way through trying them all on at your local specialty running store to see which fit best on your foot and supports your running gait.
Final Thoughts
The Hoka Mach X is another great addition to the fast training shoe category. Hoka fans who have lamented the lack of a lower-priced plated shoe for training have been served a winner. And this one is going to fly.