First Look: The Saysh Felix Runner 
Allyson Felix's shoe brand Saysh has released its long-anticipated recreational running shoe.
Heading out the door? Read this article on the new Outside+ app available now on iOS devices for members! Download the app.
It's been two years since Allyson Felix debuted her brand Saysh. In June 2021, Felix stirred up conversation when she made her fifth Olympic team wearing a shoe brand no one had heard of before. It wasn't long until the brand launched a line of casual shoes and a second iteration a year later with Saysh Two. But runners have been wondering when the brand, founded by the most decorated female track and field athlete in history, would release a running shoe. Her fans are, after all, runners.
Well, folks, it's finally here.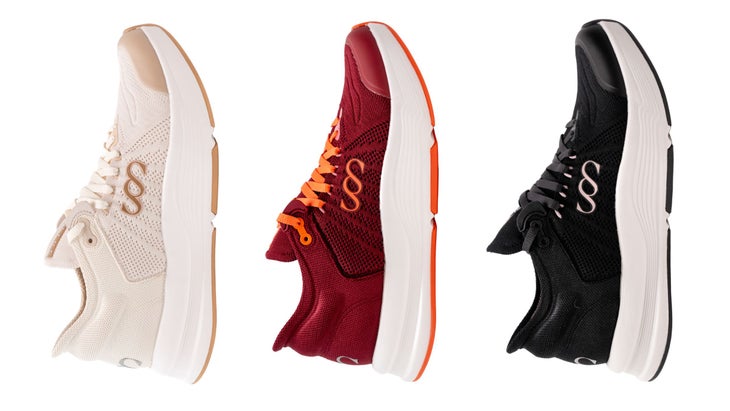 Saysh Felix Runner: First Impressions
The first thing I noticed when I slipped my foot into the Saysh Felix Runner–the same thing I noticed when I first tried a pair of the casual Saysh One sneakers–the fit feels different. Specifically, it feels tighter in the midfoot than I'm used to.
I've only had a chance to wear the shoe on two training runs, so I can't say for sure whether or not that's a good thing (stay tuned for a full review in the coming weeks), but I do know that the designers put specific thought into the noted change from what else is on the market. Saysh calls it "FemiformityFit Technology," which is marketing speak for a shoe that was designed using the form of a female foot. Like a woman's foot, the shoe was designed to have a wider toe box and a narrower heel.
It almost felt like a stability shoe (and looks a bit like a skate shoe, especially if you get it in ebony). But it's not. The Felix Runner is a neutral trainer designed for the "everyday women who run." While the upgraded fit hugged my foot, the ultra-cushioned midsole helped me improve my footstrike. After a procedure I had on the bottom of my foot earlier in the summer, I've been favoring my left foot as the wound on the right heals. This was the first run I went on where I didn't feel the need to coddle the right side.
Tech and Design
At $165, the Saysh Felix Runner is mid-priced for a technical running shoe. The shoes appear to be very well-made looking at the stitching and the attention to detail in design especially in the woven mesh upper. I'm curious to see how the shoes wear after 100-200 more miles. I have high hopes.
It's also a fashion statement. A feminine and functional running shoe. Instead of simple metal eyelets, for example, the laces are strung through cording that matches the color of the logo. And the Saysh logo is swirly and pretty, something you'd expect on a designer bag, not a running shoe.
First Runs
With all those positives in mind, I had some first wear gripes. Like the shoe laces, which feel annoyingly cheap, making them hard to pull through and improve the fit to my liking. I will without a doubt be swapping them out. I also experienced quite a bit of chaffing on the bony bump of my ankle (which I just learned is called the lateral malleolus, you're welcome). I wished I had worn something other than my usual ankle socks. It's a problem I haven't experienced in other shoes I've tested.
If you want to be a bold early-adopter, the Saysh Felix Runner is available today on saysh.com in ebony (black), avalanche (white), and fire (red). Check back here in a couple of weeks for my full review if you want a few more miles behind your decision making.
RELATED: How To Leave A Legacy: Allyson Felix Is Officially Retired From Sport