These are Our Absolute Favorite Running Shoes on the Market Right Now
Editor tested and vetted, these 10 pairs are the ones we're choosing to log our daily miles in and help us set new PRs in 2021.
Heading out the door? Read this article on the new Outside+ app available now on iOS devices for members! Download the app.
The line between racing and training is a fuzzy one when it comes to picking the right shoe. My racer could easily be your trainer, or vice versa. A marathon and a 5K likely require a different shoe. But here's what we do know: Out of all the shoes we tested this year, these 10 stand out for their top-rated performance by all of our testers. From leisurely recovery runs to workout tempos, treadmill intervals to half-marathon PRs, these are the best running shoes for women on the market right now. 
The first five we'd categorize as racing shoes, models we'd save for our fast tempo and interval workouts and race day; the second five are our favorite everyday trainers—built with plenty of comfort and durability to help us go the distance day in and day out. 
One thing to note: To find the perfect shoe for your foot, it's helpful to test several brands in a variety of sizes. (Some stores will even let you try out the shoes for a set period of time, usually 30 days, and return them if they're not a perfect fit.) While you're at it, it's also usually a good idea to have your gait tested (again, check with your local running store to see if they offer this service) so you can better understand what your needs might be in a running shoe.
Brooks Hyperion Elite 2 | $250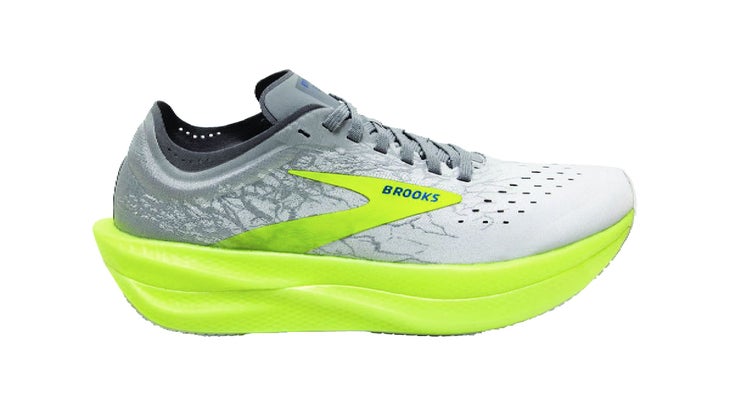 Among the many super shoes we've tested, the Hyperion Elite 2 felt the most "normal," but still enables faster times than conventional racers, with what seems like a similar effort. Brooks released the Elite 2, with an improved, more durable foam, in time for Des Linden to wear in the U.S. Olympic Trials Marathon, where she was 11 seconds away from the final qualifying spot. This new version has a slightly different midsole foam and shape, giving it a noticeably springier feel than the original. Our wear-testers found that the nitrogen-infused DNA Flash cushioning dampens impact forces and smooths the ride without excessive squishing or bouncing. Plus, the shoe's moderate, unobtrusive rocker speeds stride cadence along without rearranging it. The upper is smooth, simple and effective, ensuring a snug, comfortable, true-to-size fit.
RELATED: Des Linden on Ultrarunning, Vulnerability, and Doing What Makes You Happy
Adidas Adizero Adios Pro | $200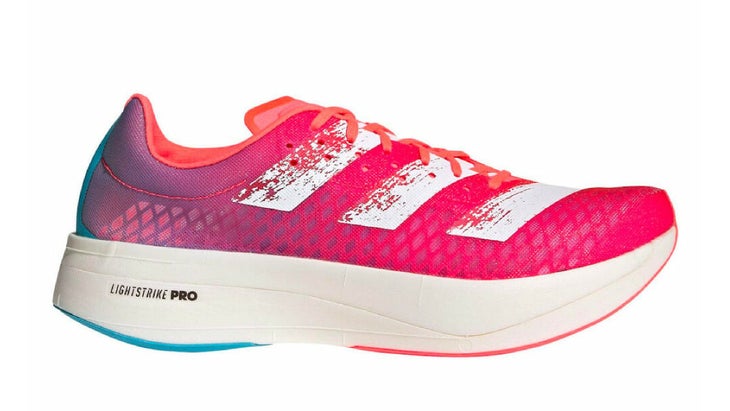 Adidas' Adizero Adios Pro, a late entry to the super shoe market, got it right for many runners. Although not quite as light as some of its contemporaries, it serves up a well-cushioned, slightly bouncy, efficient ride. With the new, thick and bouncy Lightstrike midsole foam, the Adizero Pro's far-forward rocker pushes off the big toe, maximizing the rebound property of the foam as a true go-fast shoe that is impressive in its ability to help you turnover your gait for optimal efficiency and lift-off power. It feels best when staying forward-balanced over the foot with a quick cadence, but the Adios Pro is still comfortable (just not as energetic) at slower paces. The upper is surprisingly generous for adidas, while holding the foot securely as befits a racer.
HOKA Carbon X2 | $180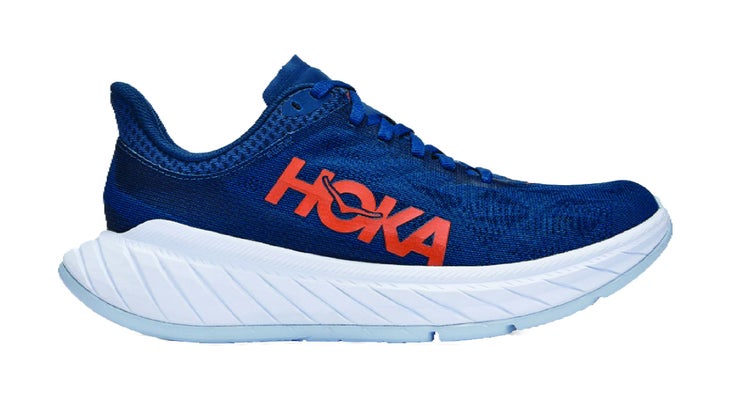 If you are super-shoe curious but don't want to commit to the stiffness of most carbon-fiber-enhanced racers, HOKA's Carbon X2 is a friendlier alternative that appeals to mid- and rear-foot strikers and is idea for going long. The second round incorporates a lighter, softer foam midsole, evening out the gait cycle with a wider forefoot and modified carbon fiber plate located closer to the ground for a smoother ride. The engineered mesh upper is more supple and breathable with what our testers called a "generous" fit. The ride hits the sweet spot between cushioning and responsive rebound; between "snappy" and "absorbing."
RELATED: What Makes Super Shoes Super?
Skechers Go Run Razor + | $135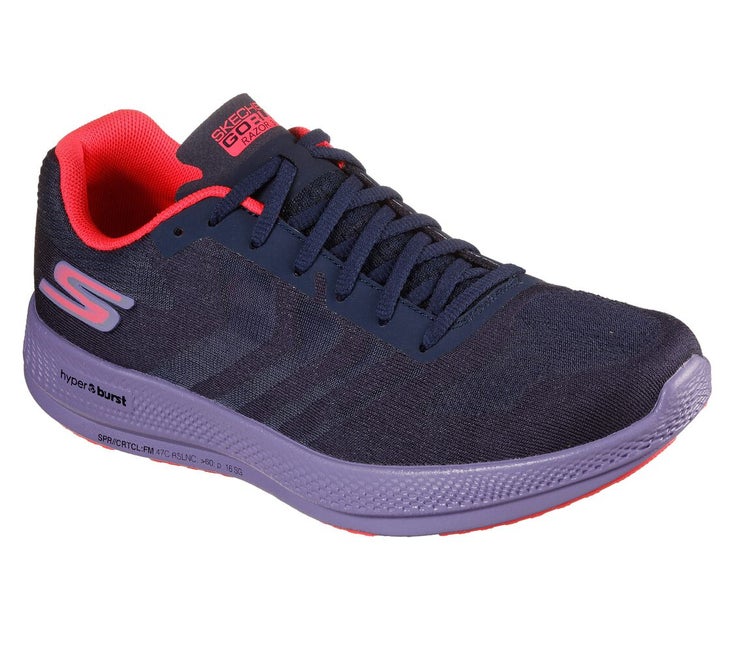 The Razor+ runs light and low for close-to-the-ground sensation that feels the same on the first step of a run – regardless of distance – as it does the last. That is because the Hyperburst midsole material is indestructible, with just enough deflection to cushion before bouncing back identically over hundreds of miles. And Skechers engineered it with just the right stack height so the energy-returning material smooshes low enough that it comes close to bottoming out before bouncing back, producing a connected, minimalist feel that makes for great push-off and cornering. You can fly comfortably in this shoe and it encourages you to do so. 
The pliable ripstop mesh upper is highly breathable with little support and just enough hold that it didn't feel flimsy. The material is flexible enough to accommodate wider feet but also allows the foot to move around a bit — so much so that those who feel the need for support or motion control will likely find the Razor+'s hold insecure. The Goodyear rubber overlays in the outsole add a welcome level of durability in an effort to match the longevity of the indefatigable midsole.
Nike Vaporfly NEXT% 2 | $224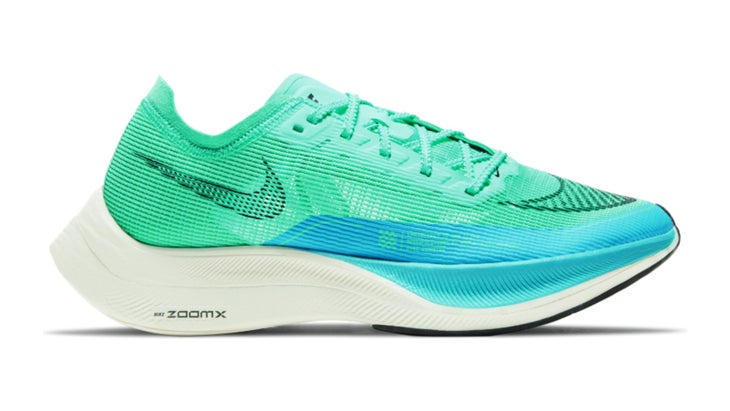 There's a reason you're seeing a ton of the swoosh at start lines: Nike has been leading the development of these super shoes, providing a new way for the shoe and the athlete to share the workload. Originally designed as a marathon-specific racing innovation, this update is now an all-around racing workhorse.
Asics GEL-Nimbus Lite 2 | $150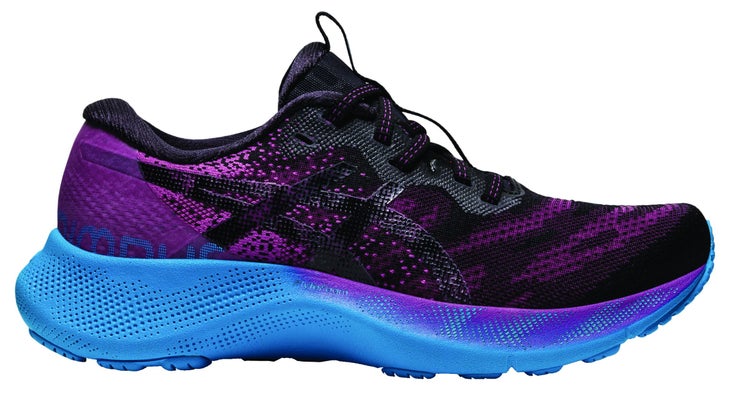 This long-distance neutral shoe balances lightness in weight, comfort in fit and seamless performance that helps rack up seemingly effortless miles. The Nimbus Lite stuck with FLYTEFOAM midsole and eco-friendly upper materials, but the shoe was re-engineered to make it leaner and meaner, with the Lite 2 being more flexible and performance-oriented than the original. Asics accomplished that by sculpting the midsole foam to improve the ride and flexibility with a flared rearfoot and reshaped platform, based on biometric testing. The result is excellent cushioning that isn't overly absorbent, with bounce back-energy return from the Flytefoam and proprioceptive, confidence-building ground feel. Asics also changed the midfoot designs and stack heights to be gender specific, with a focus on lighter weight for the women's shoe, with a higher heel-toe drop.
Altra Rivera | $130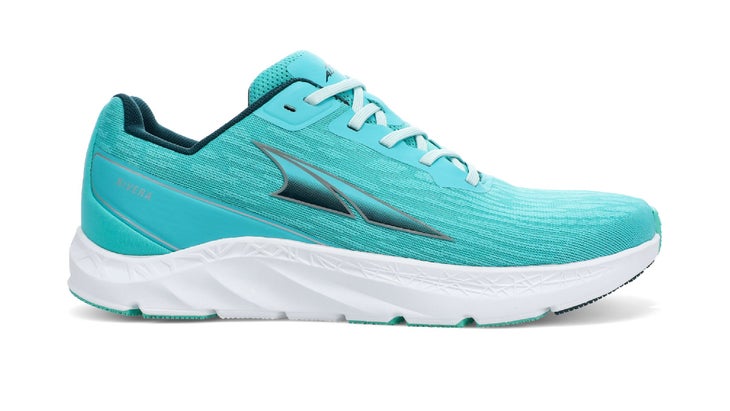 Altra's new shoe puts a welcome twist to minimalism, blending resilient cushioning with responsive performance and a real feel for the ground without subjecting the foot or body to the drubbing that can be the sharp end of the "natural running" experience. The smooth upper, low profile and soft-yet-highly-elastic AltraEGO midsole foam make for smooth, stable and balanced transitions and roll-through. The Rivera is versatile for efficient runners and serves well for long runs and as a speedy race flat. The simple engineered mesh keeps the upper light and breathable and the expansive forefoot allows for wide feet and toe splay while the heel is engineered to accommodate the natural flexibility of the rearfoot.
Topo Athletic Ultrafly 3 | $130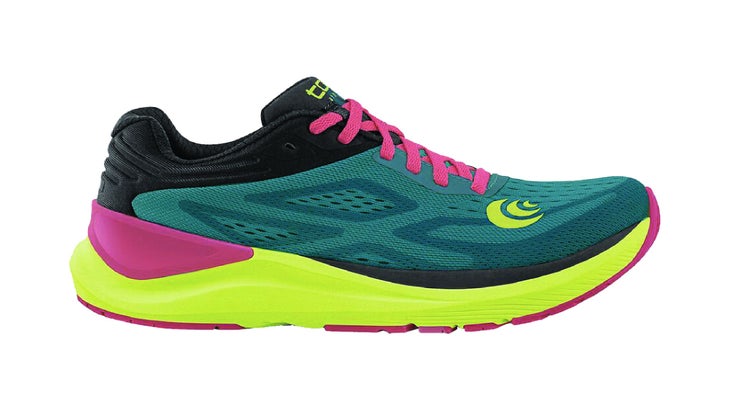 Topo's update to third Ultrafly was dramatic and worthy of applause. The upper now uses engineered mesh for greater comfort, security and stability, and the new Zip Foam midsole is more energetic, producing a not-too-soft, not-too-firm sweet spot between cushioning and ground feel. Further, the external heel counter and low, long, firmer-density medial post provide a touch of guidance and stability without interfering with the natural ride encouraged by the low drop, flexible forefoot and wide toe box that allows for splay or high-volume feet. Given all those positive changes, the Ultrafly 3 makes for a "go to" trainer for runners of all types.
New Balance 1080v11 | $150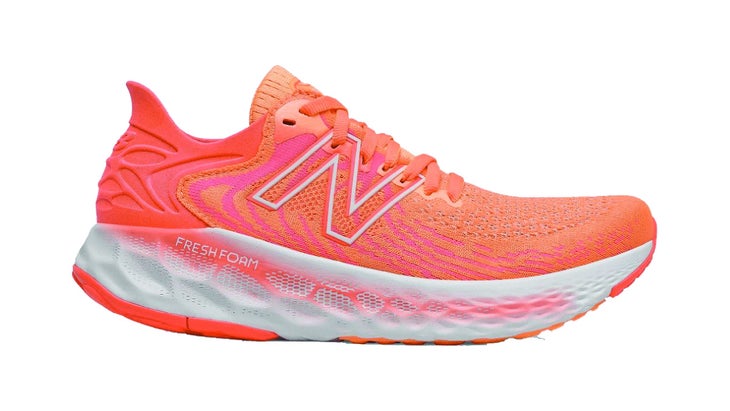 New Balance didn't alter much of the 1080's cushy ride from V10 to v11, with mostly a retooled upper that uses laser patterning and engineered Hypoknit fabric for a snug yet flexible stretch-to-fit hold that encompasses the foot without constriction for a comfortable, soft, breathable and supportive fit. This is an excellent shoe for cruiser miles sans pounding thanks to the Fresh Foam cushioning, blown rubber outsole and rockered design. Testers found these shoes provided a plush coax to get you to enjoy running, even when you aren't feeling it, and attributed that mainly to the immediate "ah" comfort of the step-in feeling, which experienced feet said is one of the best in the industry. 
Saucony Freedom 4 | $150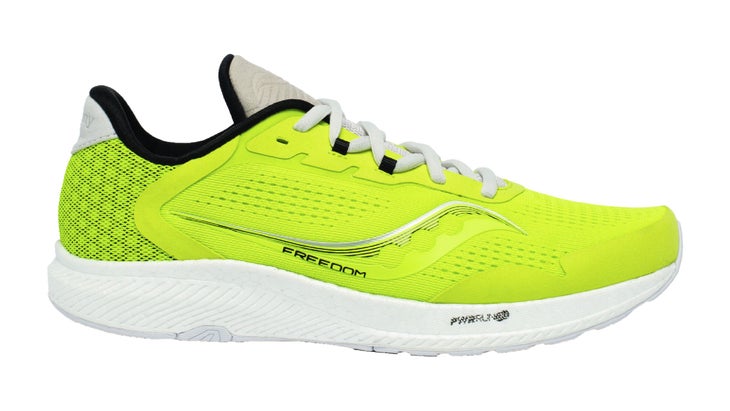 The Freedom 4 has an incredible new feel to it, courtesy of PWRRUN PB, Saucony's lighter, more energy-efficient cushioning midsole compound, the same material the company uses on its high-end racing shoes. With its low profile, the Freedom 4 feels surprisingly stable, enough so that it handles all surfaces with aplomb. The neutral performance connects with the ground in a firm yet comfortable manner, allowing for, even encouraging, dig-deep effort. The overall impression is smooth and simple performance as the transition flows evenly and the upper is clean, flexible, comfortable and snuggly form fitting.