Nike Just Created Gear That Knows How To Cool You Down
Just in time for fall, the latest in amazing gear knows how to change with your body temperature.
Heading out the door? Read this article on the new Outside+ app available now on iOS devices for members! Download the app.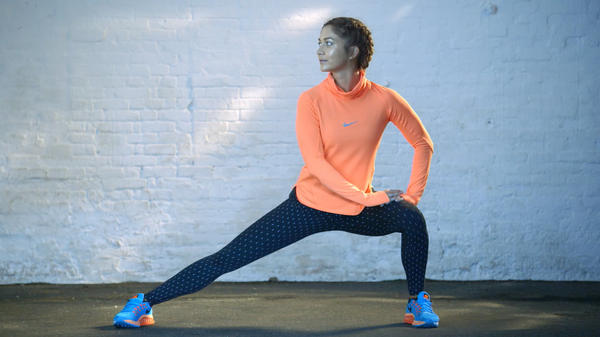 Photo courtesy of Nike, Nike Women's AeroReact Pullover Top ($130, nike.com)
Watches and apps know your run metrics, GPS tracks where you run, waterproof jackets breathe and shoes are even in the works to analyze your stride in real time. Don't you think it's about time your clothes got some smarts as well? Nike did too. The result is the new AeroReact line, became available on Oct. 1. And the name of the fame is adaptable breathability.
It's based on the concept of thermoregulation. It's a big word, but it basically means regulating temperature. Your body does it all the time. You sweat to cool down when you're hot, and you shiver to warm up when you're cold. Nike's AeroReact fabric does by reacting with sweat. As the fabric senses moisture, the structure actually opens (no, it's not visible) to increase breathability and moisture movement. Wicking and breathable fabric allows your body to be more efficient at it's own thermoregulation. The end result for athletes is being more comfortable during a workout. Which results in a better workout.
To quote Nike athlete and July cover runner, Marlen Esparza, "If I feel good, I do good." It makes sense.
This latest technology innovation, and many more, is developed and tested at the Nike Explore Team Research Lab in Beaverton, Ore. In addition to employing a team of physiologists and biomechanists, the Lab has environmental testing chambers and brings in athletes of all kinds and abilities to help with testing.
"We are able to very accurately control the temperature and humidity in the environmental chambers to determine how product will perform," says Matthew Nurse, Senior Director of the Nike Explore Team Research Lab. "We can accurately replicate weather from anywhere on the planet and make sure our product is going to work in those environments."
That's a win for athletes and consumers. Other innovations out of the Nike Lab include Therma-Sphere Max, Aeroloft and Pro Hyperwarm for keeping athletes comfortable in cooler temperatures, and DRI-Fit and Pro Hypercool for hot weather workouts.