Heading out the door? Read this article on the new Outside+ app available now on iOS devices for members! Download the app.
We have the best intentions, but it never fails. Somehow, some way, we always end up carrying a necessity in our hand(s) during a run. Not only can this be annoying, but it increases the chance of the item being damaged, lost, or just icky from sweat.
Before we tell you more about the product we think is a life-saver, take a moment to think of the essentials you might need on a run. Here are a few that immediately come to mind: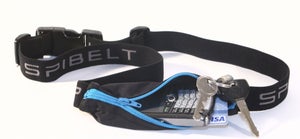 Cell phone
Small amount of cash
ID card
GU or other nutrition
Car key
All of these items are small in size, but collectively make for cumbersome handling when running. Start the probe lights and flash the mirrored balls because in comes the SPIbelt!
SPIbelt was designed as a way for athletes to carry their "Small Personal Items" without being weighed down or burdened by keeping track of everything. Inventor Kim Overton created the product after coming home from a long run with her house key in her sports bra. Knowing there had to be a better way, Kim created the first SPIBelt.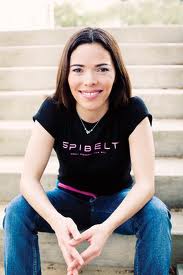 The convenient zippered pocket on the elastic belt holds all of your essentials safely. While intuition might cause you to think the belt might bounce, it doesn't! In addition to running, we jumped up and down, did a few jumping jacks and ran upstairs in attempt to make the SPIbelt bounce, but our mission failed. This is one belt that won't move, which means no annoyance during a run!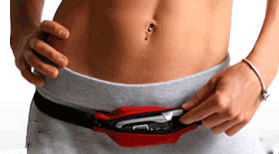 In addition to SPIbelts, the company also recently added several products with the same function: SPIband Wrist and Ankle Pockets (made from wicking fabric) and SPIleashes for your four legged running friends!
Check out SPIBelt today by clicking here to order one (made in Austin, TX)!
But wait, want a chance to win a SPIBelt? Simply comment on this post with the first item you would put in a SPIBelt and be entered to win one. Winner will be chosen on Friday, 2/10 :).