Editor's Corner: Running Gravity-Free
Heading out the door? Read this article on the new Outside+ app available now on iOS devices for members! Download the app.
Did you ever dream of going to Space Camp? I know I did. Who could resist those commercials?
Answer: My parents!
Last weekend, I was able to make my child-astronaut dreams come true—if only for an afternoon—thanks to the AlterG Anti-Gravity Treadmill, a device that simulates the effects of running on the moon. Designed by NASA (for real), the AlterG uses a compression chamber to "unweight" up to 80 percent of your body weight, enabling your legs to move free from gravity.
I've seen these devices before, as they're popular among elite athletes who want to increase mileage or recover from injury without adding stress to their joints…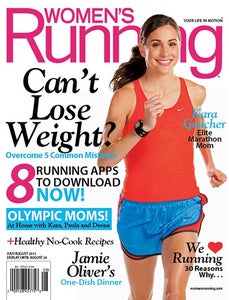 … but this was my first time trying one in person. Here's how it went.
My hosts at Morton Plant Hospital in Clearwater, Fla., were kind enough to walk me through the process. The first step was to put on a pair of shorts with a specialty waistband that would keep me strapped into the chamber.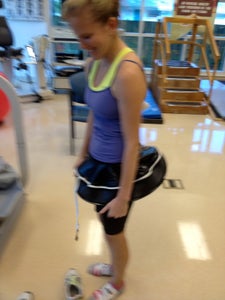 Next, I hopped into the rabbit hole and got ready for take off.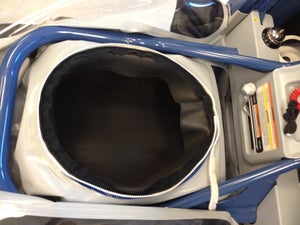 Once air filled the compression chamber, I was ready for my maiden voyage!
[wpvideo JfJHWTsC]
In this clip, I'm running at 65 percent of my body weight. As I used the controls to run with a lower percentage of my weight, I felt the air pressure change (think: airplane lift off), and I began to notice the sensation of my legs floating. The best analogy for this feeling would be pool running. Check out how my stride looks running at just 20 percent of my weight. . .
[wpvideo ymbzuPvo]
Coming back down to earth (i.e. returning to 100 percent body weight) was a bit of a shock. At first, I was sure someone had strapped a sandbag to my back, but the feeling disappeared in a few moments. By the time I got off the 'mill, I was in love. I'd worked up a sweat without the calf tightness or IT pain that I've noticed in my recent pavement runs.
My takeaways? While I don't think I'm ready to leave earth any time soon, I can see why so many athletes gravitate (har-har) toward the AlterG for supplementary training. Additionally, any runner who has experienced injury can understand the need for a running "fix." To be able to run without hurting yourself further would be a blessing during the darker days of injury.
If you're feeling flush, you can purchase an AlterG for yourself for a cool $32,400—or you can visit a nearby hospital, rehab center or fitness facility that has the device for public use. Click here to find an AlterG near you.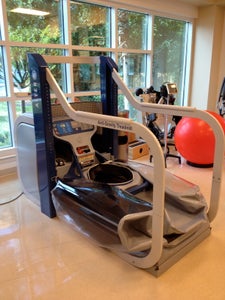 If you're in the Tampa Bay, Florida area, Morton Plant Clearwater offers rental options with a variety of packages. As a bonus, everyone who works there is super nice, and the facility is beautiful.
Now that I'm back on planet earth, I want to know—what's the craziest fitness gadget you've ever taken for a test drive? Follow my training @JessieSebor.