The North Face Collabs With Songwriter For New Jacket Release
The North Face's new Ventrix Jacket uses heat release technology to keep its wearers protected from harsh weather conditions.
Heading out the door? Read this article on the new Outside+ app available now on iOS devices for members! Download the app.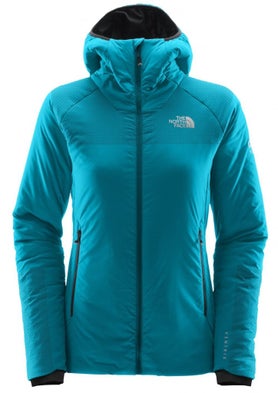 The North Face Tag Teams With Songwriter For Ventrix Jacket Release
One jacket, one song, one tag-team product release. In honor of The North Face's new Ventrix Jacket, available today, the athletic apparel company partnered with singer/songwriter Maggie Rogers, whose new song "Split Stones" is inspired by her passion for nature. The Ventrix Jacket is available now (as is the new Ventrix Hoodie, also released today), and Rogers' song will be released in bits and pieces tomorrow for those in possession of this link. This time-release collaboration between The North Face and Rogers, called "The Release Project," is intended to raise awareness for the Ventrix and for Rogers' song, which will be officially released on Wednesday. But you can't properly enjoy either without movement—and that's exactly what The Release Project is all about.
Both the jacket and the song are best experienced when their users/listeners are moving. The Ventrix, for example, is an insulated jacket designed for cooler weather running days and uses heat release technology to increase its breathability, warmth and the overall comfort of its wearer. The Ventrix isn't athleisure—it was designed for active consumers that want to get outside and work their bodies…even when weather conditions are fluctuating or downright freezing (bonus: it's water resistant, so even rain or slush won't stop determined Ventrix-wearers). Meanwhile, interested parties must use movement in order to unveil snippets of "Split Stones"—it's only when they participate in this digital experience that the song will be accessible in full.
"As a brand rooted in outdoor exploration of all types, Maggie's approach to music makes her the perfect partner for The North Face and the launch of our Ventrix Jacket that is designed to perform when you move," said TNF Vice President of Marketing Tom Herbst. This particular song by Rogers was created in part with sounds Rogers collected while traveling along the Pacific Crest Trail and follows in her tradition of using experiences in nature to inspire her songwriting process. There's also a campaign video for the Ventrix Jacket that features Rogers and professional rock climbers Jimmy Chin, Alex Honnold and Emily Harrington, all of whom are bundled up in their Ventrix Jackets in the video as they travel through snowy and windy conditions.
Related: 6 Pieces Of Gear That Will Keep You Warm All Winter Long