You Only Need These 3 Things To Run Through Winter
It may seem crazy that you need so few things to run in the cold, blustery winter, but you can get through the season with just these.
Heading out the door? Read this article on the new Outside+ app available now on iOS devices for members! Download the app.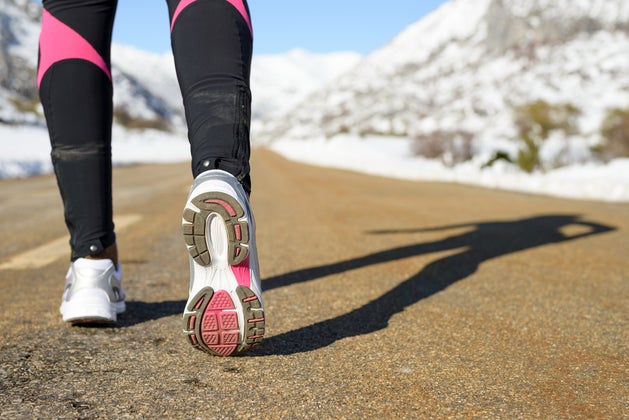 Wait, what? There are only three things I need to run through the entirety of a cold, blustery, dark winter?
Let me explain.
I have been running in the frigid temperatures of the Northeast for the better part of 20 years. I remember when my GPS watch was bigger than an iPod and iPods didn't exist. I trained for the Boston Marathon though one of the worst winters on record and only retreat to my treadmill in emergency situations (i.e. my kids are home from school).
In all the winters and all the freezing temperatures though which I have logged hundreds of miles, this is what I have learned to be essential gear:
ATTITUDE
You know that saying "if you think you can or you think you can't, you're right?" well, that's what winter running comes down to. You know it's going to be cold and dark so just get over it. Dress well and, if safety is not an issue, get out there and do what you do best.
Chances are, your race is not going be held indoors and, running through tough conditions in the winter will not only improve your fitness but your mental strength as well.
Pro Tip: Warm up inside by doing a dynamic warm-up or running in place or on a treadmill. Once you elevate your temperature in the heat of your home, the transition to outside won't seem so bad.
EXTREMITY COVERAGE
The most important pieces of gear you invest in should be to cover your head, hands and feet. Yes, those Lululemon tights are adorable but the goal here is comfort, not style, although you can sometimes do both:
Merino Wool Training Beanie/Headband—wool is the way to go in winter! It keeps heat in and lets the sweat out.
The North Face Flashdry liner—yep, a liner for your favorite gloves! These wick sweat away so fast, your hands will never get that mid-run clammy feeling which always leads to the re-freeze since your hands are now wet! Plus, you can go through several pair of gloves before you need a new pair of these $25 liners.
Darn Tough Vermont Merino Wool Light Cushion Socks—after you wear a pair of these socks on a cold run you will never wear anything else in the winter. They are that good. They are thin, comfortable and retain heat better than any I have tried.
FUEL
Think warm thoughts when it comes to fueling your body for winter runs. If you eat prior to running, try having warm food like oatmeal or toast instead of a cold banana or cereal. The higher you can get your body temperature prior to your run, the less of a warm-up you will need once you get out there.