Your Favorite Running Outfit, Perfect For The New Runner
Check out our tips on the best gear for new runners and those that are embracing a new, healthy lifestyle.
Heading out the door? Read this article on the new Outside+ app available now on iOS devices for members! Download the app.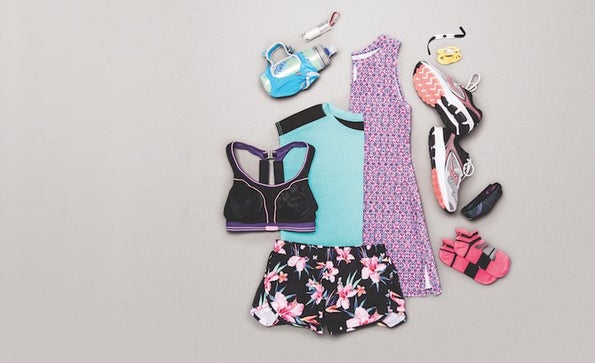 Whether your goal is to shed pounds, ease chronic conditions or lead a healthier lifestyle to turn your life around, you can do it! Nothing can stop you now that you're ready to put your heart into changing your life every day. Plus, we've got your back, so how about that, running buddy?!
Related: 4 Things That Every New Runner Should Know
Shock Absorber Ultimate Run Bra, $75 
Reduce your boobie-bounce by up to 78 percent by just switching to this high-impact bra by Shock Absorber. Next-level support will change your running game permanently, so everything but your breasts keep bounding forward.
Jockey Illusion Tee, $30
Keep cool with this loose-fit, mesh-back T-shirt that's fit for every body type. $30, amazon.com
Camelbak Quick Grip Chill, $28
Carry 21 oz. of insulated water, along with your phone, ID and snacks in the zippered pouch.
GoPure Pod Portable Purification, $25
Ditch the bad stuff in the water, including lead, arsenic, chlorine and fluoride, with this little pod. A porous ceramic device attracts and adsorbs impurities and balances water pH, plus it lasts up to six months and replaces 2,000 plastic water bottles.
Nuu Muu Moxie Ruu, $88
Dress it up with a breathable, polyester/spandex athletic dress. A little pocket on the back stows a card or keys, and a keyhole at the chest adds a little spunk. Sewn in the USA.
Momentum Jewelry Garmin Beat Yesterday Motivate Wrap, $19, And Dig Deep Coordinated Pair Footnotes, $16
Find your own inspiration with these cute motivational wrap and shoelace accessories that give you mantras to refresh your mindset.
Saucony Cohesion 10 Sneakers, $60
The cute entry-level sneaker will keep you going with its Heel Grid cushioning and neutral support. It weighs just 8.5 oz. and breathes well so Indian Summer ain't got nothin' on you.
itBandz for Knees, $20
Don't let knee trouble hold you back! Strap on this neoprene patellar knee band to stabilize the knee and neutralize knee pain arising from tendonitis, arthritis and other chronic knee issues. Endorsed by physical therapists.
Asics Quick Lyte Cushion Single Tab Socks, $15 For 3 Pack
Get a cushy run in with these high-impact ombré socks that won't slip.
Old Navy Go-Dry Cool Semi-Fitted Run Shorts, $17
Fun floral shorts with a generous fit are your perfect starter activewear so you feel good and look good from the start.
Related:
I'm A New Runner–Is It Always This Hard?
The Question Every Aspiring Runner Should Ask Themselves