A Buff Is A Versatile Piece Of Gear Every Runner Should Have
Anything that can be worn 12 different ways is worth adding to your list of runner gear.
Heading out the door? Read this article on the new Outside+ app available now on iOS devices for members! Download the app.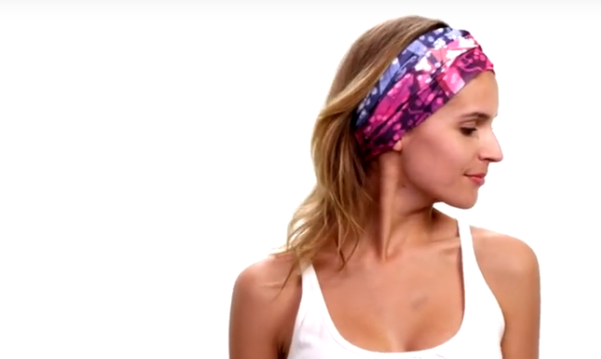 What's in a name? If you are talking about Buff, the ubiquitous, seamless fabric tubes from Buff USA, the name comes from bufanda, the Spanish word for "scarf."
Think of the word "scarf" in loose terms, like the woolen ones, to fancy silk ones worn as a chic accessory. Or neck gaiters popular in winter sports to keep out the cold and prevent chapped chins, to sun, wind and sand protection in harsh desert environments. Even the bandanas motorcyclists, cowboys and hikers use to keep dust out of their mouths and sun off their heads count. With a little creativity and know-how, a Buff can do all of this and more.
In the early '90s, Buff creator Joan Rojas took the knowledge gleaned from a career in the textile industry to create something to protect his head and face from the elements while riding his off-road motorcycle. The result was a breathable, wicking, quick-drying microfiber product that did all of the above while resisting odors and having a seamless construction.
Other must-haves for runners: Yoga Gear For Every Runner
A Buff seems like one of those things you just have to have. They are cool. Colorful. Bold. You got one for free at a race expo. But how exactly are you supposed to wear them? If you're thinking "Survivor" style—as a shirt or skirt—I don't want to burst your bubble, but that's not a look I can rock, even at my race weight. This has nothing to do with body image and everything to do with the stretch limitations of fabric. Yet I always have one in my pack or pocket. Not only is it a handy accessory, but it's also one of those pieces so adaptable you can always find a use for it.

But I find myself grabbing it for a few favorite tasks. Reason number one is as a neck gaiter on chilly days or to put over my mouth and nose if a trail is particularly dusty. Next up is as a headband. And third is twisted on my wrist to sop up sweat, wipe my face or even my nose. In cases where those uses sound too tame, I've also wrapped one around a pack strap to prevent chafing, dried my feet after crossing a creek, used one to secure running poles to a pack and even fashioned a sling.
Buffs now come in larger and smaller sizes, with reflectivity, UV protection and bug repellant. In addition to the original single layer of microfiber, there are now double-layered, wool and fleece options. But mastering the basic Buff is a good way to start—even runners need a good party trick!
This video may help you find more than a few uses for the colorful piece of fabric stuffed in your sock drawer. How do you wear your Buff?