What's the Buzz in Boston? A Stellar Pro Women's Field 
The talk of the town is the unbelievable talent competing at the 2023 Boston Marathon. Here are seven things we learned on Friday.
Heading out the door? Read this article on the new Outside+ app available now on iOS devices for members! Download the app.
The 2023 Boston Marathon women's field is about the fastest and deepest it's been in 127 years, so fans have every reason to get excited for what we expect will be an entertaining and unpredictable race.
Among the professional women who are scheduled to line up at the fabled Hopkinton start line at 9:47 a.m. Eastern on Monday are five who have personal bests faster than 2:18. Now, we know the constant (and legit) argument that shoe technology is helping times get faster. Of course, that's true. But also, the women are just plain speedier, too. The combination makes for some eye-popping racing.
As is tradition, many of the elite athletes gathered on Friday morning to answer some questions, offer some insight into their preparation, and maybe speculate a bit about how they expect the competition to play out. On the men's side, this year's race is garnering so much attention because Eliud Kipchoge, the world record holder (2:01:09), is here racing for the first time. While we're equally stoked as every other running nerd to watch him tackle a hilly course with no pace-setters, our eyes are squarely on the women's race. So here are seven things to know about the 2023 Boston Marathon women's elite field: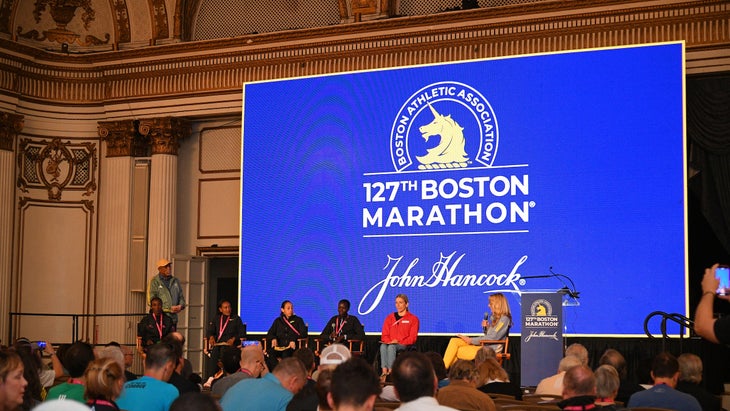 1. The Fastest are Just Really…Fast
Before we begin, we offer a quick (pun intended) run-down of the fastest five—they're all in the hunt for a win on Monday. Amane Beriso of Ethiopia is quickest by a wide margin, finishing the 2022 Valencia Marathon in 2:14:58. Behind her is Sheila Chepkirui of Kenya, who ran 2:17:29 in the same Valencia race. Joyciline Jepkosgei of Kenya (2:17:43 at the 2021 London Marathon) has the credentials and the speed—she won the 2019 New York City and 2021 London marathons—but was seventh at the 2022 Boston Marathon. Lonah Salpeter, who represents Israel, is the world marathon championships bronze medalist with a 2:17:45 best (2020 Tokyo). And Kenyan Angela Tanui clocked 2:17:57 at the 2021 Amsterdam Marathon.
2. The Americans are contenders.
Sara Hall, Emma Bates, Aliphine Tuliamuk, Nell Rojas, Des Linden, Laura Thweatt, Dakotah Lindwurm, Sara Vaughn, Annie Frisbie…it suffices to say that the U.S. women are here to contend, even if their fastest marathon times are not of the sub-2:18 variety. The Boston Marathon is a place that doesn't always care about numbers. It throws factors like hills (the downhills are more lethal than the uphills), raucous crowds, and unpredictable New England spring weather out there and waits to see who can handle all of it best. Tuliamuk proved herself on a windy, rolling course when she won the 2020 Olympic Trials in Atlanta. Do we even need to cover Linden's epic 2018 victory in a deluge? And Hall, who turns 40 on Saturday, has always performed best on flat, fast terrain, but says that following a long battle with an IT-band injury, she feels grateful to be back.
"It wasn't s super smooth buildup—I had some sickness and some little things popping up as my body adjusted to the mileage—but thankfully I'm feeling really good and I'm really excited to be back out there finally running a marathon," Hall said during an appearance at a live Ali on the Run show at the expo on Friday.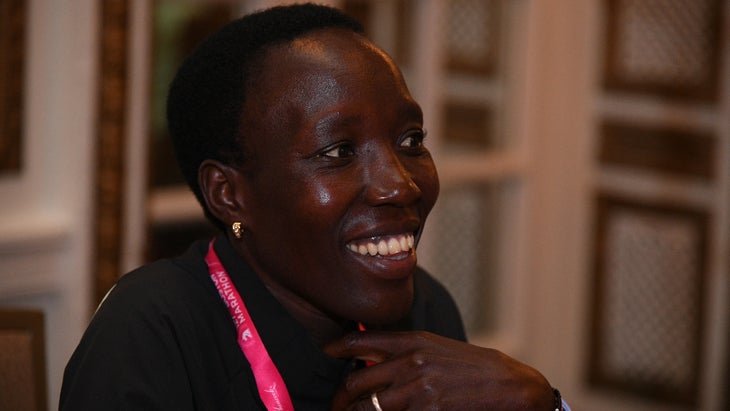 3. All Eyes on Edna
On top of the speed, the professional women's group this year also has notable experience, which counts for a lot on the Boston terrain. Edna Kiplagat of Kenya is 43-years-old, but anybody who dares to count her out is a fool. She's a master in every sense of the word—she knows how to play this course, often making her moves late and picking up places after others have miscalculated their effort on the rolling hills of Newton. She won Boston in 2017 and 2021 (after original winner Diana Kipyokei was banned for doping and stripped of her title), and placed fourth in 2022.
Aliphine Tuliamuk, 2021 Olympian and reigning U.S. Olympic Trials champion, says she'll be watching how Kiplagat handles the moves of the lead pack.
"I can't speak for other people, but I think Edna will be a good person to key off of," Tuliamuk says. "Now, we'll see what the rest of the group does. The field is just so incredible."
Emma Bates, who placed second at the 2021 Chicago Marathon and seventh at the 2022 world championships in a personal best of 2:23:18, agreed. Kiplagat and Bates both train in Boulder, Colorado, and Bates takes some confidence knowing that they often ran the same routes while preparing for Boston.
"She's so good at this course," Bates says. "But at the end of the day, it's her race, it's my race, it's anybody's race, so I'll try to run within myself but also push myself at the right time."
RELATED: The Women's Running Complete Guide to the Boston Marathon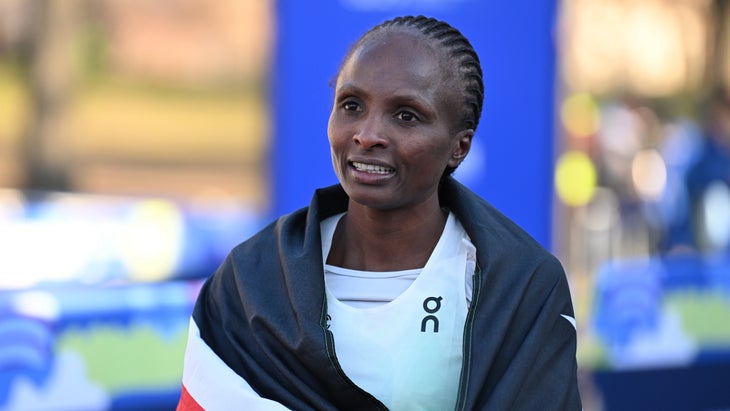 4. Hellen Obiri has learned a few things. 
Obiri, of Kenya, trains with coach Dathan Ritzenhein in Boulder. She has a 1:04:22 half marathon personal best as well as world titles in the 5,000 meters, but at her 26.2-mile debut at the 2022 New York City Marathon, where she placed sixth (2:25:49), fell a bit flat given her résumé. She says she's learned a lot since then (and rumor has it her training has gone exceptionally well, too).
"We are better prepared for this race," Obiri says. "I've learned the marathon is a long, long journey, and you can't predict what is going on the way…the key word that we've learned is to be patient."
5. Bates has seen blood.
Bates, who trains with Team Boss, under coach Joe Bosshard, says she's had the best marathon buildup of her career. Part of her confidence comes from consistent lactate testing, which is why the group runs on treadmills so often (also to carefully control paces during workouts). During this training cycle, her numbers showed improvement from where they were prior to running a PR at the world championships, she says.
"Blood doesn't lie," Bates says. "That really gives us a great baseline. Lactate doesn't run the race for you, but it shows that we're getting fitter and fitter."
6. Des Linden had adapted to a hectic schedule.
If you've been living under a large rock, you may not know that Des Linden has been on a whirlwind book tour promoting her New York Times best-selling memoir, Choosing to Run, written with sportswriter Bonnie Ford. How does the 2018 Boston Marathon champion continue training at a high level while keeping so many engagements, seemingly everywhere? A lot of phone calls with her coach, Walt Drenth.
"It's been really calculated with my coach and a lot of communication," Linden says. "It's been asking a lot of: What are you doing this day? Why are you doing it? What is it bringing to the table? Do we need to cut it back? Do we need to add more? Literally every day of the book tour, it was getting on a call and making decisions…I think we nailed it."
Linden says her volume hasn't reached the 120-miles-per-week that she put in before the 2022 New York City Marathon, but she also didn't perform to her expectations at that race, when she was 15th in 2:32:37. She says she feels confident in her preparation, even given the depth of competition.
"It's probably going to be one of the years where I just have to do my own thing and see where it puts me in this field—and thinking on the fly, as well. If I have moments when I'm very much in the mix, maybe I'll need to improvise a little bit," she says. "I like where I'm at in my training, I like where I'm at with my coaching situation, which just leads me to answer all those questions ahead of time or be prepared to have good answers on the roads."
7. Mary Ngugi is representing her Nala Track Club this year.
Ngugi, a Kenyan who was second at the 2021 Boston Marathon and third in 2022, has another inspiration to keep her competitive on Monday. She recently started the Nala Track Club, the first all-girls Kenyan running camp, located in Nyahururu Town. Ngugi wanted to create a safe place where girls could attend school, run, and find the support they need to succeed, free from abuse and violence that many female athletes before them have experienced.
The camp is a response to the murder of Agnes Tirop, Ngugi's former teammate, who was stabbed to death in October 2021, in her Iten, Kenya, home. Tirop's husband has been charged with her murder.
"To be honest, this is something I've always wanted to do…I've always wanted to do something to give back to the community and support the girls," Ngugi says, adding, that her goal is to empower young girls, mentor them, and remind them that they do not need "to be in the shadows of men."