Brigid Kosgei Runs Third-Fastest Women's Marathon in Tokyo
The all-time fastest female marathoner won the Tokyo Marathon in 2:16:02.
Heading out the door? Read this article on the new Outside+ app available now on iOS devices for members! Download the app.
On Sunday morning at the Tokyo Marathon, Brigid Kosgei continued to show why she's one of the greatest marathoners off all-time with a commanding win in 2:16:02, the third-fastest women's time in history.
Kosgei, who set the current women's world record of 2:14:04 in Chicago in 2019, faced a compelling battle from Ethiopia's Ashete Bekere and Gotytom Gebreslase through the 30K (18-mile) mark, but soon it was a two-woman race between Kosgei and Bekere.
Kosgei, a 28-year-old Kenyan, continued to push the pace after the 35K mark, running a 15:48 5K split to pull away and secure the victory, her fifth World Marathon Majors win since 2018. Bekere hung on for second in 2:17:58, while Gebreslase was third in 2:18:18.
RELATED: FASTR Seeks to Close the Research Gap for Female Athletes, Leading to Longer, Healthier Careers
"I'm very glad for winning the race with the new course record and Japanese all-comers," Kosgei wrote on Instagram. "My goal was to run fast and I achieved it. Arigatō Tōkyō."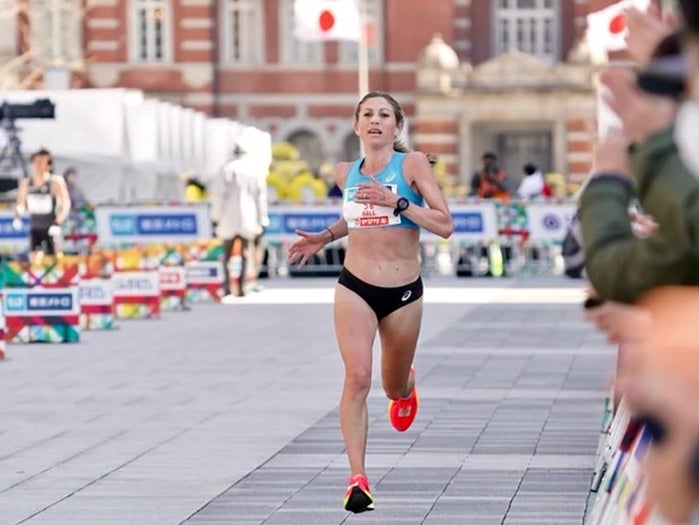 American Sara Hall, 38, entered the race hoping to break Keira D'Amato's new American record of 2:19:12. That mark was set on January 16 at the Houston Marathon, the same day that Hall lowered the American record in the half marathon to 1:07:15.
Kosgei took the leaders through the halfway point in an impressive 1:08:06, while Hall came through 13.1 miles in 1:09:29 with the second. That was the fastest half-marathon split Hall had ever run, eclipsing her 1:09:38 split at The Marathon Project in December 2020, where she ran her personal-best of 2:20:32.
RELATED: Keira D'Amato and Sara Hall Have Historic, Record-Setting Day in Houston
Hall held on as long as she could, ultimately finishing in eighth in 2:22:56, the fourth-fastest marathon of her career.
"Let it rip, left it all out there in #Tokyomarathon. Went out faster than I ever have before with a great group, but wheels came off and ended up 8th in 2:22:56," Hall wrote on Instagram. "No regrets, and grateful for the opportunity to run in this beautiful city and country that inspires me every time I visit!"
More 2021 Tokyo Marathon Results
Missed the excitement of the race? See below for a recap of the results for the women's marathon and see how those stack up against the fastest marathon times of all-time.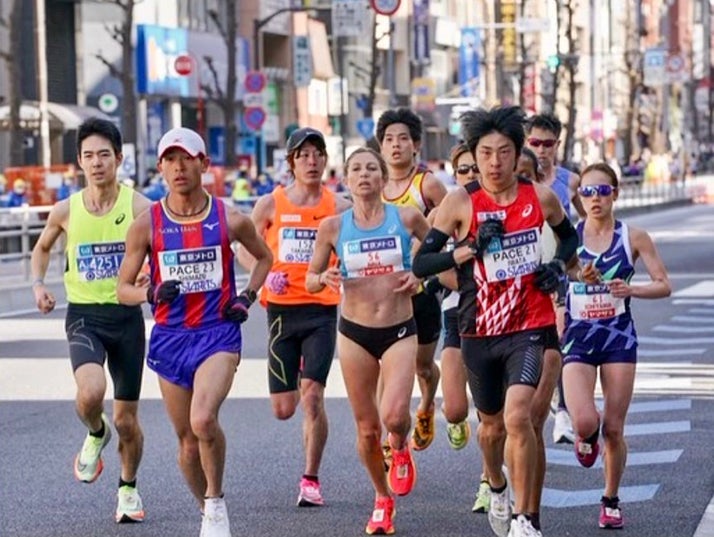 Women's Results
1. Brigid Kosgei (KEN) — 2:16:02
2. Ashete Bekere (ETH) — 2:17:58
3. Gotytom Gebreslase (ETH) — 2:18:18
4. Angela Tanui (KEN) — 2:18:42
5. Hiwot Gebrekidan (ETH) — 2:19:10
6. Mao Ichiyama (JPN) — 2:21:02
7. Hitomi Niiya (JPN) — 2:21:17
8. Sara Hall (USA) — 2:22:56
9. Helen Bekele (ETH) — 2:24:33
10. Kaori Morita (JPN) — 2:27:38
All-Time Fastest Women's Marathon Times
1. Brigid Kosgei (Kenya), 2:14:04 (Chicago 2019)
2. Paula Radcliffe (UK) 2:15:25 (London 2003)
3. Brigid Kosgei (Kenya), 2:16:02 (Tokyo 2021, run in 2022)
4. Mary Keitany (Kenya), 2:17:01 (London 2017)
5. Ruth Chepngetich (Kenya), 2:17:08 (Dubai, 2019)
RELATED: How a New York City Marathon Win 10 Years Ago Transformed Firehiwot Dado's Life