Everything You Need to Know About the 2022 London Marathon
The United Kingdom's capital city is known for a flat, fast marathon course and runners in costumes. Here's all you need to know about the 2022 race.
Heading out the door? Read this article on the new Outside+ app available now on iOS devices for members! Download the app.
Next up for the 2022 fall marathon season is the London Marathon, which is held on a fast, flat course along the Thames River through the heart of the British capital. More than 40,000 people will start the 42nd annual race on October 2, including hundreds wearing costumes.
One of six World Marathon Majors, the London Marathon is one of the largest and most prominent, both for age-group athletes and elite pros. It got started in 1981 and for its first 39 editions it was held in the spring, but since the COVID-19 pandemic in 2020, it has been held in the fall. However, after this fall's race, the London Marathon will move back to its typical late-April date (April 23, 2023), six days after the Boston Marathon.
The London Marathon has produced seven world record efforts, most recently in 2017 when Mary Keitany set a new mark for a race that includes a separate women's start ( 2:17:01) and in 2003 when Paula Radcliffe set the since-broken women's overall record (2:15:25). Moroccan-American Khalid Khannouchi, the last U.S. runner to hold a marathon world record, broke his own mark in London in 2002, when he ran 2:05:38.
The London Marathon has become well known for fast runners wearing a variety of costumes. In fact, more Guinness world records for costumed runners have happened at the London Marathon than any other race in the world. For example, in 2021, 30 new records were set, including Julian Rendall, who ran 2:51:4 dressed in pajamas. Meanwhile, Peter Butler-Jones set a record for the fastest marathon run wearing a pair of Wellington boots (2:56:28) and Kristina Kucar ran the fastest marathon wearing handcuffs (3:15:53).
What to Expect from the London Marathon Course
The London Marathon course has remained largely unchanged since the inaugural race in 1981 and encompasses many of the capital's most mesmerizing landmarks, old and new. Beginning in Greenwich Park, the marathon route takes its competitors on a tour around England's capital. It begins southeast of the city in a slightly elevated area but then drops about 150 feet before the 4-mile mark near Woolrich and is almost entirely flat the rest of the way, except for a smallish hill that begins just before the 19.5-mile mark. After weaving around Rotherhithe it passes over the River Thames at Tower Bridge and heads along to Canary Wharf and the Isle of Dogs. Runners then begin a home stretch which follows the river on the north bank past the Tower of London, London Bridge, Blackfriars, Big Ben and other landmarks before veering up towards Buckingham Palace and the finish line at The Mall.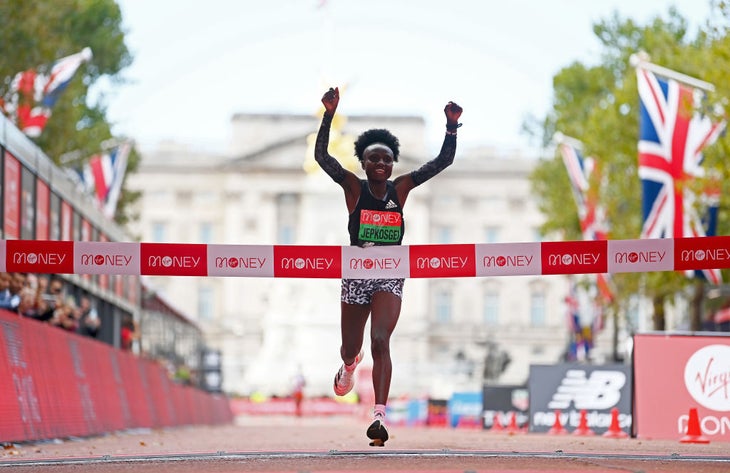 Which Pros are Running the London Marathon This Year?
With world record-holder Brigid Kosgei (2:14:04) a late scratch due to a hamstring injury, there is no clear women's favorite in this year's London Marathon. However, seven runners in the all-women's elite field of 16 have personal best times faster than 2:19, so Mary Keitany's all-women's World Athletics record of 2:17:01 could be in jeopardy of falling. The race has $313,000 in prize money this year, including $55,000 to the men's and women's winner.
Defending champion Joyciline Jepkosgei of Kenya dropped her rivals in last year's race with a blistering 4:56 24th mile, but also ran nearly identical splits of 1:08:51 for the first half and 1:08:52 for the second half. Meanwhile, Kenyan Judith Jeptum Korir, 26, who ran a 2:18:20 to earn the silver medal in the marathon at the World Athletics Championships in Eugene on July 18, will be racing in London just 76 days after winning her medal in Oregon.
Four Ethiopians—Yalemzerf Yehualaw (2:17:23), Ashete Bekere (2:17:58), Sutume Asefa Kebede (2:18:12) and Alemu Megertu (2:18:51)—are also in the sub-2:19 group while a fifth, Hiwot Gebrekidan, has run nearly that fast (2:19:10). Joan Chelimo Melly, who competed for Kenya before switching her allegiance to Romania last year, is the other sub-2:19 entrant with a 2:18:04 personal best. The top British women entered in Sunday's race are Charlotte Purdue (2:23:26), Steph Twell (2:26:40), and Rose Harvey (2:27:20), while the lone American runner in the women's elite field is Marci Klimek (2:30:48), a 35-year-old runner from Talent, Oregon, who runs for Cascadia Elite. She was sixth at the California International Marathon last fall (2:30:48).
The men's field is headed by last year's champion Sisay Lemma of Ethiopia, who had raced 21 times over the 26.2-mile distance before his 2:04:01 victory in London last year. Also in the field is fellow Ethiopian Birhanu Legese, who, with a personal best of 2:02:48, is the third-fastest man in history, and Belgium's Bashir Abdi, the Toyko Olympic bronze medallist and European record-holder with 2:03:36.
But the real story of the men's race might be whether legendary runner Ethiopian runner Kenenisa Bekele can produce one more golden race to cap his storied career. Bekele, an Ethiopian, is the second-fastest marathoner ever with the 2:01:41 he ran to win Berlin in 2019, as well as being a former world record-holder in the 5,000m and 10,000m on the track and an 11-time winner of the World Cross Country Championships. The three-time track Olympian is now 40 and competing as a masters runner.
When Does the Race Start?
The citizen's starting wave of the 2022 London Marathon will begin at 9:40 a.m. local time. The elite wheelchair men's and women's races will start things off at 8:50 a.m., followed by the elite women's race at 9 a.m. and the elite men's race and the mass start at 9:40 a.m.
For anyone in the U.S. tracking runners, 8:50 a.m. Western European Summer Time is 3:50 a.m. Eastern Time and 12:50 a.m. Pacific Time—so be prepared for a very late night (or early morning) if you're planning to follow the race or track a runner in real-time.
How Can I Watch or Stream the London Marathon at home?
The 2022 TCS London Marathon will be broadcast live in 198 countries with worldwide news access. In the U.S., it will be available on livestream via Flotrack, but it requires a subscription. (You can stream or cast the Flotrack feed from your desktop, mobile or TV as well as throughRoku, Fire TV, Chromecast and Apple TV.) You also might be able to watch it via Watch Athletics, BBC1 or Filmon depending on your service provider. You can also follow along on social media through the official TikTok for TCS London Marathon Facebook – @LondonMarathon and of course Twitter and Instagram.
How to Track London Marathon Runners
Do you have a friend running the London Marathon that you want to track? Want to track the top pros? Download the official TCS London Marathon app to your iOS or Android device, then enter the names of the runners you'd like to track and you'll be able to get GPS positioning on the course map and split times on their way to the finish line.
How Can I Register for Next Year's London Marathon?
Registration will open for the 2023 TCS London Marathon on October 1, 2022. More details about the 2023 event will be posted on the race website soon, so check back to find out more. The cost of entry for an international participant is $156, but it's a difficult race to enter. International registration is slightly different than it is for UK residents, so entering the race via a sanctioned tour operator is highly encouraged.