A Race Where You Have No Idea How Far You Run
You could run 4 miles or 40 miles—you have no idea.
Heading out the door? Read this article on the new Outside+ app available now on iOS devices for members! Download the app.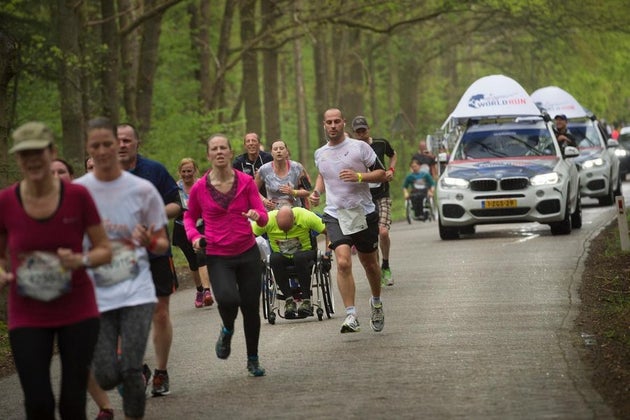 The Red Bull Wings for Life World Run takes your expectations of a traditional road race and turns them upside down. Instead of a starting at the average a.m. hour, runners begin at all hours—the location in Santa Clarita, Calif., has a gun time of 4 a.m. Normally you race shoulder-to-shoulder against runners sharing the same stretch of road. But at Wings for Life, you could be competing with a racer halfway around the world. Here's the kicker: Regardless of whether your race is a 5K or a half marathon, you expect to know the distance (and train for it) before toeing the line. But at Red Bull's event, you have little sense of how far you'll end up running before the day is through.
In its third year, the Red Bull Wings for Life Run is a worldwide event that starts at a single moment all across the globe. The run, which aims to raise awareness and funds for spinal chord research, has 34 official locations ranging from Santa Clarita and Sunrise, Fla., in the United States to Yilan, Taiwan; Pretoria, South Africa; Ahmedabad, India; Melbourne, Australia; and more. This year, the event allows virtual participation as well, through the Wings for Life World Run Selfie app.
The race commences globally at 11 a.m. GMT (which means a very late or extremely early start, depending on your location). Runners continue to put one foot in front of the other until they are caught by the "Catcher Car." Once the car passes you, you've reached your finish and a bus takes you back to the start. This means your race could be 10K, or like last year's winner, Lemawork Ketema from Ethiopia, the car could nab you at a whopping 49.6 miles.
Cool factor aside, all of this coordination is for a good cause. Every single registration dollar goes toward finding a cure for spinal chord impairment.
This year's event will be held this Sunday, May 8. To learn more or to register, visit wingsforlifeworldrun.com.