The Thrill of the (3,000m Steeple)chase: Bahrain's Winfred Mutile Yavi Overtook World Record Holder to Win Gold in World Championship Final
The solo American, Courtney Wayment, finished last in 11th place: "It bites… but I won't let that crumble belief." 
Heading out the door? Read this article on the new Outside+ app available now on iOS devices for members! Download the app.
Winfred Mutile Yavi seemed to be cursed by fourth. She placed fourth in the 2019 and 2022 world championships in the 3,000 meter steeplechase. She owned the fourth-fastest time in the world for the event this year (9:04.38) leading up to the world championships in Budapest.
But during Sunday night's final, the Kenyan-born runner for Bahrain wielded the powers of four to earn a spot on the podium. With four laps to go, Yavi positioned herself behind the leaders to make a last-lap surge and pass Kenya's Beatrice Chepkoech, the world record holder in the event. Yavi, who's only 23, proved her fate was certainly not fourth. She was first. Yavi secured the first ever gold medal for her home country in a new world leading time of 8:54.29, the number five all-time in the event.
Chepkoech, who missed last year's championships due to injury, crossed the line a few seconds later to earn silver in 8:58.98. Her Kenyan teammate Faith Cheroitch finished third in 9:00.69, a personal best.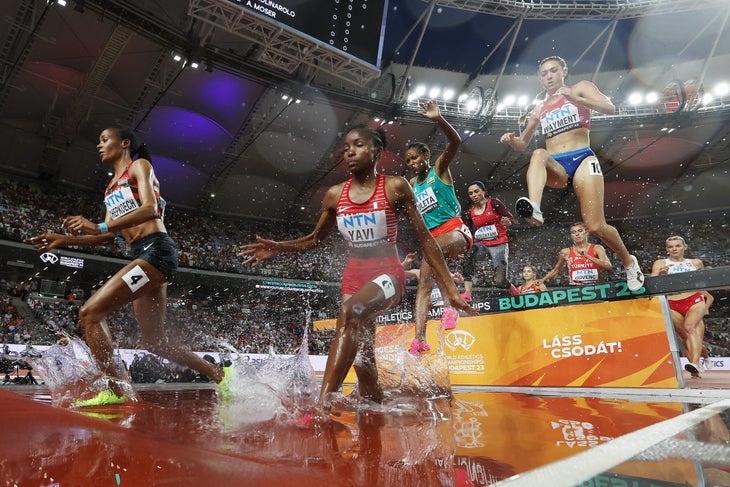 USA's Courtney Wayment Reflects on Her Race
"I wish I sat a little more in the first 1,000 meters," said Team USA's Courtney Wayment on what she wished she'd done differently in the final. "Everyone that passed me at the end, that's what I was hoping to do."
If racewalking is who can whisper the loudest, then steeplechase must be who can buck a bull with the most grace. Runners need endurance, power, technique and patience to clear 28 fixed barriers and seven water jumps over almost two miles, all with an appearance of ease. Failing to clear a hurdle by a fraction of an inch can cost an athlete the entire race. Despite the locker room heat and humidity in Budapest, Wayment succeeded in accomplishing nearly all of those traits. But the only American to qualify in the final ran with more pressure than patience.
"I was coming here to do something special," she said. "I was a little aggressive in the first mile. When you go in with that much belief in yourself, it's hard not to do that and not go out hard."
Wayment, who ran in her first world championships in Oregon last year, seemed likely to improve upon her 12th place finish (in 9:22.37). She said her fitness felt way better and her summer racing results demonstrated her belief. Earlier this summer, she ran a lifetime best of 9:11.41 in Florence then went on to place third at the US championships in 9:14.63. And then in July, she returned to Europe to run the steeple at the London Diamond League in 9:17.21, placing fourth. Still she told herself "no expectations or limits" for the world championships.
On the other hand, Chepkoech, who won this race in 2019 Doha, wanted to reclaim the top spot on the podium as a purist. She brought the field through the first 400m in 70 seconds. She still led at one kilometer in 2:58, edging the world championship meet record pace set last year by Norah Jeruto in 8:53.02. After being relatively nonexistent on results in 2021 and 2022 due to injury, Chepkoech made her return obvious to the field.
"[The race] didn't do anything that I didn't think it would do," said Wayment. "I was preparing exactly for that [pace] even if it was a little aggressive. But you know you're only as good as your next race. I'll let it sting for the next 24 hours."
Wayment ran 9:25.90 and finished last in the field, in 11th place.
"I'm sad. I'm disappointed," she said. "But I'm not gonna let that crumble belief."
She said how tough it was to make the final – her American teammates Emma Coburn and Krissy Gear failed to advance from heats – but the 25-year-old kept her spirit strong and acknowledged her coach Diljeet Taylor's belief in her, too.
However, Wayment admits to having more positive momentum when she was a part of the NCAA last year. She had more wins. And wins are good for the ego.
"I was like yeah I could do anything and I felt like I was on the top of the world," she said. "But this year we had to work for it, there weren't as many [opportunities to win]."
Wayment, who is sponsored by On, only has 24 hours or so to wallow and wonder what went wrong before she has another chance to test her fitness. Because she will gallop again in Zurich on Thursday, August 31. Then she'll race in Eugene at the Prefontaine Classic in September to end her season.
Interestingly, only two runners in this world championship final were over 30 years old. It's impossible to say with conviction why so many athletes in the 3,000 meter steeplechase are on the younger side of competition. But fearlessness appears just as important as calculated strategy. After all, the steeplechase is a race that was designed for horses and riders to race from one town's steeple in Ireland to the next. Doesn't that seem to require instinct over intellect?
"If I have to be patient, and I keep that belief with me, one day this thing is going to pan out," Wayment said.
The first place and last place finishers in the women's world championship 3,000 meter steeplechase were far apart, but both understand what it feels like to come up short. Third time was the charm for Yavi to earn a spot on the podium. But it's only a matter of time until Wayment's feet catch up to her faith.