Everything You Need to Know About the 2022 Chicago Marathon
The Windy City is known for a flat, fast marathon course, fast times and, unfortunately, unpredictable weather. Here's all you need to know about the 2022 race.
Heading out the door? Read this article on the new Outside+ app available now on iOS devices for members! Download the app.
The inaugural Chicago Marathon, then called the Mayor Daily Marathon, was first held in 1977 and 4,200 runners paid $5 to enter—making it the largest marathon in the world at the time. In the past decade, Chicago has consistently been the second largest marathon in the world behind the New York City Marathon, averaging 42,273 finishers from 2014-2019 and tallying a record 45,956 finishers in 2019. After the race was canceled in 2020 because of COVID-19 and held with a smaller field last year, a near-capacity field of more than 40,000 runners is expected at the 44th running of this year's race on October 9.
Many runners say the best thing about the Chicago Marathon is the flat, fast course that has produced five world records—including the current women's world record of 2:14:04 set in 2019 by Brigid Kosgei. (Kenya's Dennis Kimetto owns the course record for men, 2:03:45, which he ran in 2013.) That course delivers thousands of shiny new PRs for age-group runners every year as well. 
The most challenging part of the Chicago Marathon is usually the weather. While the historical average temperatures are a high of 67 degrees and a low of 50 degrees, last year it was rather warm—68 degrees when the race started and 79 degrees with 84 percent humidity by midday. It got down to 28 degrees in 1999, while in 2007, the temps rose so high (87 degrees) the race was called off after three and a half hours. Two years ago, though, conditions were optimal—41 degrees at the start and a high of only 53 degrees.
Elite-level American runners have fared well in Chicago, even though the Americans have only won the race a few times in the 21st century. Four-time U.S. Olympian Galen Rupp won it in 2017 in 2:09:20, becoming the first American man to do so since Khalid Khannouchi recorded his second victory in 2002. Deena Kastor was the last U.S. woman to win the race in 2005 (2:21:25), however Americans Emma Bates and Sara Hall placed second (2:24:20) and third (2:27:19), respectively, in 2021.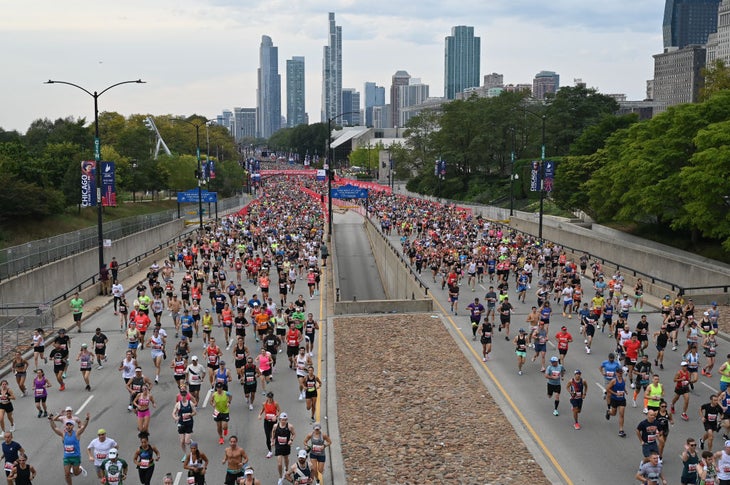 What to Expect from the Chicago Marathon Course
If you want to run a fast marathon, Chicago has a course that can help make it possible. The course starts and finishes in Grant Park (so no early shuttle bus and long wait at the start). The elevation is about 600 feet above sea level and has a net gain of just 243 feet. The lack of hills and long straight stretches can help you lock into a rhythm and hold it without fluctuating. Aside from the very slight inclines over several river bridges, the only real hill on the course comes just before the 26-mile mark as runners take a right turn off Michigan Avenue onto a Roosevelt Road bridge over a railyard. At the crest of that climb, you'll turn left on Columbus Drive and head downhill for about 300 meters to the finish line. 
Runners get great support from cheering fans throughout the course, except for some quiet stretches between miles 22–25. The course takes runners through 29 of the city's neighborhoods, including Lincoln Park, Wrigleyville, Old Town, The Loop, Greektown, Little Italy, Pilsen, Chinatown and Bronzeville, and passes within a block of the Lincoln Park Zoo, Willis Tower, United Center and Guaranteed Rate Field. 
Which Pros are Running the Chicago Marathon This Year?
Kenya's Ruth Chepngetich (2:17:08), the 2019 world champion, is the fastest runner in the women's field. She'll be defending her 2021 victory in Chicago (2:22:31), but she's had an up-and-down series of races recently. She failed to finish at last year's Tokyo Olympics and this year's World Athletics Championships in Eugene, Oregon. However, she also won the Nagoya Women's Marathon in Japan last spring in a very fast 2:17:18. Four other runners in the women's elite field have personal best times faster than 2:21—Ethiopia's Ruti Aga (2:18:34), Kenyans Celestine Chepchirchir (2:20:10) and Vivian Kiplagat (2:20:18), and Haven Hailu Desse (2:20:19) of Ethiopia. 
Emily Sisson, the U.S. record-holder in the half marathon, is the fastest American the women's elite field (2:23:08). She'll be joined by Laura Thweatt (2:25:38), Sarah Sellers (2:25:43), Sara Vaughn (2:26:53), Susanna Sullivan (2:26:56), Diane Nukuri (2:27:50), Maggie Montoya (2:29:08) and Carrie Verdon (2:31:51). Other sub-2:30 runners in the women's field include Romania's Delvine Meringor (2:24:32), Canada's Krista Duchene (2:28:32), Mexico's Ursula Sanchez (2:29:11) and Great Britain's Sarah Inglis (2:29:41).
In the men's field, Ethiopia's Herpasa Negasa (2:03:40) is the fastest runner on paper, but he'll be joined by four of his fast countrymen—including defending champion Seifu Tura (2:04:29), Dawit Wolde (2:04:27), Asrar Abderehman (2:04:43) and Shifera Tamru (2:05:18), as well as Kenyans Bernard Koech (2:04:09) and Elisha Rotich (2:04:21), and Uganda's Stephen Kissa (2:04:48). The fastest Americans in the field are Matt McDonald (2:10:35), Frank Lara (2:11:32), Reid Buchanan (2:11:38), Wilkerson Given (2:11:44), Tyler McCandless (2:12:28) and Conner Mantz (1:00:55 half marathon), who is making his marathon debut.
When Does the Race Start?
The men's wheelchair division will begin at 7:20 a.m. and followed shortly by the women's wheelchair start at 7:21 a.m. and the handcycle start at 7:23 a.m. Runners in the first starting wave—including the elite men's and women's divisions—will begin at 7:30 a.m. CT. The second wave will kick off at 8 a.m., followed by the third wave at 8:35 a.m.
How Can I Watch or Stream the Chicago Marathon at Home?
NBC 5 Chicago and Telemundo Chicago will provide complete live local TV coverage of the Bank of America Chicago Marathon in English and Spanish from 7 a.m. to 11 a.m. CST on October 9. The Chicago Marathon will be streamed live nationally on Peacock from 7-11 a.m. CDT, as well as on nbcchicago.com and telemundochicago.com from 7 a.m.-3 p.m. CDT.
Expert analysts Ed Eyestone, Carrie Tollefson and Amanda McGrory will join Marion Brookes and Leila Rahimi on NBC 5 Chicago, with Juan Luis Barrios, Luis Posso and Saul Mendoza joining Anabel Monge and Héctor Lozano on Telemundo Chicago. American marathon record-holder Keira D'Amato will be providing color commentary for the women's elite division and Olympian Diego Estrada will provide input about the men's race. 
Tollefson, a former middle distance runner and U.S. Olympian, shared her joy at being back in Chicago, "I am thrilled to be back on the NBC Chicago team again this year. It's a little different role this year as I transition into the booth. Having the opportunity to throw it to Keira D'Amato on the moto, the fastest American Marathoner, and friend, will be epic! We are so pumped and a little scared we might forget we are on air. Ha!"
How to Track Chicago Marathon Runners
To track runners in this year's Chicago Marathon, download the official app for iPhone or for Android. Users can track up to 20 runners through the app, which also includes an interactive course map, a schedule of events and race photos. To add registered participants to a tracking list, search for a name and add the runner to "favorites." Runner tracking will also be available on the marathon's website race day, allowing spectators to view the race leaderboard, and follow friends and family by getting real-time updates and splits.
How Can I Register for Next Year's Chicago Marathon?
To get into the Chicago Marathon, you must apply for the lottery during the application window. Applications open in late October of the year before the race and close at the end of November. For example, applications for the 2022 Chicago Marathon closed at 2 p.m. CT. on Tuesday, November 30.
There are several ways to get a guaranteed entry for the 2023 Chicago Marathon, including running on behalf of a charity, entering through an international tour program, earning a time qualifier or running the Shamrock Shuffle 8km race in March.