An Insider's Guide to RunDisney's Springtime Surprise Weekend
Everything you need to know to make the most of the newest addition to the Disney calendar of races.
Heading out the door? Read this article on the new Outside+ app available now on iOS devices for members! Download the app.
RunDisney Springtime Surprise Weekend is the newest Disney running event, and it debuted last weekend at Walt Disney World in Florida. The race joins Disney Wine & Dine Half Marathon, Walt Disney World Marathon, and Disney Princess Half Marathon Weekends in Walt Disney World's running season. The surprise? A different theme each year.
"We want it to be a surprise and delight for our guests," says Heidi Pickert, manager of sports development for RunDisney. "To add new fun elements and give some appeal to different audiences. Not rinsing and repeating the same model over four race weekends."
For Walt Disney World's 50th anniversary, the 2022 weekend celebrated "Yestermorrow," with fresh takes on retired races of yore—Expedition Everest 5K, Race For The Taste 10K, and The Twilight Zone Tower of Terror 10-Miler. "Our runners have been asking to bring those races out of the vault," Pickert says. "Coming out of the pandemic, we wanted to provide a theme that we knew runners were gonna love."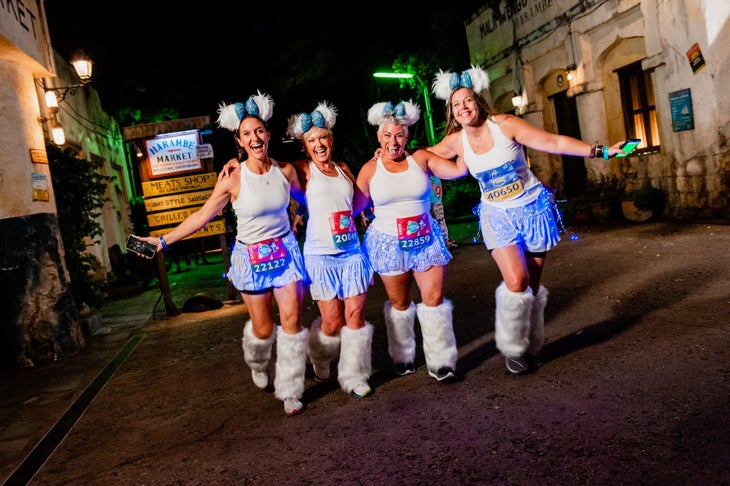 Next year? Only RunDisney knows, choosing themes 18–24 months out. "We take it very, very seriously," Pickert says. "I don't think people know how much we put into the themes we choose. We have strategy sessions. We listen to our guests. We meet with all of our creative partners. We start with a blank canvas, and ask, 'What have we done in the past? What's popular? What are our guests saying on social media? What's coming down the pipeline? Is it an anniversary? What do we think our runners will like? What characters do they love? What will be a fabulous medal? What haven't we done that's unique and different? What fuses into a great story?' We take all of that into account."
If you want in on the party, here's how to tackle RunDisney Springtime Surprise Weekend like a pro.
RELATED: Brittany Charboneau Wins Four Consecutive Races at Disney's Dopey Challenge
Choose Your Own Adventure
While themes and courses will change annually, Pickert says runners can expect a 5K, 10K, and one longer race each weekend. A multi-race challenge is likely to reoccur, along with varied ancillary events like Sunrise Yoga in front of Cinderella Castle at Magic Kingdom. Other than that, "anything goes," Pickert says.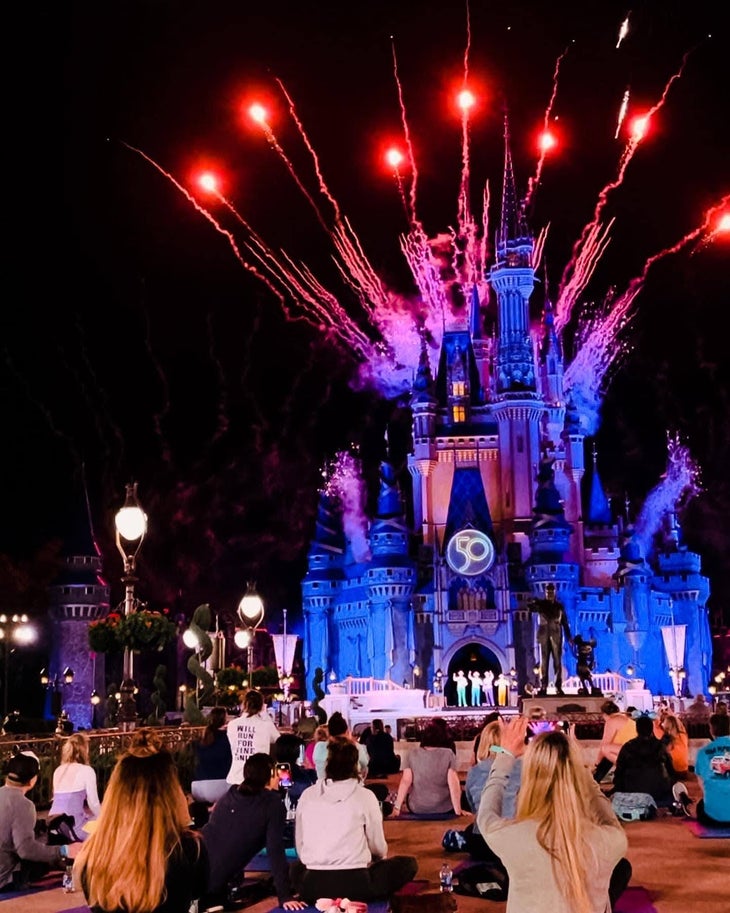 Regardless of theme, run multiple races for the most in-park action. The Expedition Everest 5K ran through Disney's Animal Kingdom, while Race for the Taste 10K and The Twilight Zone Tower of Terror 10-Miler toured EPCOT, Disney's Hollywood Studios, and Disney's BoardWalk. Want to do it all? The Springtime Surprise Challenge includes all three races and four medals—one for each distance plus the challenge. "Our runners love the bling," Pickert says. "We want to reward you with extra bling." Register for the challenge itself, not each race individually, to earn that coveted medal.
If you can't make it to Walt Disney World, you can log any of the races virtually. Entry snags you a medal, shirt, playlist, and digital bib, finisher certificate, and tool kit, including printable mile markers.
Just be sure to sign up ASAP: Most events sell out quickly. Registration for next year's Springtime Surprise Weekend (April 13–16, 2023) opens August 16, 2022 for Club RunDisney members, August 23 for the general public, and August 26 for virtual events.
Sleep Nearby
Free transportation to all events is one perk of staying at a Walt Disney World resort hotel. The most convenient area is typically Disney's BoardWalk, including BoardWalk Inn, Yacht and Beach Club Resorts, and Walt Disney World Swan and Dolphin. Some, but not all, Disney courses pass those hotels, allowing spectators to cheer easily. Their proximity to EPCOT, where start and finish areas are typically staged, makes race-day transportation a breeze. All EPCOT area hotels are great options for short commutes.
Staying on the Monorail loop at Disney's Contemporary Resort, Polynesian Village Resort, and Grand Floridian Resort & Spa is my personal favorite. Many half-marathon and longer courses pass those hotels going into or out of Magic Kingdom. If the theme features Disney's Animal Kingdom, then Animal Kingdom Lodge is a transportive experience with giraffes and zebras wandering past your window. All hotels in the Animal Kingdom area will be close to the park. A handful of non-Disney hotels in the immediate vicinity offer their own shuttles to events, too.
Rise and Shine
Most races start at 5 a.m., while nighttime events begin at 10 p.m. (Sleeping Beauty you won't be). Plan to get up and out early for a prime spot in your corral or to snap pics at pre-race photo ops. The latest I'd recommend leaving your on-property hotel is 90 minutes before the horn, especially if you're in the first start. You can get from door to corral in 60 minutes if the stars align, but that doesn't always happen.
If you travel from off-property, schedule a ride-share in advance and have the list of race-day road closures handy. You can find them in the event guide shortly before race weekend. The earlier you leave, the less traffic you'll encounter no matter your form of transport. Give yourself extra time for night events, where you'll battle both runner and end-of-day park traffic.
Come in Costume
Costumes or fanciful flair are de rigueur, and the Springtime Surprise Weekend is no exception. "Our runners always dress in costumes, but this weekend they were focused on the event itself, this theme, and really immersed in it," Pickert says of the yetis at Expedition Everest 5K, foodies at Race for the Taste 10K, and bellhops at The Twilight Zone Tower of Terror 10-Miler. "We had so many people who did costumes this weekend. They engaged in it, they embraced it and they loved it."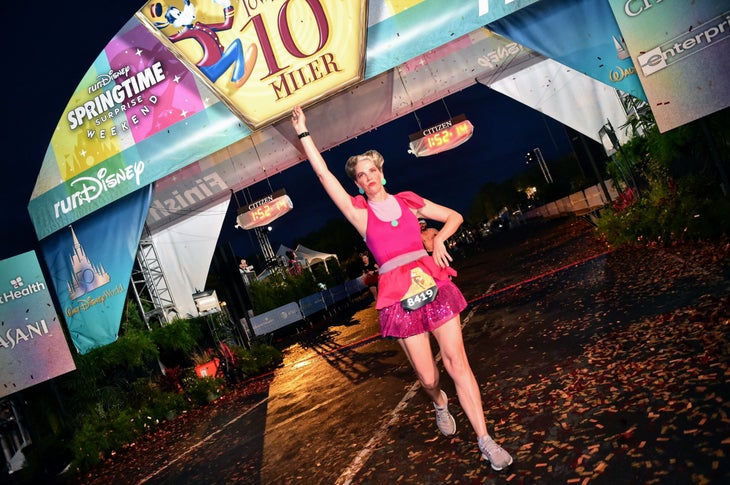 For The Twilight Zone Tower of Terror 10-Miler, I dressed as the terrible terror of Cinderella—Lady Tremaine. Whatever you do, create your couture from tech gear and pack a costume kit. Mine includes double-sided tape, safety pins, needle, thread, scissors, bobby pins, and lots of lube. Fasten everything into place, including hats and mouse ears. What stays put in your hotel room might fly in a wind gust. Choose makeup and head cover carefully. It's almost always humid in April. Even at a jog, you'll be sweating by mile 1. I forgo wigs and style my hair with colored spray or use ribbons creatively (they're light and airy). And seriously, don't forget lube. In a pinch, you'll find some at medical stations along the course.
Prepare to Pose
Pics or it didn't happen! Photo ops are at the start, finish, and all along the courses at the Springtime Surprise Weekend. Many character stops have both a Disney PhotoPass photographer and cast member who'll snap with your own camera. But some have just one or the other.
I tackled Expedition Everest 5K with my phone in hand and carried it in a race belt at The Twilight Zone Tower of Terror 10-Miler. I also bought Disney's Memory Maker, which gives you digital downloads of your PhotoPass snaps from all over Walt Disney World and your race pics. Linking your bib number to your account is easy. It costs a pretty penny, but was worth the expense for me. I downloaded 200 photos from my four-night trip at less than 85 cents a pic.
Run Then Play
What's a Disney trip without park time? If possible, plan to race first, tour second. Visiting Disney theme parks involves walking—a lot. Pool days are perfect pre-race. But if you must cruise the parks, be strategic. Disney's Hollywood Studios demands the least walking and offers the most long-format seated entertainment. EPCOT requires the most walking. Save EPCOT's International Flower & Garden Festival for the perfect post-finish day. The annual event transforms the park each spring with 100 fanciful topiaries, 25 special gardens and activations, and 20 outdoor kitchens serving seasonal cuisine and libations.
Watch the Weather
Always pack a poncho. Come rain, come shine, the race will go on. Only lightning will curtail an event. Race officials shortened the 2022 Expedition Everest 5K in order to get runners, staff, and volunteers off the course before impending thunderstorms. Of Disney's "Five Keys" of customer service—safety, courtesy, inclusion, show, and efficiency—safety is the top priority. Indeed, lightning, thunder, and rain rolled in shortly after I arrived back at my hotel.
Anything is Possible
Race in person or at home. Run alone or with family and friends. Run for fun or a personal best. I've done it all with Disney. At the Springtime Surprise Weekend, I even ran with buddies I met a decade ago at other Disney running events.
No matter how you tackle the Springtime Surprise Weekend, be prepared to change it up. "We love our runners so much and know they are looking for new, exciting events," Pickert says. "We want to do something a little bit extra special for this weekend. Anything is possible."