Everything You Need to Know About the 2022 New York City Marathon
Running through all five boroughs of the Big Apple is a bucket list goal for many runners, and always one of the best pro races to watch. Here's what  you need to know about the 2022 race.
Heading out the door? Read this article on the new Outside+ app available now on iOS devices for members! Download the app.
Let's get one thing  straight: There's nothing in the world of road running that compares to the New York City Marathon.
No matter if you love or loathe New York, running from the starting line on the Verrazano-Narrows Bridge to the finish line in Central Park is an unparalleled experience and one that, no matter what your finishing time is, will be an unforgettable experience. If Frank Sinatra had been a runner, he'd certainly have sung, "If you can make it there, you can make it anywhere."
This year's New York City Marathon on November 6 will once again represent the pinnacle of all things running in the U.S., based on the depth of the professional races, the massive field of 50,000 recreational runners registered, the running shoe and apparel brand activity surrounding the race, and the New York City-sized buzz it will all create. (If you're not feeling it yet, check out this video to jump-start the vibe.)
How It Got Started
The New York City Marathon was first held in 1970, when Vince Chiappetta and Fred Lebow of the New York Road Runners Club organized a multiple-loop course around Park Drive in Central Park. There were 127 registered runners in that inaugural race. Gary Muhrcke, a New York firefighter who went on to become one of the city's top running retail store owners, was the winner in 2:31:38, as the first of 55 runners to complete the course. The only woman who entered  the race, Nina Kuscsik, dropped out after 15 miles due to illness. (Kuscsik, an American running pioneer who fought for the ability for women to enter the Boston Marathon, would return to win the New York City Marathon in 1972 and 1973.)
Like everything in New York, the marathon grew bigger, but not until the race changed to its five-borough course across the city in 1976, and marathon running became the primary focus of the original American running boom in the 1980s. The New York City Marathon field nearly doubled during the 1980s, going from 12,512 finishers in 1980 to 24,659 in 1989.
The 1990s brought continued growth and the first elite athletes from Kenya, Ethiopia, and other East African nations. In 1997, the race surpassed 30,000 finishers for the first time (30,427). It expanded to 40,000 by 2009 and continued to grow through 2019, when it had a record 53,627 finishers. It was canceled due to COVID-19 in 2020, and came back with a smaller field of 33,000 runners last year, so this year's race should be the first return to the massive spectacle that it's known for.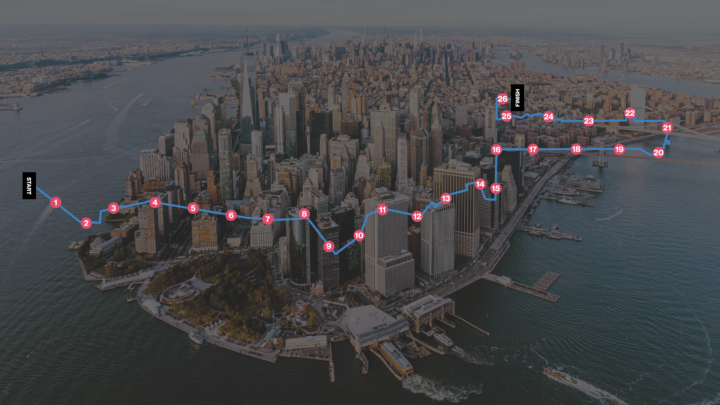 The New York City Marathon Course
The course begins on the southwestern approach to the Verrazano-Narrows Bridge on Staten Island and takes runners on a 26.2-mile journey through parts of Brooklyn, Queens, Manhattan, and the Bronx, before heading back into Manhattan and finishing in Central Park. The route crosses four major bridges over four significant waterways and passes the Barclays Center (home of the Brooklyn Nets), Williamsburgh Savings Bank Tower, Guggenheim Museum and Metropolitan Museum of Art.
While the course is mostly flat, it is also full of small and gradual hills. As such, it has 810 feet of elevation gain and 824 feet of elevation loss from start to finish, which is why it's not known for super-fast times. (Compare that to the flatter course of the Chicago Marathon, which has only 243 feet of gain and the same amount of loss.) Kenyan Geoffrey Muttai's 2:05:06, from his 2011 win, is the fastest time ever run on the course, while the women's course record dates back to 2003, when Kenya's Margaret Okayo won in 2:22:31.
The Verrazano-Narrows Bridge is by far the biggest hill to climb and descend, and running over it as Sinatra's "New York, New York" blares from loudspeakers is the perfect way to get things started, in part because the views of the Statue of Liberty and the Manhattan skyline are breathtaking.
Once you reach Brooklyn on the other side of the bridge, you realize you have a lot of work ahead of you. But you also realize you won't be alone, as thousands of spectators come out in droves to support the runners with cheers, funny signs, and even some foul-mouth remarks. Brooklyn is especially vibrant on race day with house parties, bands, bars, cafes, and family gatherings, all part of the scene along the route.
You'll get an amazing view of the Empire State Building from the 13.1-mile halfway mark on Pulaski Bridge, but the ensuing passage through Queens is a brief, 2.5-mile section that cuts through Long Island City. Running over the Queensboro Bridge into Manhattan is one of the most magical and eerie sections of the course. It's the one place where the only sounds runners will hear is the breathing patterns of runners next  to them and the collective pitter-patter of running across the bridge with thousands of others. That relative calm  ends with  a crescendo of cheering fans, a deafening roar as the race spills out onto 1st Avenue just after the 16-mile mark.
The final 10 miles include a long, flat section with raucous fan support along 1st Avenue, a couple of challenging miles with hills in and out of the Bronx, 2 flat miles back to Central Park, and 4 rolling miles in the park to the finish line. The final 5 miles have more vocal support than any other race in the world, not to mention some of the funniest signs you'll ever see.
What's New This Year?
Expanded Facilities for Breastfeeding Mothers
The New York City Marathon has expanded its support for breastfeeding athletes in this year's race. In partnership with the &Mother non-profit, the New York Road Runners will have several lactation stations at different locations throughout race weekend. Private lactation spaces will now be available at the expo, at the start, along the course, and near the finish line. Organizers will also transport nursing pumps from the start to the finish for runners, as they have for many years.
At the start, nursing mothers can find the dedicated private tent at the start area in Fort Wadsworth.
Prize Money for Non-binary Runners
After launching a non-binary gender identification and category last year, the New York Road Runners created non-binary time qualifying standards, non-binary category and team awards, club point series and prize money throughout its races in 2022. At this year's marathon, prize money for non-binary runners will be awarded for the first time for the first five finishers, with the top finisher receiving $5,000. The nonbinary category is for general runners only—there is currently not a professional nonbinary category. There is no prize money offered for the top men and women who aren't pros or aren't in any other specific category, such as NYRR members or masters runners.
Which Pros are Running the New York City Marathon This Year?
Both the women's and men's fields in the New York City Marathon are stacked this year. The pro runners will be racing to snag some of the $534,000 in prize money, which includes a $100,000 grand prize to each of the winners.
Women's Elite Field
The women's pro field is headlined by Ethiopia's Gotytom Gebreslase, who won the marathon at this past summer's world championships (2:18:11) in Eugene, Oregon, and was third in the Tokyo Marathon last March. Other prime contenders include Israel's Lonah Chemtai Salpeter (2:17:45), who took bronze in Eugene, Kenya's Edna Kiplagat, a two-time world champion who won the 2010 New York City Marathon, and marathon rookie Hellen Obiri of Kenya, who is a two-time world champion on the track and has run a 1:04:22 half marathon.
Also in the mix are several stellar U.S. women, including former American record-holder Keira D'Amato (2:19:12), who is racing six weeks after she finished sixth at the Berlin Marathon in 2:21:48, and four months after placing 10th at the world championships. Sara Hall (2:20:32) and Emma Bates (2:23:18), who placed fifth and eighth, respectively, at the world champs will also be on the starting line, each with previous runner-up showings at World Marathon Majors, as well 2020 U.S. Olympic Trials champion Aliphine Tuliamuk (2:26:50), 2018 Boston Marathon winner Des Linden (2:22:38), Nell Rojas (2:25:57), the top American finisher at each of the past two Boston Marathons, and Stephanie Bruce (2:27:47), who is using the race as the swan song of her long, successful career.
Men's Elite Field
On the men's side, defending champion Albert Korir of Kenya returns after an impressive 2:08:22 victory last year. Last year's runner-up, Morocco's Mohamed El Aaraby (2:06:55), will be in attendance, along with 2018 runner-up and 2020 London Marathon champion Shura Kitata (2:04:49) of Ethiopia, and 2022 Boston Marathon champion Evans Chebet of Kenya (2:03:00). Additional international stars include Brazilian Olympian Daniel Do Nascimento, who is the Americas record-holder in the marathon with a 2:04:51 personal best and was eighth the world championships, and Japan's Suguru Osako (2:05:29), who was third at the 2018 Chicago Marathon and fourth at the 2020 Tokyo Marathon. Also in the field is American Galen Rupp (2:06:07), the bronze medalist in the marathon at the 2016 Olympics, who will be making his New York City debut after a disappointing 19th-place finish at last summer's world championships in Eugene.
Other top American men include Shadrack Kipchirchir, a 2020 Olympian on the track who is making his marathon debut, Scott Fauble, the top American finisher from this year's Boston Marathon in a personal best 2:08:52, Ben True, who was seventh in New York last year in 2:12:53, and 2016 Olympians Jared Ward (2:09:25) and Leonard Korir (2:07:56). Five-time U.S. Olympian Abdi Abdirahman, who has six top-10 New York finishes to his name, will be racing his final marathon. He's 45 and a long way away from his 2:08:56 personal best he set in 2006,  but he ran a 1:05:36 half marathon earlier this year so he's still in the mix.
Which Celebrities Are Running?
The New York City Marathon has attracted numerous celebrity participants throughout the years, including Christy Turlington Burns, Kevin Hart, Chelsea Clinton, Alicia Keys, Ryan Reynolds, Sean "Diddy" Combs, and Pamela Anderson. This year, actor Ashton Kutcher will make his marathon debut and run in support of his charity, Thorn, a nonprofit dedicated to defending children from online sexual abuse. Ellie Kemper is renowned for her roles in The Office and Unbreakable Kimmy Schmidt. She will run in her first New York City Marathon with the aim to raise funds for The Brotherhood Sister Sol. The Boston Children's Hospital will be supported by The Vampire Diaries' and The Originals' Claire Holt. Other celebrities entered in this year's race including actres Lauren Ridloff, TV hosts Amy Robach and T.J. Holmes, TV personality Nev Schulman and reality TV stars Matt James and Zac Clark. Alysia Montaño, a former U.S. Olympic middle-distance runner and co-founder of &Mother, will also be running.
When Does the Race Start?
The professional wheelchair division is the first set of racers to start at 8 a.m (all times EST)., followed by a start wave of handcycle participants and athletes with disabilities at 8:22 a.m. The professional women's field will get going at 8:40 a.m., followed by the pro men at 9:05 a.m. After that, five waves of citizen runners begin with a 35-minute gap beginning at 9:10 a.m. The fifth and final wave will start at 11:30 a.m., which is long after the pro women and men have reached the finish line. The women's winner should finish just after 11 a.m., while the top men's runner should arrive about 10 minutes later.
How Can I Watch or Stream the New York City Marathon at home?
Streaming
For the first time, avid marathon fans can watch uninterrupted, live streams of the four professional divisions in their entirety. These will all be available on the TCS New York City Marathon App.
Television
If you're in the New York City area, you can watch the race live on WABC-TV (Channel 7) from 8:30 a.m. to 1:00 p.m. EST. Pre-race coverage from Fort Wadsworth begins at 7 a.m.
For spectators across the rest of the U.S., the race will be broadcast live on ESPN2 from 8:30 a.m. to 11:30 a.m. Local live streaming will be available on the ABC app and ABC7NY.com from 7 a.m. to 1 p.m. EST, while the ESPN app and ESPN.com will also provide live stream coverage.
Pre-race and continuing coverage will be streamed live nationally on ESPN3 (accessible on the ESPN App and ESPN.com) from 7 a.m. to 8:30 a.m. and from 11:30 a.m. to 1 p.m. ESPN3 will also present a view of the finish line from 9:00 a.m. to 4:30 p.m. The race broadcast will be available live in Spanish on ESPN3 (accessible on the ESPN app and ESPN.com) from 8:30 a.m. to 11:30 a.m. Lastly, there will be a national highlight show on many local ABC stations across the U.S. from 3 to 5 p.m.
How to Track New York City Marathon Runners
To track runners in this year's New York City Marathon, you'll need to download the TCS New York City Marathon app on your smartphone or tablet. The app will provide an interactive spectator guide, a second-screen experience to complement the race broadcast and uninterrupted coverage of the four professional divisions. Most importantly, it will provide the chance to watch the runners you track start the race, run through key parts of the course and cross the finish line.
How Can I Register for Next Year's New York City Marathon?
Details about the lottery for next year's New York City Marathon haven't been announced yet, but it is expected to open in February 2023. Fair warning, though: it's not very easy to gain entry to the race that way. In the meantime, runners can earn guaranteed entry to the 2023 race through the New York Road Runners 9+1 program. That requires registering for and completing nine qualifying races, volunteering at one race and having an active NYRR membership. It's also possible to earn an entry to the 2023 race through one of the official New York City Marathon charity programs.