10 Reasons You Should Run An International Marathon
Sure, running a marathon in your hometown is great, so why should you pack up and travel to a new country?
Heading out the door? Read this article on the new Outside+ app available now on iOS devices for members! Download the app.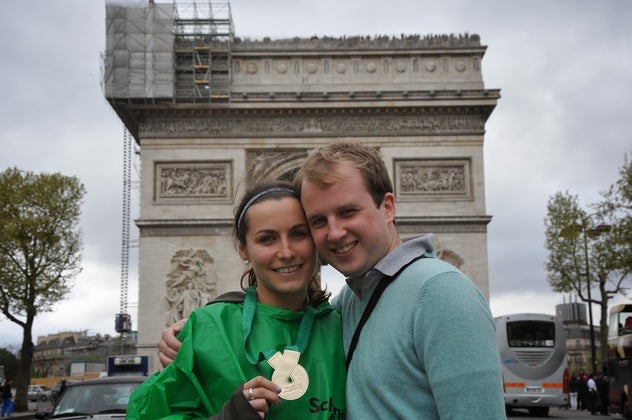 Standing in Richmond Park in London on a very wet Saturday morning in November watching me run a 10K, my boyfriend (eek now fiancé!) Tom, made a fateful error.
He said, "This is awful. From now on, I'm only coming to watch you run international marathons."
Game on, Tom.
I've since run four international marathons: New York, Paris, Berlin and Chicago. Tom has kept up his end of the bargain and has spectated them all.
Here's why I think they're so awesome:
It's a great way to see a new city. You cover more during your 26.2 mile run than you probably would on foot throughout the rest of your trip. The Paris Marathon starts at the Arc de Triomphe on the Champs-Elysees, and takes in City Hall, the Luxor Obelisk, the banks and bridges of the Seine and of course, the Eiffel Tower!
Your spectators are probably far more willing to come with you. Exploring the new location as they watch is a great way of sightseeing. Their challenge will be navigating around a new city, while making sure to see you along the course.
Post-run refueling is more fun when you're trying a new cuisine. After finishing the Berlin Marathon I was handed a stein of beer and a large schnitzel—I passed on the pig's trotter!—by my family who had already set up in a local Beer Hall.
It's a fun way to experience a different running culture. For example, did you know that most UK races, no matter the distance, have a medal at the end? Yes, even 5Ks!
It will help motivate you through your training. You have to think not only of the money spent on the race entry, airfare, hotels, etc., but the mileage you're covering to get there. The very last thing you're going to want is to bonk or have to pull out when you've travelled so far. It is perhaps the best kick in the butt you need to put on your shoes and hit the road.
Signing up for an international race might take you to some unique locations you wouldn't have thought to visit. Personally, I probably wouldn't have visited Chicago had it not been for the marathon there, but we loved it. In fact, we've been raving about it as a travel destination to friends and family back home. A more off-the-beaten-path race I love to recommend is the Nepal International Marathon, which provides a great way to see a beautiful country and help the community recover after the earthquake of 2015. NOTE: Use the code AWESOMEBEANS for a discount on your race package if you're brave enough to take the challenge on!
Think of the stash, not to mention the medals. Traveling for a race gives you the excuse to meander through the expo, checking out new items, buy race t-shirts and stocking up on your fun kit. Be warned though, if you're used to US expos, some of the European ones are a lot smaller in both size and shopping opportunities. The London Marathon expo is pretty great, though!
It's all about the post-race travel and exploration. I would warn against doing too much on-foot sightseeing the day before a race, especially if you want to PR (I climbed up the Arc de Triomphe the day prior to the Paris Marathon, which was not my brightest idea), but afterwards it's a brilliant way to shake out the legs. Get out the guide book and make a must-see list of the city or country you're in before you go to plan accordingly. A bus or boat tour is perfect for aching legs the day after a marathon!
Meet friends from all over the world. Whether it's someone you know who lives abroad, a fellow runner you've met online or a new friend you make during the race, it's a great way to connect with like-minded people. I'm excited to meet up with some good friends that live in NYC and some friends that I've met through blogging while I'm there for the marathon in November.
Bragging rights. I'm aiming to run all six Marathon Majors before I'm 30 and you bet I'm going to tell people about it. Think of the bragging rights you get when you've run a marathon or half. Now double that when you casually mention that it was actually the Tokyo Marathon that you completed. You'll have tons of incredible stories, not only from the race itself but from your entire trip.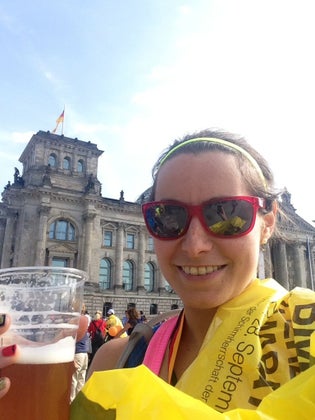 So go on, why not add an international marathon to your race bucket list? It's a great excuse to travel, explore somewhere new and earn your marathon medal. On my list are the Big Sur International Marathon, Boston Marathon, Los Angeles Marathon, Nepal Marathon and Comrades Marathon (which is an ultra. I'd love to hear yours—tweet me at @charliedwatson to let me know and to inspire me to add some others to my list!