Molly Seidel Takes Bronze in the Olympic Marathon; Peres Jepchirchir of Kenya Wins Gold
Molly Seidel is the third American woman in history to medal in an Olympic marathon, surviving the brutal heat to finish third.
Heading out the door? Read this article on the new Outside+ app available now on iOS devices for members! Download the app.
Under extremely hot and humid conditions in Sapporo, Japan, Peres Jepchirchir survived the heat best, finishing the 2021 Olympic marathon in 2:27:20 to take gold. Brigid Kosgei took silver in 2:27:36, and Molly Seidel became the third American woman in history to earn a medal in the event, taking bronze in 2:27:46.
"It feels good. I'm so, so happy because we win as Kenya," Jepchirchir said. "First and second. I thank my god so much. I'm happy for my family. I'm happy for my country, Kenya."
Any expectations for fast times, despite the deep field, were thrown out when the weather forecast became clear. The women went out at a cautious pace, which they gradually squeezed down from 5:48 per mile in the first 5K to 5:36 right after the halfway point. After 25K, the lead group of 20 or so had been whittled down to 10. At the halfway point it was 79 degrees with 72 percent humidity, but according to reports from the ground, the pavement was about 100 degrees.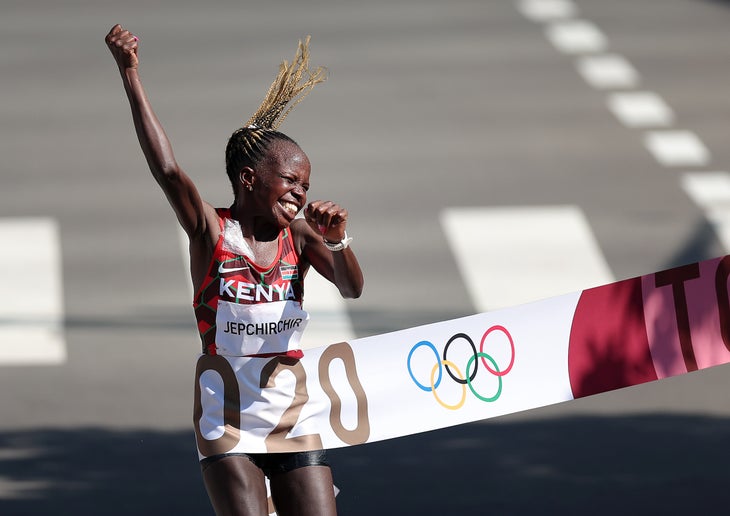 Seidel, 27, remained with the front group through 35K, in just her third career marathon. When Jepchirchir and Kosgei surged in the final miles, she maintained her form, continuing to look smooth and calm. Seidel didn't panic when she found herself lagging in fourth place—with about three miles to go, any one of the three in front of her could melt under the conditions and one of them did. Lonah Salpeter of Israel stopped and Seidel was back in the medals.
After the race, Seidel said during the press conference that she was inspired by Team USA's Courtney Frerichs, who made a bold move in the 3,000-meter steeplechase to get silver this week. Seidel said when she found herself leading the Olympic marathon alongside Kosgei, the world record holder at the distance, she was admittedly a little starstruck.
"I came in today with not a whole lot of expectations. I was hoping to be top 10, really, and just kind of go for it and race aggressively," she said, later adding, "Seeing your peers do incredible things kind of gives you the courage to go after it. I didn't know if it was going to work out…they're the best in the world, but I figured if I hung with them long enough and was brave, something good would come of it."
RELATED: Courtney Frerichs Breaks the Steeplechase Wide Open to Take Silver
Seidel used the pandemic year to gain needed experience—her first 26.2-mile race was the U.S. Olympic Marathon Trials, where she placed second to make the team. During that time, she focused on better fueling and hydration, racing the 2020 London Marathon in 2:25.13. The last time an American woman brought home an Olympic medal was 2004, when Deena Kastor also took bronze. Before that? It was Joan Benoit Samuelson, who won the first women's 26.2-mile race at the Games in 1984.
"This is the day your dream of your entire life. This is what it means to be an athlete," Seidel said.
Jepchirchir came into the Games as the half marathon world record holder for a women's-only race, which she set in Valencia (1:05.16). Kosgei was the favorite to win on Saturday in Japan as the marathon world-record holder—2:14:04, which she ran at the 2019 Chicago Marathon. The duo said they wanted to work as a team on Saturday and win as many medals as the could for Kenya.
"I was happy because I was selected to represent my country for the first time," Kosgei said. "I want to say thanks to Kenya and thanks to my fans, my coach and my colleagues who train with me because we won gold and silver. I would also like to say thanks to my friend for winning gold."
The marathon was moved to Sapporo, about 500 miles north of Tokyo on the island of Hokkaido, in an attempt to evade the heat, however the temperatures have been about the same as Tokyo for the duration of the Games. The race had been scheduled for 7 a.m. on Saturday in Japan but was moved an hour earlier to take advantage of at least a bit of the cooler early-morning temperatures.
Of the 88 women who started the marathon, 15 of them were unable to finish. American Aliphine Tuliamuk dropped out at 20K with a hip injury. She had been on the comeback trail for the Olympic race after giving birth to her daughter, Zoe, in January. Sally Kipyego finished 17th in 2:32.53.
This story will be updated.