Allyson Felix Wins Bronze, Becomes Most Decorated Female Olympian in Track and Field History
In her fifth and final Olympics, Allyson Felix wins bronze in the women's 400m final. Defending champion Shaunae Miller-Uibo wins gold.
Heading out the door? Read this article on the new Outside+ app available now on iOS devices for members! Download the app.
In her fifth and final Olympics, American Allyson Felix wins bronze in the women's 400m final at the Tokyo Olympics on Friday, finishing third in a season's best of 49.46. Defending champion Shaunae Miller-Uibo clinched first in 48.36. Marileidy Paulino of Dominican Republic was second in 49.20.
"Sometimes it sounds like a cliche, but it honestly is more than just me running out there," Felix said after the final. "I'm not too wrapped up in winning more medals. The biggest thing for me was coming back."
It was a sentiment shared by her top competitor, as well. Injured during the heats during the 2012 Olympics, Miller-Uibo came into the Rio 2016 Games as an emerging star at 22 years old. In the 400m final, she dove across the finish line to beat Felix—49.44 to 49.51—for her first Olympic gold.
In 2021, there was no photo finish. It was Miller-Uibo's race from the gun, unmistakable with her hot pink hair as she dominated the race.
"I am so happy right now I could cry," Miller-Uibo said after the race. "I've been dealing with a whole lot of injuries and to be able to pull this one off is amazing. To be able to pull off matching gold medals, and to get an AR as well, I am so thankful."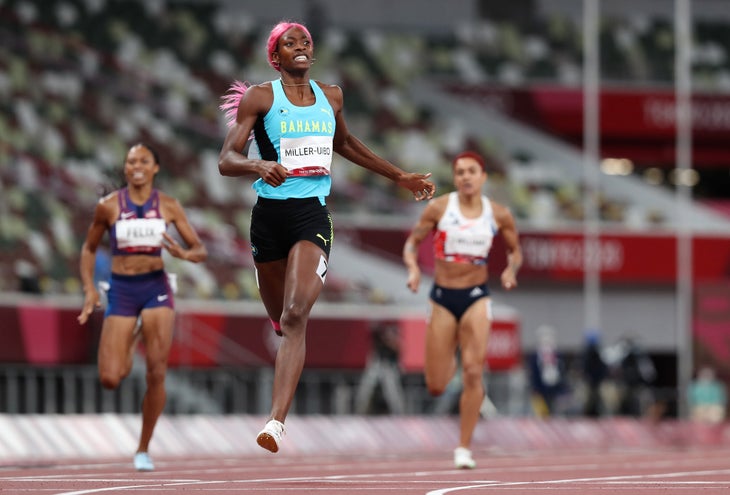 With 200 to go, Jamaica's McPherson was running well, but coming off the turn it was Paulino who took charge and made a move to get ahead and into second position, setting a new national record with her silver medal.
"I believe that this is a new story that started for me and for my country as well," Paulino told reporters through a translator after the competition. "It was a perfect plan—to start hard, keep at it, and surge ahead in the final meters."
It was an impressive finish for her Olympic debut in this event. Paulino played handball before she took up track and field, and didn't start competing until 2016. This marks her second medal at the Tokyo Olympics, also winning silver as part of the 4x400m mixed relay.
"At the beginning I could not devote myself to athletics, because I was not earning anything and so I started to earn money in other jobs. I knew that my family needed food and things like that," Paulino said. "Now that is not the case any more."
Felix, looking strong the entire race, held on to earn her final individual Olympic medal—a moment that was never a guarantee.
"Earlier today I looked through some of the videos again of things that we had taped when I was in hospital with [her daughter] Cammie, and on the comeback trail—those really, really hard moments—and that's what I tried to tap into," Felix said after the finals.
In November 2018, her daughter Camryn was delivered prematurely at 32 weeks by an emergency Caesarean section. She had suffered from a severe case of pre-eclampsia, which threatens the life of a mother and baby.
RELATED: Allyson Felix Just Testifies on Capitol Hill About Maternal Health and Mortality
At 35 years old, there were a lot of moments when Felix was doubtful that she would be able to feel like herself again.
"It was a fight to get here. When I was younger, I never really thought about making a final," Felix said after the semifinals. "This time, you get older and it seems harder. You just have to get smarter and figure it out. It is a very humbling experience but very rewarding to see the progress."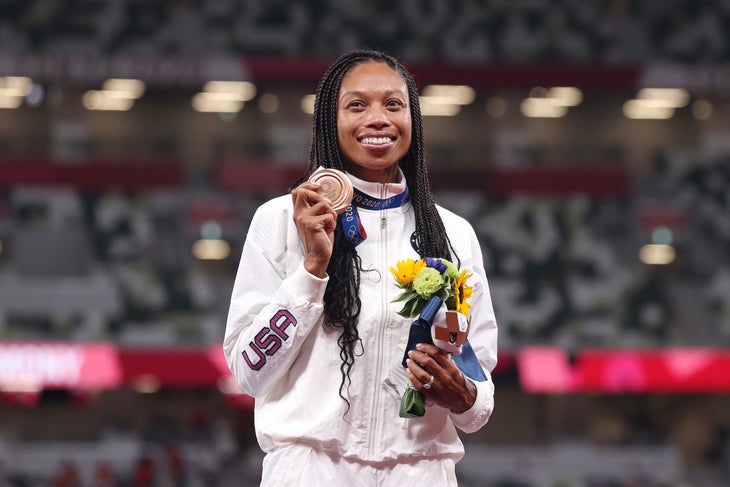 Felix is the only female track and field athlete to ever win six Olympic gold medals. Previously tied with Merlene Ottey as the most decorated female Olympian in track and field history, with a total of nine Olympic medals, Allyson Felix now holds the title for herself at 10.
Felix is also the most decorated athlete, male or female, in World Athletics Championships history with 18 career medals; she also has the most gold medals at 13.
Since the birth of her daughter, Felix has shown a new side of herself on and off the track. "I've just tried to be more vulnerable and be more transparent this time around," she told reporters on Friday. "Being an older athlete I think that's something we don't see as much. So I have been sharing some of my own struggles."
Which included opening up in a powerful, heartfelt essay on social media, just hours before her race: "When I line up for a race I'm normally afraid," Felix wrote in on Instagram Thursday night. "I've never been afraid of my competitors, I'm willing to race whoever whenever. I'm not afraid of losing. I lose much more than I win. That's life and I think that's how it's supposed to be. I'm afraid of letting people down. Of letting myself down."
"I hold myself to such high standards and I'm realizing as I'm sitting here the night before my final individual Olympic final that in a lot of ways I've let my performances define my worth," she continued. "I've been afraid that my worth is tied to whether or not I win or lose. But right now I've decided to leave that fear behind. To understand that I am enough."
Fellow mom and Team USA teammate Quanera Hayes finished seventh in 50.88. Hayes gave birth to her son Demetrius Jr. in 2018, and came back to win the women's 400m at the U.S. Olympic Trials in Eugene, Oregon.
You can find the full list of results here.