Gudaf Tsegay Takes the Title in the 10,000 Meter World Championship
What started as a sleeper ended in dramatic flair. Reigning Olympic champion Sifan Hassan fell with 20m to go and Team USA's Alicia Monson made a late move to earn fifth. 
Heading out the door? Read this article on the new Outside+ app available now on iOS devices for members! Download the app.
It all unfolded in the final 100m. Netherlands' Sifan Hassan glanced to her right, swinging wide as three Ethiopian runners surged closer. A stumble led to her collapse, just before the finish line. The podium was dominated by the Ethiopian trio – Gudaf Tsegay gritted her teeth and overcame the crowded homestretch to ultimately win Saturday's women's 10,000 meter world championship final. Going in, Tsegay was the fastest on paper and that's exactly how she left. She maintained her momentum to finish in 31:27.18. Tsegay beat her teammates Letesenbet Gidey, last year's champion and world record holder in the distance, by 0.98s, and Ejgayehu Taye, who finished third.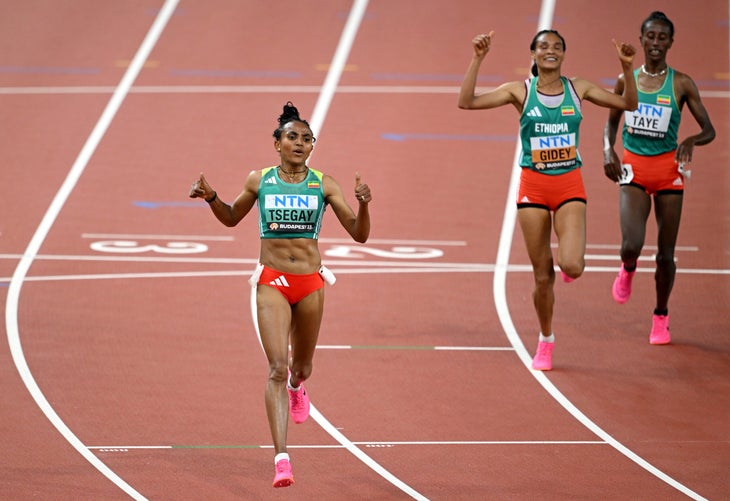 "This gold means everything to me. To represent my country and to show that with hard work, dedication, and belief, anything is possible," said 26-year-old Tsegay of her major championship debut for the distance. Athletics is an individual sport, but national pride remains inherent.
RELATED: Live Updates From the World Championships
Race Tactics of the 10,000 Meters
Typically the paces of a world championship 10,000 meter race get incrementally faster. Athletes often delay their move, holding off the desire to speed up. Because world-class 10K runners know the moment to accelerate will inevitably arrive and they want to be ready. Last night the pack resisted any radical gestures early on, covering 1600 meters in 5:36, 2000 meters in 6:50, and 6000 meters in 19:33 – and they looked synchronized, killing time together.
The 10,000 championship choreography is somewhat predictable. Alicia Monson, the top American last night, said once she knew this was a slow race, she also knew it would have a fast wind up. "I just tried to keep putting myself in it," she said. With one lap to go, there were still 11 runners in contention for a medal, and Monson was one of them – which was her primary goal. "My secondary goal was obviously to go for the win and medal. I fought for every spot. I'm proud of it." Only 25, Monson is one of the younger world-class distance runners and left the race motivated to improve upon fifth place, aiming for an Olympic medal next year.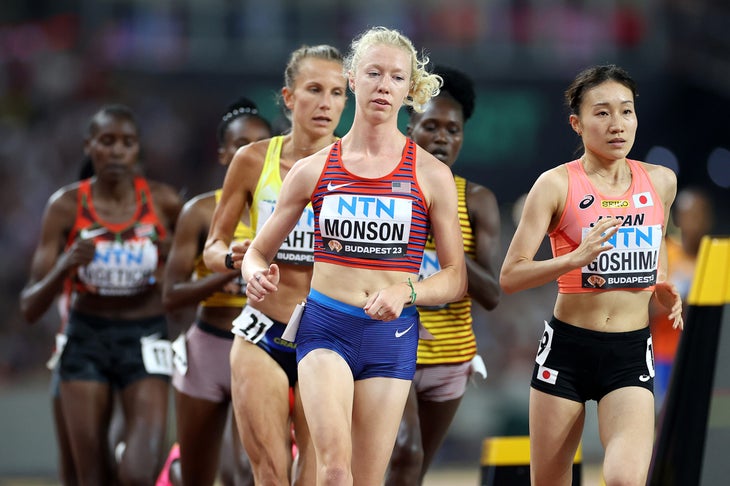 Still, the gun went off, and no one took the lead. Natosha Rogers, another American athlete, found herself volunteering as tribute and brought the pack through the first 400m in 83s. "It's a mental head game when you know the Ethiopians, Sifan… will make the move. It's just a waiting game," said a self-aware Rogers who understood her vulnerable position as the front-runner. "It's intimidating when they all rush past you and try to stand your ground. I still haven't figured out how to keep my composure."
Rogers acknowledges her fitness didn't reflect her performance last night and believes she is in lifetime best shape. The thing is, the 10,000's orchestrated antics occur during most of the race but the final lap is an unpredictable frenzy. The body's response to pain and strategic moves become challenging to anticipate, no matter how fit.
"I should have placed top 10," Rogers reflected.
So should have Hassan.
Hassan's Race Was Going to Plan
Hassan, the reigning Olympic champion in the event, trailed behind at the start of the race. As part of her mission to earn the distance triple crown (that she just missed in Tokyo), Hassan had run the 1,500 seven hours earlier and she looked asleep for her second race of the evening.
But her position was intentional, more akin to lucid dreaming. Because she was in control of her slumber and never let the pack go too far. In the last two laps, she moved from eighth to the lead. The 2019 world champion in this event looked so strong. Too strong. "I was trying to make [Gidey] work hard," said Hassan, who admittedly drifted to the right, edging her competitor. "Sports is a game. She's maybe not happy about it. You have to go around me."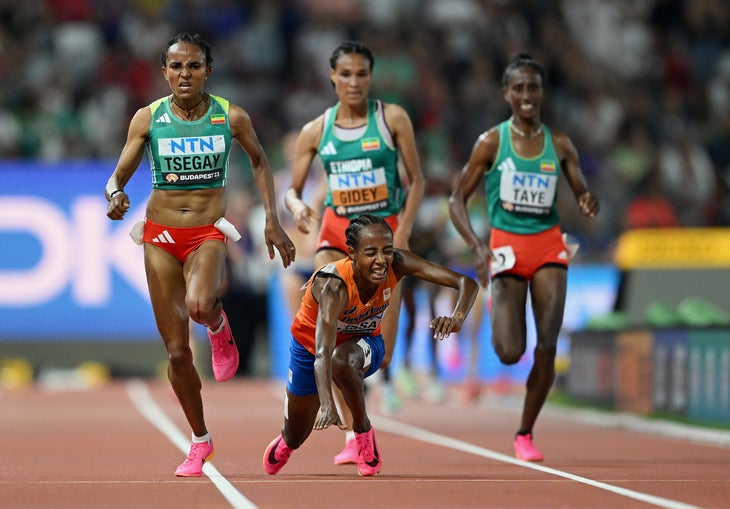 The Dutch contingent faced a challenging evening, as the mixed 4×400 meter relay witnessed Femke Bol's fall just 10 meters from the finish line. This incident cost the Netherlands team a podium finish and a world record.
The media appeared more upset about the Netherlands' horizontal blunders than Hassan. "Maybe it's National Falling Day," she quipped to the press, reminding everyone of life's broader scope than sports. "People lose lives. This is just a championship and we're gonna have more. We have to accept it and move on." She knows she ran the last 100 meters with heart, and claimed she fell because she lost her balance – not because she looked back. "It doesn't matter if I raced [earlier today] or not, I'm gonna fall down today. It is what it is," said Hassan, pointing out her bloody elbows and knee with an endearing smile. "It's not always perfect. There's always ups and downs but that's what makes life beautiful."
Hassan's demeanor sounded philosophical, yet slightly aloof – like she reached Buddha-tier levels of acceptance compared to the stress she encountered during her pursuit of the triple crown in Tokyo. Since reflecting on that period, Hassan has carried more ease with her outlook on also racing the 1,500 and 5,000 this year. "I'm really chilling out now," she said, which just means there are over six weeks until she runs the Chicago Marathon.
Rogers shared a comparable headspace, hoping to rebound from her disappointment as she finished 14th in 32:08.05. "I'll shake this off and focus on recovery," Rogers said on her preparation before racing the 5,000 on Wednesday. She recognized her struggle to find alone time amidst sharing a room and her meals with Team USA and hopes to find solitude in Budapest to reset. "That's my biggest edge, the mental side of things," she said. "I'm not going to cry about it anymore. I'll move on."
Completing Team USA, Elise Cranny placed 12th last night in 21:57.51, a season's best. Cranny, along with Rogers and Monson, will return for the 5,000. Hassan's schedule includes the 1,500 tomorrow before joining them in her final distance event. "We have to accept not only the winning but the hard moments," she said. "There's always ease after hardship."
RELATED: Women's Running Guide to the World Athletic Championships