Fast Facts About Sunday's London Marathon
Everything you need to know about the next World Marathon Major.
Heading out the door? Read this article on the new Outside+ app available now on iOS devices for members! Download the app.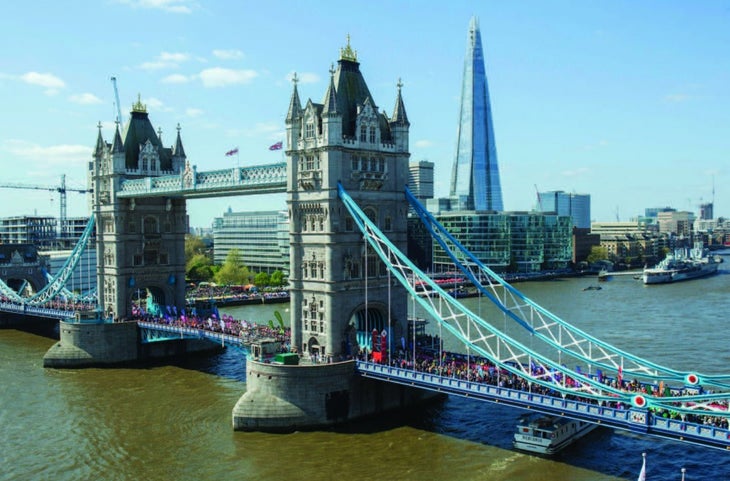 The World Marathon Majors (WMM) comprises of six star races— Boston, London, Berlin, Chicago, New York City and Tokyo. Putting these 26.2-milers on your to-do list may sound crazy at first. But any of us who choose to run a marathon have a little bit of crazy—don't even try to deny it!—and these races are the largest and most legendary in the sport.
The third WMM of the year takes place on Sunday. The London Marathon is notable for its fast times, fundraising efforts, and tons of costumed runners. For those willing to wake up at 3:50am EST, you can stream the race live on universalsports.com. If you want to add this amazing event to your bucket list, read on to learn more.
London Marathon
April 26, 2015
virginmoneylondonmarathon.com
This race manages to incorporate the pageantry, whimsy and pride of London into 26.2 miles that pass iconic sights like the Tower Bridge, the British clipper ship Cutty Sark and Buckingham Palace. Runners have raised more than 660 million pounds (roughly $994 million) for charity since the marathon's inception—77 percent of 2014's participants ran for a cause. Add the legions of costumed runners making or breaking Guinness World Records (30 records were broken in 2014), and the experience takes on the air of an on-foot carnival.
"Balance is a challenge," says Race Director Hugh Brasher. "We try to look at the marathon from everyone's point of view and hopefully have the right mix."
Prepare for an added level of excitement in 2015, as the country's world record–setting superstar Paula Radcliffe has announced it will be her last marathon. If you are there to watch, stay on top of your hydration at one or more of 80 pubs along the route. For those aiming to set a Guinness record, you must submit your plan in advance. And, just in case crocheting is your specialty, you'll have to best Susie Hewer's 2014 record of "longest crochet chain whilst running a marathon": 139.4 meters in 5:40:47.
Expert Tip: "For the overseas races, just forget about your times. Enjoy the experience." — Cindy Bishop
Related: Boston Is One Of Six World Marathon Majors
London Marathon Fast Facts
First Running: 1981
Runners: 36,550
Average Finish in 2014: 4:30
Average Starting Temp: 50 Degrees
Route: Point-to-point
Entries: Lottery and Charity
Women's Course Record: 2:15:25 by Paula Radcliffe of Great Britain in 2003
Fact: The London Marathon holds the Guinness World Record for the largest annual, one-day fundraising event in the world.