5 Destination Races For The Wanderlust Runner
Blogger Danielle Cemprola advises wanderlust runners on which 5 races they should check out within the next year.
Heading out the door? Read this article on the new Outside+ app available now on iOS devices for members! Download the app.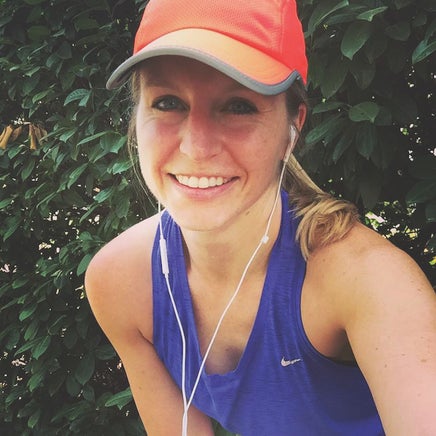 Since she started racing in 2010, travel addict, writer and blogger Danielle Cemprola has completed 51 marathons and countless halfs across 40 states and six countries. Believing that running is the best excuse to travel, the 31-year-old looks for unique local races in places that she might not otherwise visit. She is currently chasing her goal of completing a marathon or half marathon in every state. Find out her picks for the most #runbrag-worthy races she's ever run, and add one of these envy-inducing events to your calendar!
Related: 10 Fall Races That You Should Be Training For Now
Hatfield-McCoy Marathon
June 2018 in Williamson, W.Va.
The Hatfield-McCoy Marathon offers a unique opportunity for runners to start their race in one state (Kentucky) and end in another (West Virginia). Centered around the historic Hatfield-McCoy feud, the locals embrace the theme and dress up as historic characters—even putting on a skit during the pre-race pasta party that details the history. In addition to the marathon and 5-kilometer, the race offers two half marathons (runners can choose to complete the first
or second half of the marathon course), and a double half marathon. Those who complete the double half marathon will get to cross two states off their list!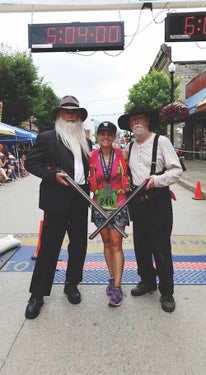 Route 66 Marathon
November 18–19 in Tulsa, Okla.
You may not think of Tulsa as the ultimate party destination, but you probably should. The Route 66 Marathon, held each year in mid-November, will have you wondering if you're at a block party or running a race. Spectators line the streets of all events (there's also a half marathon, marathon relay and 5K) with tons of unofficial "aid stations" featuring Jell-O shots (more than 5,000 were doled out last year), mimosas, beer and snacks. It's the only race I've run every year since I started racing and the most fun I've ever had over 26.2 miles.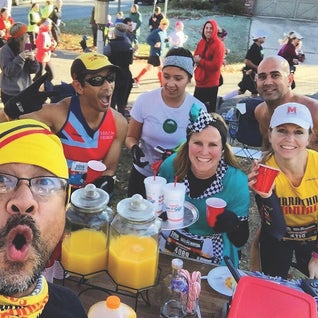 Run in Paradise Half Marathon
May 27, 2018 in Antigua, West Indies
The Run in Paradise Half Marathon, located on the beautiful Caribbean island of Antigua, is a stunning experience. If the ocean-side course, plate-sized medals and beachfront finish aren't enough to persuade you, consider this: The race committee plans every detail of the weekend for visiting runners. All on-island transportation is provided free of charge, including to and from the airport (where you are personally greeted on arrival) as well as a complimentary tour of the island. That's true whether you run the half, 10K or 5K!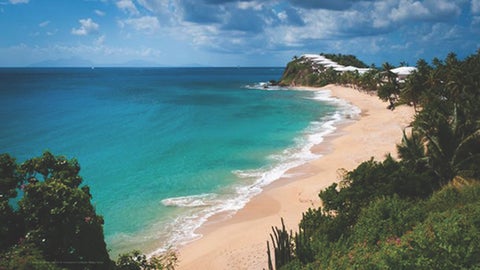 Bird-in-Hand Half Marathon
September 8-9 in Bird-in-Hand, Pa.
The Bird-in-Hand Half Marathon, named for the town, will have you feeling like you've stepped back in time. This race in Amish Country runs through farmland, goes past small businesses and features handmade finisher medals crafted from horseshoes. The local community works at the aid stations, cheers on the runners and participates on the race committee too. Residents also run in the marathon and 5K, of course—some in traditional clothing. You won't find a more interesting race experience than this lovely event.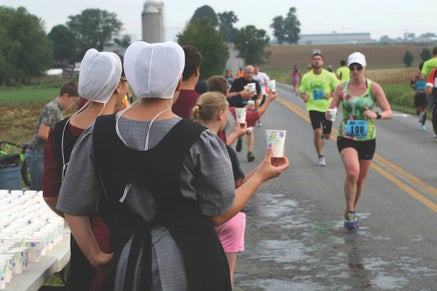 Honor the Fallen
March 25, 2018 at the White Sands Missile Range in Las Cruces, N.M.
If you're looking for an event that will test you mentally, physically and emotionally, the Bataan Memorial Death March is it. The race honors the 10,000 U.S. and Filipino troops who died in 1942 after being captured by the Japanese and forced to endure a grueling 65-mile march during no food or water. Today, current and former military service members from around the world join civilians to commemorate this event during the marathon and 14.2-mile races held at the end of March each year. Participants run, march, and walk through sand dunes and up and over a mountain; it's incredibly challenging! The best part is that some of the remaining survivors of the original march attend the event each year to meet participants and share their stories.
Make The Most Of Your Race-cations With These Tips:
Buddy Up
Traveling for races can get expensive, but you'll cut costs by traveling with a buddy (or two)! Reduce costs on everything from hotels to rental cars and gas by bringing along a pal to share the experience with. Bonus: You'll have someone to take those Instagram photos for you!
Stay Awhile
A race is the perfect excuse for a vacation, so take one. Plan to spend a few extra days exploring the surrounding area and get the most for your travel dollars. Race websites often offer a list of fun things to do nearby–perfect for those times when the whole family is joining you.
Join the Club
Many clubs exist for runners who love to travel, including the Marathon Maniacs, 50 States Marathon Club, Half Fanatics, 50 States Half Marathon Club and more—and they often offer discount codes exclusively for members.
Related:
Kauai Is The Ultimate Vacation For Runners