Desiree Linden Wins The 2018 Boston Marathon
American Desiree Linden has won the 2018 Boston Marathon.
Heading out the door? Read this article on the new Outside+ app available now on iOS devices for members! Download the app.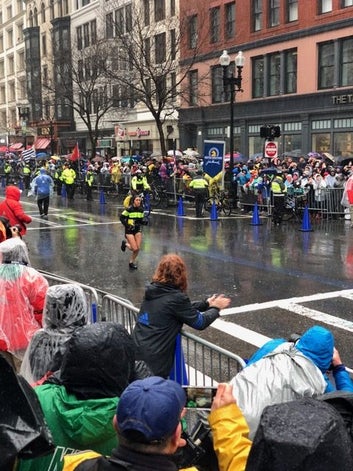 Desiree Linden Wins Boston!
Desiree Linden has won the 122nd annual Boston Marathon in an official time of 2:39:54. Linden's win is the first by an American woman in 33 years. The last American woman to win the crown was Lisa Larsen Weidenbach, who won with a time of 2:34:06 in 1985.
A six-time Boston Marathoner, Linden has more experience on this course than most of her competitors. She placed second in 2011, coming in just two seconds behind frontrunner Caroline Kilel of Kenya, and scored two fourth-place finishes in 2015 and 2017.
Today's race started with intense weather conditions that included a 37-degree start in Hopkinton, pouring rain all along the course and headwinds that were reported to be as strong as 10 miles per hour. As a result, the elite women's group started the race slowly, sticking together in a pack before Mamitu Daska of Ethiopia broke away and created a wide gap that held for several miles. Before the gap grew, Linden broke from the pack in the opposite direction, staying by Shalane Flanagan's side for a brief pitstop before rejoining the group. It was't until the infamous Newton Hills that Daska began falling back, giving Linden an opportunity to leave the group behind and catch up. Then, it was Linden's turn to create a gap of her own—and that she did, making the turn onto Boylston Street far ahead of her competitors and finishing more than four minutes in front of the second-place finisher, American Sarah Sellers.
Just six weeks ago, Linden was hesitant to state clear goals for this year's marathon. "I'm trying to get myself more fit and faster and ready to compete better than ever before," Linden told Women's Running in February. "I'm not sure if that will necessarily mean just fighting for the win; it's going to be trying to better my best on a personal level, to do something I've never done there before. Maybe it'll be time, maybe it'll be just the feeling when I cross the line, maybe it'll be breaking the tape."
But during a pre-race press conference on Saturday, Linden had a better idea of what she wanted to achieve on Marathon Monday. "I would love to see an American win the race. I'd love for it to be me," she told reporters. "It's going to take an A+ race to get there."
An A+ race it certainly was. After slogging through the cold, wind and rain, Linden's first-place finish by more than four minutes is an incredible feat for the world of sports, and a boon for American women runners. Congratulations, Des!