Amane Beriso Shankule Leads Ethiopia to Victory at the World Championship Marathon 
Team USA's Lindsay Flanagan placed ninth and Keira D'Amato finished in 17th 
Photo: Sam Mellish/Getty Images
Heading out the door? Read this article on the new Outside+ app available now on iOS devices for members! Download the app.
The only thing forgiving about this marathon was that the course was flat. And maybe the art nouveau architecture, to disarm the runners' internal cries—otherwise known as a sufferfest.
At 7 A.M. local time, on Saturday morning, 70 athletes from 47 countries left Heroes' Square to run through the heart (and heat) of Budapest to compete for gold, silver, or bronze at the 2023 World Athletics Championships marathon.
Hungary's Nora Szabo, the country's record holder in the event, fed off the supportive home crowd and led the pack down Andrássy Avenue with Japan's Rika Kaseda on her shoulder. The field packed up in a cautious 2:35-marathon pace but the medals ultimately belonged to three runners who were fit and bold enough to cook—and not be cooked. Ethiopia's Amane Beriso Shankule overcame last year's champion Gotytom Gerbrelase to earn her first world championship title in 2:24.23. Morocco's Fatima Gardadi made a late race push to secure bronze.
A Race of Attrition
"I train through this," said Team USA's Keira D'Amato about racing in the heat, who would finish 15th. "I was never feeling sorry for myself that it was hot. It affects you. You have to prepare and fuel a little more. Maybe I need to look into that to make sure I can handle this weather."
This course appeared to be made for spectators. The runners started out with a 2,000-meter loop and then embarked on four loops of about 10 kilometers (six-plus miles), both lined with cheer zones. A boisterous crowd doesn't always make a race easier, but the fans were helpful to pull athletes out of their heads in dark moments. Such was the case around mile 20. Once the lead pack arrived close to this threshold, the marathon turned into a war of attrition.
Four Ethiopians—Shankule, Gebreslase, Yalemzerf Yehualaw and Teshay Gemechu—along with Kenya's Rosemary Wanjiru and Israel's Lonah Chemtai Salpeter, went into the final 10K lap and grated the field down over 5K. They clocked 16:35, over a minute quicker than the first 5K of the race in 17:48.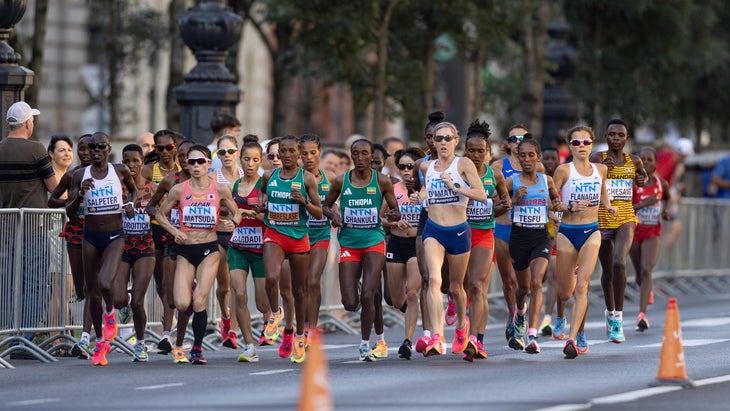 The entire field was fit but not everyone could cope with 85-degree heat and thick humidity. Gemechu, second-fastest in the world this year and runner-up at the 2020 Summer Olympic Games in Tokyo, was the first to go. She stopped running after 21 miles (34K) and hung her head over the rail in defeat and exhaustion. Rose Chelimo, Bahrain's 2017 marathon world champion, was another member of the unlucky thirteen who DNF'd. Out of the field, 17 percent did not finish.
In the final six miles, the leaders increased their speed and clocked 2:15-marathon pace. Shankule, the third fastest woman of all-time after winning Valencia last year in 2:14.58, stayed smooth. Yehualaw checked her watch. The reigning marathon champ Gebreslase faded behind. This was Shankule's moment to take. The 31-year-old broke away from her Ethiopian counterparts, hammering through the 350-meter tunnel at 3:12 marathon pace.
RELATED: World Athletics Championships Live Updates
It's believed that Orpheus, from ancient Greek mythology, was punished for looking back to share his delight with Eurydice when he saw the sun—everything he hoped for disappeared. But Shankule looked back and then got everything she wanted. She emerged from the tunnel and created a 23-second gap on the field. The mist in the streets against the early morning sun made it look like she was charging towards a mirage.
In the end, Shankule covered the second 180-degree turn in Heroes' Square, escorted by the President of World Athletics, Sebastian Coe, to earn her first world marathon gold.
Gebreslase, who won in the fastest time ever in the women's championship marathon last year, was unable to defend her title, placing second in 2:24.34. Morocco's Gardadi passed Yehualaw in the final miles with a labored arm swing to finish third in 2:25.17. Yehualaw struggled to cross the line but placed fifth in 2:26.13. She was embraced by her Ethiopian teammates but was quickly taken into care by medical staff.
Flanagan Ran Smart and Steady to Finish Top American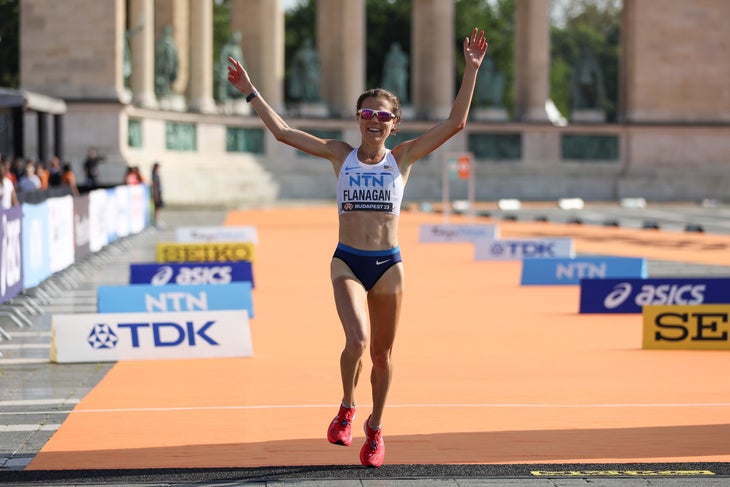 The Americans failed to match the powerful fifth, seventh, and eighth place performance they sealed last year in Oregon. But the top finisher for Team USA, Lindsay Flanagan, demonstrated confidence among the world's best, and her early-race restraint paid off at the finish.
"Run steady. Do not surge," she said about her tactics. "I stayed pretty even. It was one of those things we talked about. People are gonna come back. And they slowly, one by one, came back."
Flanagan's slowest kilometer was the first one (3:45). "Patience was going to pay off. Every time I found myself being a little antsy, I just told myself to be patient." She finished in ninth place in 2:27.47, only three minutes off her personal best. "I didn't come here to run a fast time. This race was all about competing and I did that, so I hope that helps for my race [for the Olympic Trials in Orlando, Florida]."
The 32-year-old was thrilled with her run in Budapest and believes her afternoon runs in Boulder, as well as the past four weeks of sauna training, helped acclimate to heat and humidity.
D'Amato, who broke the American Record in the marathon (since broken by Emily Sission) and the half marathon, felt disappointed with her result. She ran strong through the first two 10K loops, hitting 35:32. At the halfway point she led the field in 1:14.29 with Salpeter at her shoulder, and she looked primed to improve her eighth place position from last year. But when D'Amato reached the third 10K loop she felt extreme pain at the top of her hip.
"I couldn't pick up my right leg," she said. "That sucked because then you're just debating, 'Do I finish this?'"
RELATED: 10 Things to Know About American Marathoner Keira D'Amato
Fortunately, the mother of two had far more grit than reason in that moment. D'Amato ran through a pinch that radiated down her hamstring and calf, finishing 17th place in 2:31.35. "I wanted to compete and show what I can do on the world stage. Then I had to shift my goals to just finishing," she said with tears in her eyes. "That's tough but I finished. I showed my kids."
D'Amato added: "I'm never going to say no to Team USA. Good, bad, or ugly, that's why I'm back. I'm really proud to have Team USA on. I gave it my all and unfortunately that wasn't enough."
Susannah Sullivan, the other marathoner from Team USA, was an early front-runner but fizzled to 58th place. The full time math teacher from Virginia finished in 2:44.24.
The Olympics are a year away. The Trials are five months out. Rather than being scared by the conditions in Budapest, Team USA sharpened their iron before racing at Trials next February in Orlando. When D'Amato was asked her opinion on the updated start time at the Trials (12 P.M.), she rebounded with her champion mentality.
"Tell me when to be there and I will."