Your Guide To The Rock 'n' Roll Las Vegas Weekend Experience
If this is your first time to Sin City for the big event weekend, you're in for a treat.
Heading out the door? Read this article on the new Outside+ app available now on iOS devices for members! Download the app.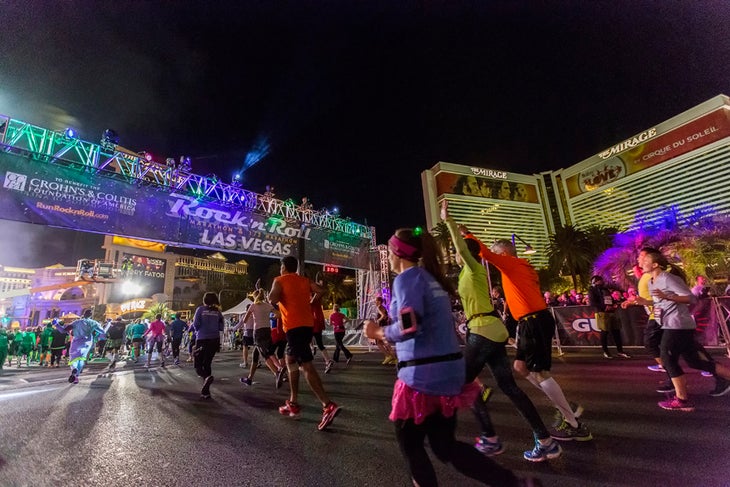 If this is your very first time to GEICO Rock 'n' Roll Las Vegas Marathon & ½ Marathon—hell, if this is your first time ever to Sin City—you're in for a jam-packed weekend of awesome thrills and miles. Every Women's Running editor has experienced the glitzy night event, and we have the top Sin City tips you've never heard of to make your time along The Strip well worth a return in 2016:
Love being part of the cool crowd. The boulevard is freckled with race bibs all through the weekend. With two days full of activities, including four different races, it's hard to miss all the badges of honor pinned on every runner's shirt that strolls back to their hotel from Saturday's Brooks Rock 'n' Roll 5K presented by SLS Las Vegas.
Enjoy being a wedding crasher. Well, kind of. This year's event is expecting more than 150 couples to tie the knot or renew their vows at the famous mile-3 Run Thru Wedding. Happy couples will be finishing at all hours of the race—when else do you get to be part of a total stranger's big day?
Notice when you're running past the Gold & Silver Pawn Shop. If you're all about Pawn Stars, soak in a moment of stardom as you cruise by the world famous location along your run.
Reap the benefits of that Runner Perks. Every participant gets a festival-inspired band to wear over the entire weekend. The perks that come with such a token are pretty endless; this is your key to unlocking the best of Vegas—from nightclubs, to dining, to shows, to massages. Indulge!
Kid Rock will rock your socks off (or on). Before the marathon and half marathon begin, be one of the thousands of runners that bob to the beats of the Bawitdaba kid. An American badass, the rocker-turned-country-alternative will take over a 70-foot stage to get your engines revved for your race.
The epic start line. Flames—literally there will be fire—and energetic beats will pump you up as you get ready to run the #StripAtNight. But take note of your estimated start time before race day. Getting 35,000 marathoners and half-marathoners through the start line takes time, so hang out in the festival until 30 minutes before you start to save those legs!
Surprise—the expo opens early this year! That is, Rock 'n' Roll is debuting a third-day option on Thursday to accommodate the enthusiastic crowds that descend on Sin City. Plan early so you can spend extra time at the slots.
But wait—there's more music. Matt & Kim, a Brooklyn indie dance duo will entertain Saturday's 5K crowds. BETAMAXX, a kickass San Diego '80s cover band, will perform at the 10K start on Sunday, and you definitely will have some serious flashbacks. Basically, the entire weekend is a festival for endurance music junkies. #truestory
You're going to be part of history. Vegas shuts the famed Las Vegas Blvd. down only twice a year—and one of those times is only for a few hours on New Year's Eve. Try 14 hours for the marathon, half marathon or 10K you're about to take on; you're literally running down one of the most famous streets in the world, under some of the most famous lights in the world, past the casinos that made Daniel Ocean and crew famous. Basically, you're famous for even doing this race.
The Monorail is your best friend. We do not recommend walking around a lot leading up to your event, especially day of, but we do recommend the monorail. This nifty method of transportation gives you a semi-aerial view of the area, as well as keeps you off your feet as it cruises from one end to the other. And they hook you up with 25% off passes! Other options: the rollercoaster, unless you're going to lose your lunch over it.
The finish-line laser show will zap you with energy to continue partying. The enthusiastic entertainment of this one-of-a-kind race doesn't stop once you stride across the line. There will lasers and music inside the finish area to keep the celebratory moods high during the 0.4-mile trot to the exits. You have a Runner Perks wristband that's about to get you into post-race parties—why not start in your running shoes?
Want more Rock 'n' Roll? Check this out:
Mile Posts Explains 5 Reasons To Do Rock 'n' Roll Las Vegas