10 Workout Anthems That Almost Never Happened
When you see this playlist, you won't believe what artists were intended to sing some of the top workout anthems we know and love.
Heading out the door? Read this article on the new Outside+ app available now on iOS devices for members! Download the app.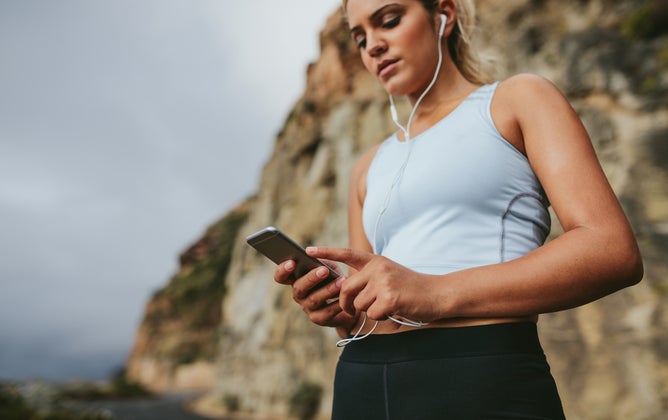 Pop music struggles with perennial supply and demand issue. Put simply, there are more songs being written than there are stars to record them. Given that big name acts receive more submissions than they can manage, they can afford to be selective. The gems overlooked in the process create opportunities for up and coming acts to stake their claim to fame. To that end, the playlist below focuses on workout anthems that new artists turned into hits after more established artists gave them a pass.
The list kicks off with a warm-up track from Iggy Azalea and Rita Ora that was originally intended for Katy Perry and winds down with an Ellie Goulding hit first offered to X Factor winner Leona Lewis. Along the way, you'll find one hit that that Britney Spears picked up in 2003 from Kylie Minogue ("Toxic") and another that she gave away in 2009 to Lady Gaga and Beyoncé ("Telephone"). You'll also find a track that one former boy band member (Justin Timberlake) used to launch his solo career after another former boy band member (Michael Jackson) opted not to use it in his own.
Fittingly, when one of these songs breaks through, it often turns a new artist into a star. At that point, he or she is invariably flooded with more material than any one person can record, which creates opportunities for the next generation of chart toppers–starting the whole process over. With all that mind, the list below highlights ten uptempo smashes, the folks who had a chance to make them famous, and the folks who ultimately did. As the workout anthems propel you through your routine, feel free to imagine the alternate pop history that could have been.
Iggy Azalea & Rita Ora – Black Widow – 82 BPM (Intended Artist: Katy Perry)
Justin Timberlake – Rock Your Body – 102 BPM (Intended Artist: Michael Jackson)
Blondie – Call Me – 142 BPM (Intended Artist: Stevie Nicks)
Lady GaGa & Beyoncé – Telephone – 122 BPM (Intended Artist: Britney Spears)
Britney Spears – Toxic – 143 BPM (Intended Artist: Kylie Minogue)
Pharrell Williams – Happy – 160 BPM (Intended Artist: Cee-Lo Green)
Rihanna & Calvin Harris – We Found Love – 128 BPM (Intended Artist: Nicole Scherzinger)
Whitney Houston – How Will I Know – 120 BPM (Intended Artist: Janet Jackson)
Kelly Clarkson – Since U Been Gone – 131 BPM (Intended Artist: P!nk)
Ellie Goulding – Burn – 88 BPM (Intended Artist: Leona Lewis)
To find more workout songs, folks can check out the free database at Run Hundred. Visitors can browse the song selections there by genre, tempo, and era to find the music that best fits with their particular workout routine.